Phil Mattson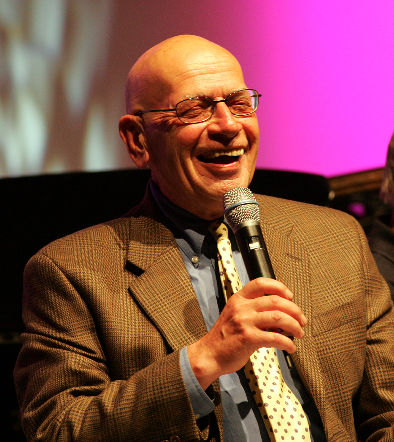 Phil Mattson created the curriculum for the School for Music Vocations at Southwestern Community College, and directs the Concert Choir, Chamber Singers, and VoicesIowa in addition to his classroom teaching duties. He has taught at Pacific Lutheran University (WA) and served as Director of Choral Activities at Foothill College (CA) and Gonzaga University (WA). Mr. Mattson has published more than 70 choral and vocal jazz arrangements and compositions for various publishers, including UNC Jazz Press. He has been nominated twice for Grammy awards for arrangements and performance. He created the Phil Mattson School for Vocal Musicians in Spokane (WA) and led the Grammy-nominated P.M. Singers. He has produced three CD recordings and an instructional video with VoicesIowa. He directs the Phil Mattson Vocal Jazz/Choral Workshops each summer in the U.S. and Canada, and administers the Southwestern Vocal Jazz Festival in February each year. He is active as a conductor, pianist, arranger, and clinician, and writes for professional vocal groups including the Four Freshmen, the Real Group, Chanticleer, Beachfront Property, the Dale Warland Singers and Manhattan Transfer.
VoicesIowa
Count Your Blessings
Since All Is Passing
Don't Mean a Thing (If it Ain't Got That Swing)
Snow Covers the Valley
Jesu, Meine Freude
Alfie
Jubilee
Never Let Me Go
Satchmo
Friendship
Blues in the Night
Count Your Blessings (Instead of Sheep)
Country Dances
Formed at Southwestern Community College's School for Music Vocations in 1991, the mixed-voice sextet VoicesIowa was recently honored by Down Beat Magazine as "Vocal Jazz Group of the Year." Their repertoire also includes Renaissance part-songs, 19th and 20th century compositions and arrangements of contemporary music. Their Director Phil Mattson has been nominated twice for Grammy Awards. These 12 songs, recorded live at St. Andrew's Lutheran Church in Mahtomedi, MN, feature Mattson-arranged winners like "Snow Covers the Valley," Bach's "Jesu, Meine Freude," Burt Bacharach's "Alfie," "Never Let Me Go," Johnny Mercer/Harold Arlen's classic "Blues in the Night" and Irving Berlin's "Count Your Blessings Instead of Sheep." Ward Swingle's "Country Dances" and the Swingle-arranged "Satchmo," Duke Ellington's "Don't Mean A Thing if it Ain't Got That Swing," Anders Edenroth of the Real Group's "Friendship" and Bobby McFerrin's "Jubilee" are other favorites. Great stuff, from the first cut to the last!

Listen to Alfie in Real Audio
---
Without A Song - Tribute To Hoagy Carmichael
Without A Song
The Song Is You
You Are The Sunshine of My Life
Alfie
Just The Way You Are
The Nearness Of You
Heart and Soul
I Get Along Without You Very Well
Georgia On My Mind
Ole' Buttermilk Sky
Stardust
Lazybones
Two Sleepy People
Skylark
Lazy River
Over The Rainbow
Renowned jazz educator Phil Mattson's sure touch is everywhere on "Without A Song;" all the arrangements are his, and he produces and plays light piano on the CD (bass and drums are also included on some cuts). Mattson protegees VoicesIowa, students or alumni of prestigious Southwestern Community College's School for Music Vocations (4 men, 2 women) have a bright, effortless sound that invites comparison with the Real Group and The Idea of North. Technically there are just 5 cuts on the CD, but on the first cut, for instance, a sleepy "Without A Song," segues into a scattish "The Song Is You," continues with a sweetly jazzy "You Are The Sunshine of My Life before returning to an upbeat "Without A Song" refrain; and cut 4, "A Hoagy Carmichael Tribute," includes the lightly accompanied "The Nearness of You," "Heart and Soul," "I Get Along Without You Very Well," "Georgia On My Mind," "Ole Buttermilk Sky," "Stardust," "Lazybones," "Two Sleepy People," "Skylark" and "Lazy River." Two a cappella tunes, "Alfie" and the final cut , "Over the Rainbow" are particularly nice. Mattson doesn't waste a note, and VoicesIowa is an apt, finely-tuned instrument for his genius.

---
September Song
Fascinating Rhythm
Speak Low
I'm Beginning To See The Light
Close Enough For Love
I've Got You Under My Skin
That's What Friends Are For
I'm In The Mood For Love
Mack The Knive
'S Wonderful
September Song
Mixed sextet (3 men, 3 women) VoicesIowa, ably produced by the renowned Phil Mattson (who also did all the arrangements), brings us ten mellow jazz classics: George and Ira Gershwin's "Fascinating Rhythm" and "'S Wonderful," Kurt Weill's "Speak Low," "Mack The Knife" and "September Song," Duke Ellington's "I'm Beginni'g To See The Light," "Close Enough For Love," "I've Got You Under My Skin," Stevie Wonder's "That's What Friends Are For" and "I'm In The Mood For Love." VoicesIowa is associated with the excellent Southwestern Community College School For Music Vocations, where the CD was recorded. This is bright, crisp, tight-harmonied, stunningly arranged, lightly accompanied (bass, drums and piano), smoky cool vocal jazz.

---
Here's To Live!
Here's To Life
Almighty God/Heaven
Gold Mine
Corcavado
Blues In The Night
If I Loved You
Satchmo
I Remember Clifford
Sa Skimrande Var Aldrig Havet
The bouyant sound of the Voices Iowa, conducted and arranged by Phil Mattson, certainly one of the most prominent jazz educators in the field. Emanating from the same general neighborhood as the Singers Unlimited or Real Group, Voices Iowa actually covers one Real Group arrangement on this CD-"Sa Skimrande Var Aldrig Havet"-as well as Take 6's "Gold Mine," so they certainly set a high standard for themselves. "Blues In the Night" is smoky and seductive, "Satchmo" a picaresque tribute to Louis Armstrong that sets lyrics to a Joplin rag. "If I Loved You" is is an economical a cappella version that shows why Phil Mattson is so respected-every note is important, neither too many or too few. Five of the songs are accompanied.

---
How Do You Keep The Music Playing?
Since All is Passing
I Hear Music
How Do You Keep The Music Playing
Jubilee
Body And Soul
Yag Vet In Delig Rosa
Love For Sale
Embraceable You
Yours In My Heart Alone
Dancing In The Dark
Bons Amigos
That Lonesome Road
Protogees of Phil Mattson, Voices Iowa are students at the prestigious School For Music Vocations/Southwestern Community College. Under such tutelage, one recognizes a burgeoning talent that will be the vocal jazz sound of tomorrow. Indeed, Bobby McFerrin's "Jubilee" is an athletic workout requiring stamina and fortitude, while, on the opposite end of the spectrum, "Body and Soul" demands an equal measure of control and abandon (the latter a Grammy nominated arrangement originally written for the Manhattan Transfer, and complimented by Richie Cole's saxophone). Cole Porter's "Love For Sale" (a cappella) is anchored by a finger-snapping rhythm and connected by walking bass notes, and finishes with an aexhilarating vocal glissando, a veritable firecracker.

---
PM Singers
Night In The City
Johnny One Note
C'Est Si Bon
Jubilee
Quiet Nights Of Quiet Stars'
Stella By Starlight
Waltz For Debbie
My Melancholy Baby
The Quiet Side
Formed in 1982 by students of the esteemed director Phil Mattson, members of the P.M. Singers became identified with the Phil Mattson School and many have gone on to great professional and academic success in their own right. (Two examples are Joe Finetti, who now sings with The Bobs, and Michele Weir, a respected educator and arranger.) This mixed group has the talent and range to master the most technical of charts, as well as the warmth and emotion to stir the heart-witness"A Child Is Born," with a facile piano accompaniment by Phil Mattson himself, who plays keyboards throughout. Many of the arrangements allow one voice to solo, adding and subtracting harmonies for interest and variety. "I'll BeSeeing You" is a cappella and allows the melody to shine, gradually opening up the song with a frugal harmony that never interferes, but builds to a subtle crescendo and then resolves to an elegant closing cadence, the lead voice holding the final note while the lower parts complete the subject. A pleasure to listen to and a model of arranging virtuosity.

---
Jubilee
New York Afternoon
Desafinado
Body And Soul
I Hear Music
Night In The City
How Long Has This Been Goin' On
A Child Is Born
Jeanine
I'll Be Seeing You
Intricate arrangements and big and bold orchestrations, featuring saxophonist Richie Cole, characterize this six piece mixed group's sound, a pleasing mix of old and new jazz influences. The sound is suggestive of the Singers Unlimited in terms of complexity, though on "Waltz For Debby" and the tour-de-force (written by Clare Fischer) "The Quiet Side," the richness of the voicings invites comparisons to the Real Group. Speaking of "The Quiet Side," it is a seven minute exploration of form and tonality that begins a cappella, segues into a mid-tempo accompanied section that escalates in intensity using scat as it's medium, through an ascending sequence that descends again to the original introduction. "Quiet Nights of Quiet Stars" takes a vocal percussion idea which then evolves into a sultry duet with shimmering backups, "C'est Si Bon" is a throaty and suggestive interplay between voice and flugelhorn, with the horn part equal in importance to the arrangement. "Johnny One Note" is the Gene Puerling arrangement. A highly enjoyable and accomplished collection.

---
Phil Mattson and Vocalogy
Is God a Three Letter Word For Love?
In The Beginning God
Is God A Three-Letter Word For Love?/ My Love
T.G.T.T.
Ain't Nobody Nowhere Nothin' Without God
Father Forgive
Almighty God
The Shepherd
Something 'Bout Believieng
Come Sunday
Heaven
1999 was the 100 year anniversary of the birth of the jazz master Edward Kennedy "Duke" Ellington - a genuine American hero. Though his accomplishments were many, Ellington characterized his sacred compositions, coming towards the end of his career, as "the most important thing I have ever done." Leave it to Phil Mattson and his Vocalogy ensemble (consisting of six faculty members at the Southwestern Community College School For Music Vocations), to record the first vocal group arrangements of these compositions (some are accompanied by a rhythm section as well). Ellington wrote these songs for a San Francisco concert at Grace Cathedral in 1965, and went on to perform this program internationally until his death in 1974. We have not heard the CD itself come presstime, but we understand that songs such as "In The Beginning God," "Come Sunday" and "Father Forgive," while spiritual and earthy, are written in the tried-and-true Ellington big-band style. An appropriate tribute indeed from Mr. Mattson. .

---
Vocal Jazz, The Art & Technique
The Rehearsal As Sacred Time
Choral Tone
The Architecture of Performance
Quality Literature
Time/Rhythm
Vocal Technique
Complete Performances
Melody/Harmony Balance
Building Group Musicianship
Text/Word Stress
Phrasing
Harmonic Skill-Building Exercises
Phil Mattson, director of the School For Music Vocations, shares his wealth of knowledge and experience on this information-rich video. With the aid of the mixed sextet, VoicesIowa, who perform selections such as "Embraceable You," "Body And Soul" and "Dancing In The Dark," Phil gives an overview of harmony, melody and phrasing. Also, he expounds on the importance of quality literature, and gives the viewer a brief introduction to the chief contributors to the development of the jazz idiom. Phil also dispenses his philosophy throughout, and his integrity and insight into the process of musical performance - a process requiring the body and the soul - shows remarkable wisdom and clarity.

---
Watch a clip from Phil's video


Phil Mattson:
Jazz Phrasing
Get some valuable insight into vocal jazz phrasing from one of the nation's best jazz teacher (0.47)
Home - Contemporary Jazz - Vintage Jazz - Jazz Arrangements -Jazz Links - Christmas - Instructional
---
To find a specific song on any recording (or to find recordings by group name or CD title),
pick the search method and type the item you are searching for here:



All Rights Reserved All Content, page design, CGI Copyright © United Singers International