Fourth Avenue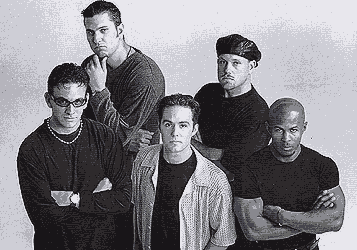 Fourth Avenue is a five man vocal band that performs a diverse repertoire including pop, soul, R&B, gospel, doo-wop, and jazz. Since their start in 1993, they have shared the stage with such national acts as the Beach Boys, The Temptations, and Blessid Union of Souls. They have also performed at Riverfront Stadium doing preshow and the national anthem for the Cincinnati Reds, appeared on various radio and TV shows, and toured the college market doing gigs that are booked by DCA Productions based in New York City.
Fourth Avenue was honored with the opportunity to present special music to Ohio's Governor, George Voinovich, as part of the Jobs for Ohio's Graduates Celebration. In addition, Fourth Avenue has performed full time at Paramount's Kings Island Amusement Park for the past four years. In 1996, they competed in The Harmony Sweepstakes, a competition that took place in Chicago. Not only did Fourth Avenue win first place, they also walked away with the award for audience favorite. Fourth Avenue went on to the National Harmony Sweepstakes in California, and two of their songs were chosen to appear on an internationally distributed album produced by the Harmony Sweepstakes Competition.
Their debut CD entitled "Fourth Avenue" was released in September of 1997. The song "In the Midnight Hour" which appears on the CD recently won a 1998 Contemporary A Cappella Recording Award for Best Doo-Wop/R&B Song of the Year. Fall of 1998, Fourth Avenue began touring with the Muse Machine, a non-profit organization which brings professional artists into the secondary school system of Ohio's Miami Valley. After giving a preview to Miami Valley's Muse Machine Teachers, they set a new record by being booked in over seventy schools their first year with the organization. Fourth Avenue recently was selected to be on the Ohio Arts Council Fee Support Roster. They also performed in the final evening showcase of the Fall 1998 Ohio Arts Presenters Network Conference.
Discography
Fourth Avenue
Do You Love Me
Good Lovin'
Jailhouse Rock
A Cappella Funk
Sheanandoah
In the Midnight Hour
You've Lost That Lovin' Feelin
Lullaby
Splish Splash
Amazing Grace
You Looked Right Through
What I Like About You
In a world increasingly accustomed to over dubbing, Fourth Avenue shares it's musical vision mostly round robin. That is to say, all the singers are in a circle around one microphone. Beginning with rousers "Do You Love Me" and "Good Lovin'," they segue into "Jailhouse Rock" with a rap element. The history of the band is presented in Scott Dawson's "A Cappella Funk." Slow and sweet is their version of "Shenandoah." "Amazing Grace" is sung in close harmony. The original, "Lullaby," is just beautiful. Most, however, is smooth rock with Motown roots.
---
---
To find a specific song on any recording (or to find recordings by group name or CD title),
pick the search method and type the item you are searching for here: