The Acapelicans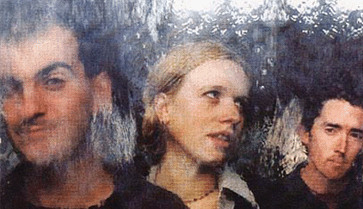 Acapelicans combined voice pays a unique homage to the wonderous mystery of music through the dynamic possibilities of harmony in a repertoire of songs that are pure, evocative and challenging. As the name suggests, the music is 3 voices without instruments. The simplicity and honesty of Acapelicans approach, coupled with the talent of the individuals involved, combines to an often sublime effect which crosses the boundries of age, language and musical taste.
Discography
Little Mountains
Little Mountains
Is It Ok If I Call You Mine?
Tumble?
A Dress Made of Rubies
Don't Give Up
For A Short Time
The third CD by a group described by a Rolling Stone reviewer as the "best a cappella trio in Australia," "little mountains" is a sign of growing poise and maturity in this, the 8th year since the group got together. It is an eclectic collection of familiar and original songs with a unique sassiness and edgy beat. Sarah Liversidge, Simon Nugent and Carl Pannuzzo's sound is understated, often moody, with laid-back vocal percussion and a self-assured style that vaguely reminds us of a worried Bobby McFerrin. Inadequate attempts to describe them aside, let us say that there are 6 songs here, the title tune, "Is It Okay If I Call You Mine?," "Tumble," "A Dress Made Of Rubies," Peter Gabriel's "Don't Give Up" and M. Thomas' "For A Short Time." The last two are the only songs familiar to us, and the dark tone of "Don't Give Up" (like a lot of Gabriel's music) fits the Acapelicans like a glove. Envelope-pushing a cappella that is gaining this group a lot of attention!
Listen to "Little Mountains" in Real Audio.

---
Hear From Happiness
Afro Blue
Less
If I Only Had A brain
Hear From Happiness
Sankofa
As A Child
On Children
So Long
Secret Marriage
Seven
Cry Me A River
Dragon Calf
The First Time I Ever Saw Your Face
Review Pending.
Listen to "Afro Blue" in Real Audio.

---
To find a specific song on any recording (or to find recordings by group name or CD title),
pick the search method and type the item you are searching for here: