Ulali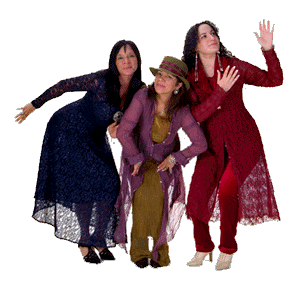 Ulali features Pura F (Tuscarora), Soni (Mayan, Apache, Yaqui), and Jennifer (Tuscarora.) Founded fifteen years ago, Ulali is the first Native women's group to create their own sound from their strong traditional roots and personal contemporary styles. They have created a new genre of Native Music and inspired the creation of other Native women's groups. Known for their unusual harmonies and wide vocal and musical range, Ulali's sound encompasses an array of indigenous music including Southeast choral singing (pre-blues and gospel) and pre-Columbian (before the borders) music. With their beautiful yearning and powerful voices, they drum, rattle and stomp. Breaking the stereotypes of Native women, Ulali is political, romantic, and humorous. Their live performances, which uniquely address Native struggles and accomplishments are energetic, informative, and educational.
Ulali has traveled extensively throughout the U.S., Canada, and abroad performing at venues like Woodstock 94, the 1996 Olympics in Atlanta, the 1997 Smithsonian's Folkways 50th Anniversary Gala at Carnegie Hall, the Kennedy Center, Lincoln Center, the 1998 WOMAD Festival in Seattle, the 1998 New Orleans Jazz & Heritage Festival, the 1999 World festival of Sacred Music at the Hollywood Bowl, Red Solstice 2000 in Montreal, and a wide range of other venues, benefit performances, and festivals. Last year they performed abroad in Germany. This year they are performing in Italy, Brazil, and Corsica. Ulali also travels throughout Indian country (U.S., Canada, Central & South America,) visiting communities, singing for the people, exchanging songs, and maintaining strong ties. They also perform at POW WOW's and can often be heard on Native radio stations throughout the U.S. and Canada. This year they were awarded the "Eagle Spirit Award" while attending the 25th Annual American Indian Film Festival in San Francisco, CA. In addition they were each, one of several winners, of the "Native American Women's Recognition Award" (NAWRE) presented by the Friends of Gonondagan in Rodchester, NY.
The group added their distinct voice to the Indigo Girls recording "Shaming the Sun" and opened for and performed with the Indigo Girls in several cities in 1997. Ulali also contributed to the Indigo Girls benefit recording project, "Honor the Earth" and participated in the national tour of the same name. Ulali was featured on the soundtrack of the Miramax film "Smoke Signals." They performed at the 1998 Sundance Film Festival in support of "Smoke Signals" which won the "Audience Choice Award" and "Filmmaker's Trophy." Ulali recorded on the sound tract for the Turner documentary series "The Native Americans." They subsequently had two of their songs, "Mahk Jchi" and "Ancestor Song" featured on Robbie Robertson's album, "Robbie Robertson and the Red Road Ensemble." Their video "Follow Your Hearts Desire" won "Best Music Video" at The American Indian Film Institute Awards.
Ulali has appeared on National Public Radio several times and made their national television debut when they performed with Robertson as featured guests on the "Tonight Show with Jay Leno." After performing at the Todos un Cantos del Mundo in May 2000, Ulali was featured on the "J? Soares Show," a nationally televised "talk show" in Brazil.
Discography
Mahk Jchi
Summer Solstice in January
Dragana i Slaveya
In This Heart
Il est bel et bon
Greek Lullaby
Bottom
Ahi possanza d'amor
Cinta di fior un giorno
Nasha Pisnya / Our Song
Mercy
Il bianco e dolce cigno
Wade in the Water
Erev Shel Shoshanim
Bolyongas
Ulster Lullaby
Io v'amo vita mia
Blood and Gold
Caritas Abundat
Java Jive
Your reviewer can't begin to adequately express his enthusiasm for this recording. First off, imagine the sound of the most full spirited Native American chant that you have ever heard, accompanied by the driving heart-beat rhythm of the pounding drum. Now add a harmony of unbelievable perfection and punctuate all of this with the ululations and yips of totally involved souls. That's the first song. Now deal with these beautiful singers on their own terms. They aren't Native Americans at all. They are "The People" of the First Nations. They were here first! As you share a tour of traditional music and contemporary music written to express the sensibilities of First Nation's peoples, whether it's biting or beautiful in the mind of the listener, it can only be beautiful to their hearts for the harmonies are magnificent, stirring, glorious and gorgeous. This is one of our favorites! Oh yes, this recording is the source of their often covered song, "Mahk Jchi."

8326 CD $14.98

OUT OF PRINT
To find a specific song on any recording (or to find recordings by group name or CD title),
pick the search method and type the item you are searching for here: