No Limits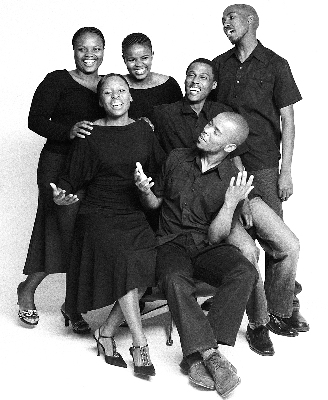 We started this group around March in 1995 in Orlando West. Back then we were just a collective of students living in Africa's largest township Soweto. What we had was time and desire to try out this music thing. Little did we know how much commitment and fulfillment would as a result be required of us and yet derived nonetheless. We have since discovered what gifts we have and the plans that God has to have us use them for His Glory. We have performed over the years, nationally and abroad and independently recorded no less that 5 albums by 2006. We give Africa a lift to the world of vocal afro-jazz-gospel music and we love sharing this with the rest of the world. Our music was and still is inspired by our Christian beliefs and you will find that coming up a lot in our lyrical content. The music itself fuses elements of classical to jazz music and anything in between yet remains decidedly South African in its nature. Our recordings are made of original compositions and arrangements; we believe this adds to the level of uniqueness you will enjoy as you listen.
Discography
Beyond Measure
Perfect Redeemer
Bayethe
Phumula mphefumio wam
Ngoba wena umuhle
We Believe
Long As I Live
O mpone ke le hole
I Wanna Know
Jesus Is a Rock
Eya Tsholoha
Seeing Jesus
Beyond" is No Limits' second wonderful CD, released two years after their excellent debut album "Dare to Dream." Now a mixed sextet, these beautiful young singers have the joy, the spirit, the love and the talent to make "Beyond" a very special Contemporary Christian CD. Once again led by composer/arranger and group member Kgomotso Moshugi, whose originals ("Perfect Redeemer," "Ngoba Wena umuhle" (Because You Are Beautiful), "We Believe," "O mpone ke le hole" (I was far and you saw me) and "Seeing Jesus") are only matched by songs he arranges, like "Eya tsholoha" (It's running over) and "Jesus is a Rock." There is some light accompaniment, but this is unimportant—we loved "Dare to Dream," and "Beyond Measure" is even better. Moshugi's poised, powerful words and music are the perfect complement to these spirited, joyful voices. Two stone winners in a row from No Limits!
Listen to "Perfect Redeemer" in Real Audio.
---
Dare To Dream
Coming Again
Working in the Fields
Ye, kishlobo
Mhlobo wami
In My Dreams
Puleng
Shed Your Light
Dumisa Yena
Long As We Stand
In a Little While
Nako e Site
Sing Unto The Lord
Sheba o Bone
Just to Know You Are Here
Akekh' ofana nawe
The Lord My Provider
No Limits is a South African Contemporary Christian mixed septet, who bring us 16 mostly original songs on "Dare to Dream," their debut release from 2004. Most of the songs are written and/or arranged by group member Kgomotso Moshugi. Some songs are accompanied, but all have the fresh, rhythmic, harmonic sound we love from groups like Ladysmith Black Mambazo. Moshugi originals like "Working in the Fields," "In My Dreams," "Shed Your Light," the anthem against AIDS, "Long as We Stand Together," "Nako e sile," "Sing Unto the Lord," "Sheba o bone," "Akekh' ofana nawe" and "The Lord my Provider" are very fine. Also favorites are Moshugi-arranged traditionals like "Mhlobo wami" "Puleng" and "In A Little While." We love the joyous sound of this album, the pure celebration of it, the strong, confident leads and supporting harmonies. We'd love to tell you more about the group, but going to their website address strangely takes us to "No Limits Sports Supplements" from Pretoria. No matter--"Dare to Dream" is fresh, juicy, original Contemporary Christian stuff, and we bet you'll love it!
Listen to "Dumisa Yena" in Real Audio.
To find a specific song on any recording (or to find recordings by group name or CD title),
pick the search method and type the item you are searching for here: