Poor Baker's Dozen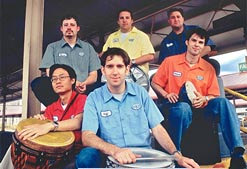 Poor Baker's Dozen seeks to honor and invite the presence of the Living God through honest, heartfelt worship. Our music is an outward expression of the joy, peace and love we have found in Jesus Christ and our desire is to see God move among His people and minister only as He can. Our message is two-fold: new life in Christ for those who have not received Jesus, and abundant life for those who have been walking in the truth.

Discography
Christmas with PBD
Drummer Boy
Redeemer In The Hay
Pat a Pan
Gentle Mary
Good Stuff
Gabriel's Message
Silent Night
Amen
St. Paul, MN's all-male Contemporary Christian sextet Poor Baker's Dozen's "Christmas with PBD" is their 4th excellent CD. We can't tell you very much about the group because the liner notes are sparse, and their website focuses on their ministry—which we like, because it places the emphasis on the group's calling as opposed to promoting themselves individually as singers. 8 songs, a very nicely arranged "Drummer Boy," a fine original by group member David Olson, "Redeemer in the Hay," "Pat-a-Pan," "Good Stuff" (the group's comment on Christmas consumption, writing new words to the Young Rascals' classic "Good Lovin',") "Gabriel's Message," "Silent Night" and the group-arranged "Amen." Some light percussion played by the group. PBD prefers to let their music and message do the talking, and "Christmas with PBD" speaks quite eloquently!
Listen to "Gabriel's Message" in RealAudio.
---
Stop and Go
Listen
Go
The Wind
I Want To Know You
Send Your Rain
For The Lamb
Cry
Stronger Than Superman
Get On Board
Wrestle With Angel
Send Your Rain (Reprise)
The Sweetest Name
Poor Baker's Dozen is Jeff Zupfer, Tenor, Chris Heng, Bass, Kendal Marsh, Baritone, Jeremiah Gamble, Tenor, David Olson, Tenor and Jon Olson, Alto, and they are a cutting-edge Contemporary Christian group from St. Paul, Minnesota. "Go Stop Go" is their 3rd CD, and we have been impressed with them since the first! This is all original music, most by Jeremiah but some by Jon and Jeff. All the songs are powerful, but we particularly liked "The Wind," "Send Your Rain," "Cry," "Get On Board," and the first cut, "Listen." The 12-page liner notes are among the most beautiful and extensive we've seen. Great stuff!

---
Pour
Grace
Pour
Leap Of Faith
Joyful Noise
Jimmy
Just As I Am
Ask, Seek, Knock
This Is A Love Song (The Country Song)
Sing Along Song (A Happy Reminder)
The Way
Gabriel's Message
Wash Over Me
Bread and Water
Every now and then there is a recording of such exciting musical originality that it should transcend the boundaries of a "genre audience." If you love gospel/spiritual music this is for you. If you love rock, this is for you. If you love country, this is for you. Who, what, whazzat, you say? Poor Bakeršs Dozen is six men who are presenting us with such a new palate of gospel sounds that it is difficult to fathom. There is a truly sweet, upbeat opening number. The sweetness is created by the beautiful male alto and three tenors of the group who are grounded by superb baritone and bass voices. Next we are catapulted into a techno intro of the title song "Pour." Wow! The original creation of this music is just starting. Next comes the touch of James Brown at the beginning of "Leap of Faith" which keeps astonishing us with little vocal techno embellishments which are as surprising as they are original. Then there is "Joyful Noise," almost all vocal explorations with hardly any lyrics. It begins with an almost Bobby McFerrin sound before resolving into a sweet scat with a "fuzz guitar" vocal solo. In a way this is the theme song of the album to this revieweršs ear. You see, many gospel and spiritual singers and groups sing about joy. Poor Bakeršs Dozen sing joy. Youšll hear the difference in the marvelous creativity of sound and soul presented here. Such musical joy can only be found in play. Play which discovers originality and then is refined by striving for perfection. It can be safely said that this is inspired music. It is also fun! Therešs a country tune which delights as it varies back and forth from a parody a dance tune to a traditional country gospel sound. Along the way in this musical delight you will find a bit of percussion on two tunes and one which has cello and guitar accompaniment.

---
A Cappella
Wake Up
Who Do You Say I Am?
Ship Of Life
Holy City
I Feel the Rain
Relentless Love
Lay Your Burden Down
Brown-Eyed Girl
Another fantastic acappella band to come from Minnesota. Must be something in the water! A sextet of young men with incredible voices and a great talent for writing songs that the masses are sure to like. Haunting yet soothing, these songs might cause a few tears to fall with harmonies so intricate and complex, yet they make it sound so natural and easy. From echoing cathedrals, to stormy seas, holy cities, and falling rain, each song takes you to a different place and their voices are the vehicle that take you there! We have faith that you will absolutely enjoy what these young men have to sing!

---

Religious - Home | Contemporary Christian Groups | Christian CDs | Gospel Groups | Gospel CDs
Spirituals | Shape Note | Southern Gospel | Christmas | Christian Arrangements
---
To find a specific song on any recording (or to find recordings by group name or CD title),
pick the search method and type the item you are searching for here: