Glad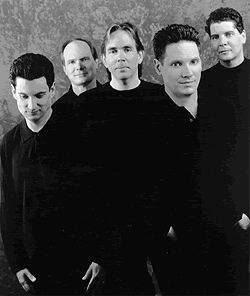 As Contemporary Christian Music magazine describes it, "Nearly two decades ago, Glad's elegant vocals helped set them apart from other pioneers of contemporary Christian music. That vocal sound has since evolved into a complex, self-sustaining life form of it's own..." For those of us in the field of a cappella music it is the vocals which the magazine mentions that are the primary interest in Glad. That's not the whole story, however. You see they really are a progressive Christian rock band. They got together on the campus of West Chester State University, near Philadelphia, in the early l970's. Early on the predilection toward complex vocals with classical and jazz overtones began to distinguish the band.
Glad made its first two recordings on the Myrr/Word label between 1978 and 1980. "The Reason" was the first song on which they experimented with an a cappella sound. It was originally on their second album, Beyond A Star (now out of print), but can be found on the Acapella Project CD. From l980 to the watershed album (Acapella Project) in 1988 they would add an a cappella cut to each album. When they recorded an all a cappella album it was released with some trepidation for there really was no track record in the field of Christian music to suggest success. They were amazed by the sale of over 300,000 copies. Since that time, Glad has alternated recording as a band and as an a cappella group with increasing success, which is particularly in evidence when we hear new groups which have obviously been influenced by this important group. Plus, as a band, they must be considered one of the pioneers of the contemporary Christian music scene.
The group made a bold leap into the secular with their release of the fabulous recording A Cappella Gershwin. It not only set the a cappella world buzzing, but found us listening to their religious work.The beauty of their music is the most dynamic ministry that there could be. It has been pouring out of the hearts of these men for over twenty-five years and has been found on twenty recordings. The current members are Ed Nalle (who has always been their producer as well), John Gates, Jim Bullard, Don Pardoe and Chris Davis.
Discography
Glad: Receive The Glory
A Debtor To Mercy Alone
All Hail the Power of Jesus' Name
O Wondrous Love
Blessed Be Your Name
O Sacred Head Now Wounded
Holy Holy Holy
In Christ Alone
Receive the Glory
Alleluia
Be Still My Soul
One of Contemporary Christian music's most enduring vocal bands, with a 30 year history of recording and concert ministry, all-male quartet Glad gives us the Christmas gift of "Receive the Glory" (A Cappella Project IV), their first a cappella album in 5 years. These ten songs have Glad's trademark impeccable arrangements, layered harmonies and vocal versatility, beginning with the finely-crafted "A Debtor to Mercy Alone," and continuing through covers like "All Hail The Power of Jesus' Name," "O Wondrous Love," "Blessed Be Your Name," "O Sacred Head Now Wounded," "Holy, Holy, Holy," and "Be Still My Soul"—but the arrangements are so fine, it is as if we are hearing these songs for the first time. The title tune and "In Christ Alone" are lovely and inspirational. Since their formation at West Chester State U in the early 70's, Glad has touched millions of people with their musical ministry while creating a wonderful body of work, 11 CDs appreciated by a cappella lovers of all genres. All we can say is, we're glad you're back in the recording studio again, and don't wait again so long!
Listen to "A Debtor To Mercy Alone in Real Audio.
---
A Cappella Worship Vol 2
God Is My Redeemer
How High And How Wide
Oh God, My God
Maker of My Heart
Mourning Into Dancing
We Sing Your Mercies
Jesus, Lover Of My Soul
Great Is The Lord
Give Unto The Lord
How Deep The Father's Love For Us
Following their success with "Worship and Praise," the Glad quartet have returned with ten more songs of inspiration in the contemporary Christian mode. As always, the production and arranging has a modern edge (several of the tracks feature rhythm samples), and, as on "God Is My Redeemer," invites comparisons to Take 6, with the multiple part stacked chords and vocal trills. The quieter ballads, such as "Oh God, My God," are elaborate pop, each melodic embellishment ascending ever higher; similarly, "Maker Of My Heart" weaves its progression with surging intensity and upward motion. The intelligently crafted songs of Glad are always performed with compelling sincerity.
Listen to "Maker of My Heart" in Real Audio.
---
A Cappella - Worship Vol 1
May The Glory of The Lord
Gloria
Awesome God
Before the Throne of God Above
Shout to the Lord
He is Exalted
The Highest Glory
Alas! And did my Savior Bleed
He Loves to Hear our Praise
I Come by the Blood
More of You

Glad's jubilent style features sacred subject matter, supported by stiring arrangements that use multiple countermelodies and modulations to glorify the Creator. The result is positive and uplifting and this new collection of original songs is memorable. Layer upon layer of harmonies and jazzy chord extensions, on songs such as "Gloria", Awesome God", " He Loves to Hear Our Praise" and "I Come by the Blood" genuflect and express the heartfelt spirit of the season.
Listen to "May The Glory of The Lord" in Real Audio.
---
Collector's Series
You Put This Love In My Heart
Easter Song
This Is My Father's World / For The Beauty Of The Earth
God So Loved The World
Prelude 19
In The First Light
A Mighty Fortress
Hallelujah
God Is My Rock
For Unto Us
Christ The Lord Is Risen Today
Be Ye Glad 3408c 14.98 9.98
Glad Collector's Series Vol. 1
God Is My Rock
Easter Song
Mary, Mary
Just As I Am
The Solid Rock
Praise To The Lord, The Almighty
Blessed Assurance
The Reason
Mighty Fortress
Your Love Broke Through
For Unto Us
One Quiet Moment
You Put This Love In My Heart
This Is My Father's World/ For The Beauty Of The Earth
Sing It ACappella
Be Thou My Vision
Amen
Arise, My Soul, Arise
Doer Of Your Word
Christ The Lord Is Risen Today
Love One Another
God So Loved The World
Joyful, Joyful, We Adore Thee
Rock Of Ages
Crown Him
Be Ye Glad
In TheFirst Light

The contemporary Christian group Glad is one of the most consistently popular groups of the genre. This "Collector's Series," drawn from their eight-CD catalog, shows why: they've developed their own readily-identifiable sound (multi-layered, complex, big) and they do it really well. For example, "Doer of Your Word" has the easy familiarity and sing-along refrain of a pop song, but beyond the surface the arrangement and production is simply stunning. Vocal trills, shifts of meter, countermelody upon countermelody utilizing voice as instrument-this is their standard modus operandi. Listening to the tracks over and over, one hears them differently each time, as if studying the brushstrokes of a painting individually. One new track, "Praise To The Lord" by John Rutter, is an added bonus.
---
A Cappella - Gershwin
I Got Rhythm
The Girl I Love
Our Love Is Here To Say
Embraceable You
The Gershwin Medley
They All Laughed
A Foggy Day
Little Jazz Bird
But Not For Me
They Can't Take That Away From Me
Someone To Watch Over Me

Glad began as a progressive Christian rock band in the early seventies. Rich complex arrangements and lush vocal melodies have been their trademark. Each of their early albums had one a cappella tune included. As an experiment, in 1988, they recorded the A Cappella Project which was relieved with such enthusiasm that they have been alternating instrumental accompaniment with a cappella albums ever since. Glad singing Gershwin is a total treat. All the standards are here "I've Got Rhythm," "The Girl I Love," "Someone To Watch Over Me" etc. To this reviewer "The Gershwin Medley" is nothing short of fabulous!
Listen to Embraceable You in Real Audio.
---
A Cappella Project III

The Solid Rock
Tell It Like It Is
Your Love Broke Through
Doer Of Your Word
Arise, My Soul, Arise
That's What The Lonely Is For
Stars In The Universe
My God I Love You
Crown Him With Many Crowns
We Gather Together

"The Solid Rock" starts the recording and is as rich and lush an arrangement as we have heard from the wonderful singers of Glad. Monophonic phrases gradually give way to polyphonic complexity. The voices spread from one note to multi-part harmony. Then we are treated to a gospel/jazz arrangement of "Tell It Like It Is." Because the style was pioneered by Take Six that is our best description of what it sounds like. "Your Love Broke Through" has a touch of percussion added to an arrangement that feels like a ballad. The percussion is marvelously inventive, and almost seems a shame that it's found on only one arrangement, but as a purist, this reviewer is just as glad. All in all, each of the ten songs are different musical views of the gospel field. They vary from the traditional song which builds to cascades of harmonies to jazz with R&B overtones. Once again we are blessed to have Glad in the a cappella field.
Listen to "Tell It Like It Is" in Real Audio.
---
Acappella Project II
Crown Him With Many Crowns
When I Survey The Wondrous Cross
Sing It A Cappella
Christ The Lord Is Risen Today
You Put This Love In My Heart
Just As I Am
Sing A New Song
God So Loved The World
All Glory, Laud And Honor
Rejoice, The Lord Is King
My Jesus, I Love Thee
Rich and lush. Did we say that yet? Well let's just get it out of the way, shall we. After the wonderful reception of the first all a cappella album by Glad, a follow-up was demanded by fans everywhere. Not only will you hear the popular, rock, and classical elements in all their glory but a distinct jazz element joins the repertoire which is a portent of things to come (A Cappella Gershwin). Just listen to Ed Nalle and Rob Neal's song "Sing It A Cappella" and you'll no doubt think of Take Six. Immediately following is the introduction to "Christ The Lord Is Risen Today," a wonderful classical/jazz hybrid. The whole recording is a marvelous mix of new material and arrangements of historical tradition, Charles Westley, Isac Watts, Matthew Bridges and even Theodulph of Orleans for real ancient history! Don't forget now, rich and lush!
Listen to "Just As I Am" in Real Audio.
---
Acappella Project I
A Mighty Fortress
In The First Light
O For A Thousand Tongues
Depending On Your Love
Be Thou My Vision
Easter Song
Be Ye Glad
The Reason
Amen
And This Is Love
And Can It Be
God Is my Rock

This is it! This is the 1988 album that saw a Christian rock group gain meteoric popularity in the a cappella field. Each of their prior albums had included one a cappella tune. It was an experiment to do an entire recording of them. Thank goodness! You might hear elements of Acappella, The Beach Boys, Yes and other virtuoso male vocal rock and popular rhythm groups but one aspect that distinctly differentiates Glad is the fact that they have classical elements in their music which gives them a wider palette of vocal textures and possibilities. You will always read reviewers use the terms rich and lush when describing the multi-layering of the Glad compositions. These terms are not exaggerated. If anything they are understated. Just listen to that vocal horn fanfare! Rich, lush, rich, lush, rich, lush. There!
Listen to "Be Thou My Vision" in Real Audio.
---
Hymns
Lead On, O King Eternal
Beneath The Cross Medley
This Is My Father's World/For The Beauty Of The Earth
Rock Of Ages
Blessed Assurance
All Beauty Speaks Of Thee
I Sing The Mighty Power of God
Thy Word Medley
Joyful, Joyful We Adore Thee
Fairest Lord Jesus
Immortal, Invisible
Breathe On Me, Breath Of God
Love Divine, All Loves Excelling
The Master Has Come/O Worship

Lacking sufficient superlatives to merely rave, your trusty reviewer will try to give a feeling of the musical arrangements applied to some well known hymns, amidst a bevy of lesser-knowns. The beginning tune is more than just worthy of attention, it rivets one's attention. The hymn is Edward Shurtleff's "Lead On, O King Eternal." It was written in 1887 when his classmates of his seminary graduating class requested that he compose an inspirational call to spiritual battle. Glad embellishes the resulting hymn with an implication of vocal fanfare in the background, four part harmonies, the use of jazz chording and builds to such a crescendo that it is as inspiring as the composer would have ever wished. That is just the first song! Among the fourteen songs are found "Rock of Ages," "Joyful, Joyful We Adore Thee" and "Fairest Lord Jesus." They provide a rock of familiarity so that our spirits can soar into the lesser known and still be anchored. An additional little bonus are the notes which give brief histories of the songs. Great!
Listen to "Immortal, Invisible" in Real Audio.
---
Voices Of Christmas
It Came Upon A Midnight Clear
Go Tell It On The Mountain
Angels From The Realms Of Glory
The First Noel
Angels We Have Heard On High
O Little Town Of Bethlehem
All Praise To You
God Rest Ye Merry Gentlemen
What Child Is This
All The World Was Waiting
Glad presents the long awaited Voices Of Christmas featuring: "It Came Upon A Midnight Clear", "Angels From The Realms Of Glory", "The First Noel", "Angels We Have Heard On High", "O Little Town Of Bethlehem", "All Praise To You", "God Rest Ye Merry Gentlemen", "What Child Is This", and "All The World Was Waiting". Glad is regarded as one of the finest vocal ensembles in the a cappella community bringing new and exciting arrangements to songs of Christmas past. This "humbug repellent" will bring joy to your home and create a harmonious atmosphere to all those who hear.
Listen to Go Tell It On The Mountain in Real Audio.
---
An Acappella Christmas
Glory to God
O Come, O Come, Emmauel
Hark, the Herald Angels Sing
Starlight
Joy to the World
Rise Up Night, Shepherd, and Follow
For Unto Us
Starlight
O Come, All Ye Faithful
One Quiet Moment
In the First Light
Break Forth, O Beauteous Heav'nly Light
As one of the best-known and best-selling Contemporary Christian groups, the Glad quintet's tone is warm, full and open. With many arrangements by Bob Kauflin, and other gifted scribes such as Dave Maddux, the traditional holiday carol songlist is infused with added spirit. To a certain extent, as on "Joy to The World," the group re-writes the material, melodically and harmonically, so that it's tantamount to a new composition. Whether one approves of these liberties or not, one cannot argue the creativity, expertise and emotion that pervades everything they lay to tape. An a cappella Christian classic!
Listen to Starlight in Real Audio.
---

Religious - Home | Contemporary Christian Groups | Christian CDs | Gospel Groups | Gospel CDs
Spirituals | Shape Note | Southern Gospel | Christmas | Christian Arrangements
---
To find a specific song on any recording (or to find recordings by group name or CD title),
pick the search method and type the item you are searching for here: