First performed at the ACDA Central Division Convention in 2005, this energetic choral has quickly become a piece in demand. The Latin text is a popular one for choral groups and this setting is beautiful and exciting.
Our Price:$2.35 (minimum order 4 copies) |

| Order 20 Copies or more for 20% discount |

---
The above folio is also available in this package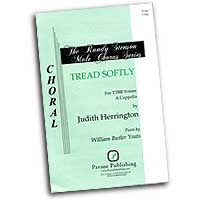 Various Arrangers : The Randy Stenson Male Chorus Series
Randolph C. Stenson is on the music faculty at St. Mary's International School in Tokyo, Japan, where he conducts the St. Mary's Men's Choir, Varsity Male Ensemble, and International Show Choir. With more than twenty years experience in developing male ensembles, his groups have gained international recognition, winning top honors and awards at competitions and festivals in Japan and abroad. This package is a collection of TTBB arrangements handpicked by Mr. Stenson, each of these challenging pieces will bring out the best in you Men's choir!
Songlist: Regnum Mindi, Moon Over a Ruined Castle, Cantate Domino, Tread Softly

---
Related Items
Displaying 1-1 of 1 items.
---