| | |
| --- | --- |
| Voicing: | TTBB |
| Format: | Sheet Music |
| Accompaniment: | A Cappella |
| Arranger: | Brazeal W. Dennard |
| Music Category: | Gospel |
| Dimensions: | 10.50 X 6.75, 8 pages |
| Item Code: | 35009893 |
Our Price:$2.25 (minimum order 4 copies) |

| Order 20 Copies or more for 20% discount |

---
The above folio is also available in this package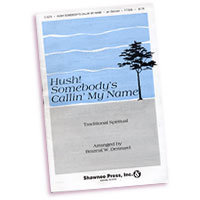 Various Arrangers : Men's Spirituals Vol 3
A collection of a cappella spirituals for male voices including a couple from one of the masters of the genre Brazeal Dennard whose Chorale is one of the nation's leading performers of traditional African-American spirituals. John Parker and Greg Gilpin have combined their talents to create the exuberant and original spiritual for a cappella voices. " Nothin' Gonna Stumble My Fee". Full of dynamic contrast, rhythmic nuances, and textual percussiveness, Nothin' Gonna Stumble My Feet will be an outstanding festival, concert, or contest piece. Thrilling to sing and to hear.
Songlist: Hush! Somebody's Callin' My Name, Promised Land, Steal Away

---
Related Items
Displaying 1-1 of 1 items.
---