Irving Berlin's classic in an exquisite a cappella setting.
Awards
Academy Award - Best Original Song - 1942

Our Price:$2.10 (minimum order 4 copies) |

| Order 20 Copies or more for 20% discount |

---
The above folio is also available in this package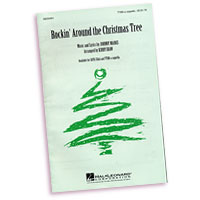 Various Arrangers : Christmas Gems for Male Voices

Spread a little Christmas cheer with the doo-wop-style arrangement of the classic '50s pop song " Rockin' Around The Christmas Tree". Works great in all the voicings. "A Holly Jolly Christmas" is easily transportable for carorling or other programming options, this doo-wop style a cappella setting of this holiday classic will be a favorite. "We Three Kings" is the exact arrangement from the chart-topping album "Christmas Cheers" by a cappella powerhouse Straight No Chaser. Wild and fun, complete with elements of Mission Impossible, Boys II Men and Reggae. 2 tenor and 1 bass solo. . Irving Berlin's classic " White Christmas " in an exquisite a cappella setting. " Run To The Manger" is an original a cappella Christmas spiritual and is packed with rhythmic vitality and inspiring lyrics. Features a great hook and call-and-response solos. " Follow That Star to Bethlehem" celebrates Christmas with an energized rhythmic drive, an optional soloist, and solid, well-crafted vocal harmonies. An excellent holiday feature!
Songlist: Follow That Star To Bethlehem, White Christmas, Rockin' Around the Christmas Tree, A Holly Jolly Christmas, We Three Kings

---
Related Items
Displaying 1-2 of 2 items.
---