From the pen of Hoagy Carmichael, and recorded by the legendary Ray Charles (1960 #1 hit!), this timeless standard is featured here in an unforgettable a cappella setting by Ed Lojeski.
Awards
Grammy Winner - Hall Of Fame - 2014

Our Price:$2.10 (minimum order 4 copies) |

| Order 20 Copies or more for 20% discount |

---
The above folio is also available in this package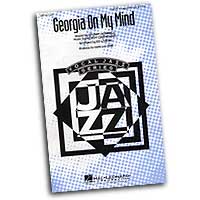 Various Arrangers : Jazz Classics
Warm harmonies and gently nuanced textures give Roger Emerson's setting special appeal. Steve Zegree's jazz harmonies in this classic ballad, "Try To Remember," from The Fantasticks simply shimmers in this warm a cappella setting! This beautifully lyrical classic ballad, "The Very Thought Of You," is expressively arranged in a lush a cappella setting. Varied choral textures and luscious harmonies make "Hello Young Lovers" an ideal selection for a cappella vocal groups. Also included is "Georgia On My Mind."
Songlist: Hello, Young Lovers, Georgia On My Mind, The Very Thought of You, A Cappella

---
Related Items
Displaying 1-1 of 1 items.
---