Vox Bop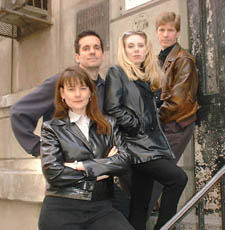 VOX BOP is a mixed a cappella quartet with ultra-smooth voices reminiscent of The Manhattan Transfer and a wry baby-boomer sensibility. Founded in 1995 by David Deschamps, who also does the arranging, Vox Bop was interviewed and featured in a 12-minute piece on National Public Radio's "All Things Considered" on Christmas Eve 1999. They can be currently heard in a national Amazon.com TV ad and were featured as the house band on NBC-TV' "The Ainsley Harriott Show." Vox Bop's first CD, THE VOX BOP CHRISTMAS VARIETY HOUR, has been much acclaimed: it was nominated for a 1998 CARA award, with one of the cuts ("Mission of The Three Kings") winning Best Arrangement at the 1999 NYC Harmony Sweepstakes. In the summer of 2000 Vox Bop performed at The Alandia Jazz festival in Finland and has also made a name for itself performing for a variety of clients throughout the Northeast, including Bloomberg Financial, Bloomingdales, Borders Books, The Brooklyn Museum, Filene'Äôs, The New Press, Starbucks, and many others. The group finished in the top five at the NYC regionals of the 1998 and 1999 Harmony Sweepstakes and is currently at work on their new CD, "Affluenza."
The members: John Bischoff, David Deschamps, Johanna Grussner and Maura May
Discography
Christmas Variety Hour
Intro
I'm In The Mood For Joy
Jingle Bell Rock
Let It Snow! Let It Snow! Let It Snow!
Mission Of The Three Kings
Commercial
Rudolph The Red-Nosed Reindeer
A Charlie Brown Christmas
What Child Is This?
Frosty The Snowman
A Coffee Bar Christmas
Feliz Navidad
Finale
Imagine champagne, festive decorations and your finest party threads...it's the sparkle of the most wonderful time of the year, and Vox Bop are providing the musical accompaniment! This jazzy mixed four piece is inventive, daring, madcap! The swooping, audacious melody lines and shifts in meter, executed on a dime, are impressive indeed, while the arrangements are festooned with unexpected chords that glitter and shine. Don't miss the satire of "The Twelve Days of Starbucks Christmas," which begins with Vox Bop's version of "Java Jive," and detours into "Shake, Rattle, and Roll," before veering into "God Save the King" (?) Somehow, it all comes together in an exhilarating finish!

---
---
To find a specific song on any recording (or to find recordings by group name or CD title),
pick the search method and type the item you are searching for here: