Trinovox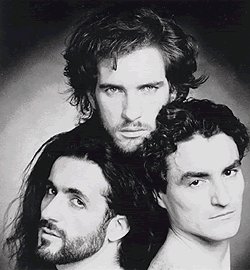 TRINOVOX is an Italian vocal trio, whose members have joined forces in order to explore new ways of composing, arranging and performing - solely by using the human voice and selected great world literature. Trinovox does not sing a capella in the conventional sense. In addition to their voices they use sophisticated electronic devices to alter, vary, and deform them. The electronics are used like an instrument, like a fourth partner on stage. Thus Trinovox manages to find a suitable contemporary expression for the great and rich cultures of the past.
FAMOUS POEMS AND ORIGINAL COMPOSITIONS Great poetry from pre-Christian times to the present in the original language - almost 3,000 years of history - seven different languages: All this is set to music and arranged by Trinovox, and performed by the trio's unaccompanied voices. This is a truly unusual undertaking, which has never before been pursued on such a systematic basis. One of the main areas of their work consists of setting parts of Dante's "Divine Comedy" to music.
INTERNATIONAL AND MULTICULTURAL CHARACTER The Trinovox project has its roots in internationalism and transculturalism. The musical styles which Trinovox adopts are not necessarily tied to the epoch or geographical origin of the poem upon which the Florentine trio's composition is based, but rather emerge from what the poetry has aroused in the composers on a purely emotive and sensory level.
THE LIVE SHOW This explains why these quite heterogeneous poems have been successfully combined into one unitary live show: emotions know no borders, whether geographical, linguistic, historical or stylistic. This multicultural blend is held together by occasional vocal pantomimic numbers taking place in between the poems.
THE NAME The name TRINOVOX has Latin roots and in itself contains the artistic philosophy of this ensemble. TRINO stems from trinus, "triple"; VOX, as is well-known, means "voice" and NOVO, from novus, emphasizes the fundamental commitment to the idea of creating something "new".
TRINOVOX was founded in 1991 in Florence by Francesco Ronchetti, Riccardo Pucci-Rivola und Julian Spizz. In 1993 they recorded in Florence their first CD, "Incanto", which was released by JARO the following year. In 1994 Trinovox won the prestigious prize for vocal music "Premio Quartetto Cetra" sponsered by the north Italian city Cernobbio. They were praised for their achievements in the "fusion of world music with classic polyphony , for their choice of texts and the brilliance of their performance". In 1995 the Bavarian Radio commissioned Trinovox to write and perform the music for the radio play Earborne (to appear on CD in 1995 on JARO). Since 1994 Trinovox performed in many European cities and made various radio and TV productions. Co-productions with theatre and dance groups are in preparation; their second CD as well as the publication of the music from "Incanto" will appear in 1996.
Group members:
Riccardo PUCCI-RIVOLA, descendant of an old Florentine family, was educated as a singer and sound technician. He has worked as a vocalist in various groups and as a soloist; since 1991 he has been teaching modern singing at the "Laboratorio Musicale" in Florence; with Trinovox he composes, arranges and sings.
Francesco RONCHETTI received his Ph.D. in musicology from the University of Bologna and has worked as a teacher in Los Angeles, USA. He has published on vocal pedagogy and teaches in Florence; with Trinovox he composes, arranges and sings.
Julian SPIZZ, educated as dancer and singer (among others with Bobby McFerrin), works as a music teacher, composer and singer in Florence; he sings, composes and arranges for Trinovox.
Discography
Incanto
L' Albantros
Shir Hashirim
Cancion De Jinete
Furu Ike Ya
The Waning Moon
Nei To Grandi Oci
Addio Monti
A Lyric
Vivamus, Mea Lesbia
INFERNO
Prologo
Inizio
I Vili
Caronte
Discesa negli Inferi
Minosse
Francesca da Rimini
Cerbero
Farinata degli Uberti
Diavlo nero
Odisseo
Maometto
Il Conte Ugolino
Conclusione
Trinovox is an Italian trio who have been composing and performing together since 1991. All singers, they believe the voice to be one of the most direct means of communication we humans have. Literature to is the written voice. Thus they create a synthesis, musical interpretation of some of the world's greatest pieces of literature. On Incanto are Baudelaire's "The Albatross," King Solomon's "Song of Songs," Frederico Garcia Lorca's "Cancion De Jinette," Japanese Poets from the 17th-19th centuries and more! Their masterpiece on this release is interpreting 12 Verses of Dante's "Inferno." This is truly world culture on disc.

---
Mediterranea
Je Vis, Je Meurs
Anima
Nzampaggiuni
Nacio una Flor
Fainetai Moi
Hora Tras Hora
Lu Tempu
Ogni Cosa a Morte Arriva
Elif
Pedicabo Ego Vos
Sakhr
On the first album Trinovox rigidly adhered to a three part polyphony though they extended the variety of sounds normally heard. On this second album they give free reign to their vocal orchestral vision. Innovative overdubbing techniques allow for richer positions. Vocal percussion, horns, and guitars are all used with great enthusiasm as the three interpret the works of six female poets and six male poets from a three thousand year span of world literature, in the original languages, French, Hebrew, Italian, Sicilian, Andalusian, Ancient Greek, Spanish, Sardinian, Tuscan, Turkish, Latin and Arabic!

---
---
To find a specific song on any recording (or to find recordings by group name or CD title),
pick the search method and type the item you are searching for here: