Sons Of Pitches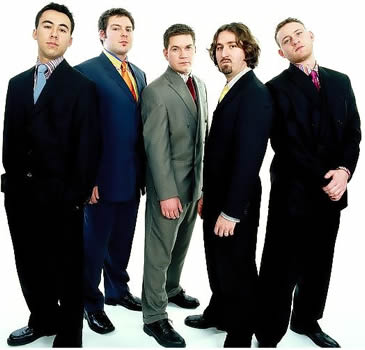 Sons of Pitches is a group of five classically trained musicians who perform a wide variety of songs from pop, classic rock, country, and folk covers to many original songs. Their engaging stage presence along with their humor and energy make them highly charismatic performers. They are all formally trained vocal musicians who take their craft seriously and are now making a full time commitment to pursuing a professional performance career. Recently they began incoporating instrumentation into their arrangements while staying true to their vocal a cappella roots- with stunning results. Their performance venues range from school workshops to main stage concerts to opening for national acts. If you listen to their albums and see them in concert, you will realize that their sound is in no way contrived or processed. Reviewers and public comments proclaim the "dawn of a stunning group of musicians about to launch themselves into the national spotlight."
Discography
What You Have It
I Want You Back
Upside Down
Everytime
Never There
Knocks Me Off My Feet
Ordinary
I Told You So
Playpen
Prayin' for Daylight
Comfortable
Let Me Off
Luckiest
The third CD for new vocal sensation, 5-man Sons of Pitches finds them incorporating some accompaniment with their excellent vocals. 13 songs, three by Michael Jackson, an a cappella "I Want You Back," and a bonus live cut of "The Way You Make Me Feel/Billie Jean;" the rhythmic "Upside Down," "Never There," "Ordinary," the crazed toddler pickup anthem "Playpen," "Prayin' For Daylight" and the plaintive "Let Me Off." "What You Have It" is a poised, confident, impressive CD for SOP, who are fast-rising stars in the worlds of a cappella and now, accompanied music. First-class arrangements, well-chosen covers and originals, tight harmonies we agree with the audience at the recent Harmony Sweeps New York Regional, who picked them Audience Favorite - we love this group!
---
With a "P"
My Sweet One
What You Wish For
You're a God
Kiss the Girl
You're Gone
Rosanna
I Never Liked You
I'll Try
Cigarettes Will Kill You
Mother Nature's Son
I Need To Know
What Might Have Been
What a Wonderful World
One More Minute
The five talented young men of New York-based Sons of Pitches are new to the professional music world after four years as college favorites. Their striking harmonies and arrangements and originals have earned them dozens of sold out shows in theatres across upstate NY, sharing the stage with groups like The Four Tops and The Temptations, and they recently won "Audience Favorite" at the New York Harmony Sweeps Regional. "P" is their second CD, 14 all a cappella tunes, some favorites: Phish's "My Sweet One," Vertical Horizon's "You're A God," Disney's calypso anthem "Kiss the Girl," a great arrangement of Toto's "Rosanna," a pair of excellent originals by the group, the hilarious "I Never Liked You" and "I'll Try;" the Beatles' "Mother Nature's Son," Marc Anthony's "I Need to Know," Louis Armstrong's inspirational "What A Wonderful World" and finishing with Weird Al Yankovich's manic "One More Minute."
---
The First One
Stuck With You
Hello City
I've Gotta Get A Message to You
Melissa
Off and On
The Lazy Boy
With or Without You
Can't Help Falling in Love with You
You Can Call Me Al
In the Still of the Night
Kokomo
One
"The First One" is an example of what a debut album should sound like. With a great mix of hilarious original songs, like "Lazy Boy," and some of our favorite classic songs, like "Can't Help Falling In Love With You," this album is sure to stand out. This talented quintet is definitely going places.
---
---
To find a specific song on any recording (or to find recordings by group name or CD title),
pick the search method and type the item you are searching for here: