Schrodinger's Cat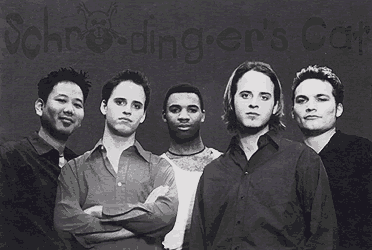 Mix Bobby McFerrin and "Stomp!", add healthy dose of Texas (brewed with an attitude), and you get Schrvdinger's Cat, literally kicking new directions in music. Their unique style, called "Big Beat A Cappella", expands the standard vocal band's tight harmonies to include intense body percussion, choreography, and sweat. Lots of sweat. Think of it as step aerobics w breathing more than once every two measures. Schrvdinger's Cat enjoys walking the fine line between the highly innovative and the completely insane, always offering an energetic display of musical prowess, sadistic tendencies, and recklessly bad humor. Their debut CD "Big Beat A Cappella" received critical acclaim from some of the top a cappella organizations in the country (4.8 out of 5.0 from the Recorded A Cappella Review Board) and sold out of the first 1000 copies in under three months with fewer than 100 available outside of Austin. Recognized as an entertainment powerhouse all over Texas, they're excited to bring their third coast style of music to the rest of the a cappella community in the United States and around the World.
Discography
Big Beat A Cappella
All I Want
Yes, You
No Diggity
When Doves Cry
Through The Wall
In Your Eyes
Day-O
Sexual Healing
You Can Leave Your Hat On
Jump In The Line
That Lonesome Road
The student body of the University of Texas at Austin has propagated this seven or nine member (depending on circumstances) contemporary/urban/hip hop/soul group that has it all goin' on....a little bit sexy, a little bit nasty, and a lot hip. An emphasis on percussion drives the arrangements, much of it body percussion: stomping, sliding, slapping clapping and hitting! The group recognizes Bobby McFerrin as a primary inspiration (calling their sound "Bobby McFerrin meets STOMP!") and covering two McFerrin originals: "All I Want" and "Yes, You." "In Your Eyes" has an extended intro vamp before it breaks into the familiar chorus; "Sexual Healing" bumps and grinds, a rhythmically complex performance that enhances the vocal, without overpowering it. "Jump In The Line," with its rapid 2/4 syncopation, is a reflection of the many facets of the Texan music scene, encompassing Tejano, Spanish and Latin influences. "Lonesome Road" is a fitting closing track: delivered almost as a church hymn, the group gradually opens up the arrangement, accenting the final verse with tasty passing chords and allowing the melody to soar.

---
---
Vocal Jazz| Pop | Barbershop | Gospel | Christian | World | Choral| Doo Wop
Arrangements | Women's | Collegiate | Vintage | Instructional

The Harmony Sweepstakes A Cappella Festival | West Coast A Cappella Summit|
To find a specific song on any recording (or to find recordings by group name or CD title),
pick the search method and type the item you are searching for here: