Sam Rogers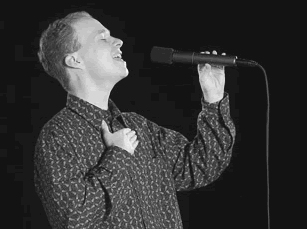 Sam Rogers is called the "One Mouth Band" for good reason. He makes all the sounds of a band by himself -- and often all at once! Whether it's bass, guitar, horns, or the ever-popular drums and percussion, it all comes from this one amazing mouth. A genuinely entertaining performer, the One Mouth Band strives to make each show interactive and memorable for the whole audience. The musical genres you hear in just one of his performances can seamlessly range from jazz to rock to funk to blues to reggae, each with instrumental imitations and musical improvisations that will astound.
The One Mouth Band is more than a simple sound-alike or novelty act, he is an original musician with his own definitive style. Having performed and recorded with several A Cappella groups and bands (including Roy Rogers, The Irrationals, Dalton Jerry, Improvox, Audio Radiance, Corner Market, Till Dawn), Rogers is happy to now display his unique talents with the unfettered, raw freedom of being vocally naked!
An otherwise well-behaved child, Rogers has been making noises all his life. Shortly after founding and directing a successful local teen A Cappella group, he studied music with the legendary arranger/pianist Phil Mattson at The School for the Music Vocations. There Rogers sang with dozens of vocal groups, trying everything from Barbershop to Vocal Jazz to R&B to Classical singing, as well as performing regularly with a local cover band. He now holds a Bachelor's Degree in Communications (Media & Music Arts emphasis) from Sonoma State University. Since college, Rogers has studied privately with several founding members of Bobby McFerrin's Voicestra (Raz Kennedy, Rhiannon, Joey Blake, David Worm). He first started singing solo A Cappella in 1995, and started performing seriously as One Mouth Band in 2001. As well as being a Vocal Musician, Rogers is also an Actor, Voice Talent, Webmaster, E-Learning Specialist, Acupressure Practitioner, and Notary Public. He lives with his girlfriend in Forest Knolls, California, and performs frequently around the San Francisco Bay Area.
Discography
100% Organic Human Voice
100% One Mouth Band
Tuvintro
Foxey Lady
Meter-ific
Rock & Roll, Part Two
Night And Day
Night In Tunisia
Can't Stop The Rain
I Wanna Take You Higher
It Was A Lie
Drum While I Bass
Hear Here
Breath 2 Band
World Of Music
You Got A Voice
Straight No Chaser
How exactly does he do it? Sam Rogers has, over relatively a few years, developed an impressive reputation as being one of the top vocal percussionist/beatboxer in the country. His unique talent, plus many years studying with some of the top vocal jazz coaches such as Phil Mattson and Michelle Weir, has developed his own unique style. Sam creates all kinds of sounds using just his voice without much use of electronic effects (unlike many others) but rather from his ability to create a whole array of fascinating sounds which he uses to great effect in these songs. Much creativity is displayed in this most interesting recording.
Listen to "You Got A Voice" in Real Audio.
---
One Man Band
One Mouth Band
Fly Like An Eagle
Another Dollar
Autumn Leaves
Till There Was You
Use Me
I Can't Love You for Much Longer
Angel Eyes
Improv: First Time
Walking in your Footsteps
Improv: Mental Drift
Moody's Mood for Love
If Bobby McFerrin were to look over his shoulder, he'd probably see Sam Rogers, One Mouth Jazz Band. Forest Knolls, CA-based Sam stands up in front of a microphone provides vocal (and physical, as in slaps, snaps and thumps with his hands) percussion, background vocals, fake horns and scat singing for a surprising demonstration of the capabilities and possibilities of the human voice. 12 tracks, all recorded live before appreciative audiences, some at San Rafael, CA's Belrose Theater and some at Sebastopol, CA's Powerhouse Brewing Co.: 'One Mouth Band,' Steve Miller's 'Fly Like An Eagle,' 'Another Dollar' (an original by Sam), 'Autumn Leaves,' 'Till There Was You,' 'Use Me,' 'I Can't Love You For Much Longer' (another Sam original), 'Angel Eyes,' 'Improv: First Time' (original), 'Walking In Your Footsteps,' 'Improv: Mental Drift' (original), and 'Moody's Mood for Love.' Jazzman Sam and his great set of lungs are pushing the a cappella envelope!
Listen to "Autumn Leaves" in Real Audio.
---
---
To find a specific song on any recording (or to find recordings by group name or CD title),
pick the search method and type the item you are searching for here: