The Exboyfriends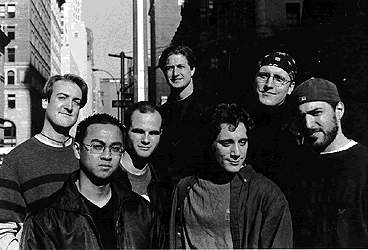 Group members: David Curry, Xerxes Eclipse, David Kern, Jeff Liebert, Jeremy Lipkin, Ari Picker, Brian Reichelt.
The Exboyfriends are a seven member "alternative a cappella" group from New York City. Born out of an ad in The Village Voice, they have been performing together for over six years in New York City clubs, on cable television, and over national syndicated radio.
The Exboyfriends' first brush with fame came in December of 1997 when they were asked to perform on the Howard Stern Show as the Howard Stern Christmas Carolers. Making two appearances on the show, the Ex's won over the shock-jock and his fans with song parodies of popular Christmas Carols. The group's songs can still be heard on the radio during the holiday season, as well as brand new carols they submit to the show each year.
Their first big television break came in November of 1999 on the VH1 series "Rock of Ages." The Ex's were tapped to perform as the Country/Western version of The Backstreet Boys in a hidden camera segment taped in the Virgin Megastore in NYC. Teenyboppers listened at a phony listening station and their reactions ' ranging from hysteria to disbelief ' were captured on tape. More than a few attempts were made to buy the fake CDs!
The Exboyfriends are proud back-to-back winners of the "Audiences Favorite Award" at the last two Harmony Sweepstakes in New York.
Discography
Karaoke Bar Brawl
We had the pleasure of catching the New York City Regional winners Exboyfriends at the 2001 Harmony Sweeps Finals, where they won Audience Favorite. Ten songs all produced by Jeff Thatcher of Rockapella: Chicago's "25 or 6 to 4," "Man In The Box," The Who's "Who Are You," the original "Exboyfriend," "Love Song," "Flash Theme," "Not An Addict," another excellent original, "Lemonade," "Blinded By The Light" and "Lovin', Touchin' Squeezin' (with Sean Altman). There's a boatload of talent here; strong vocal percussion, one of the most dynamic stage shows we've seen, amazing arrangements; it adds up to a winning CD by a group that's in the fast lane to stardom.
Listen to "Blinded By the Light" , "Lovin' Touchin' Squeezin'" and "25 or 6 to 4" in Real Audio.

---
A Cappella Is Dead
A Phloytles Thing
Ramble On
I Still Want To See You
I've Seen All Good People
Reminiscing
Big Bad Bill
Ice Cream
In The Air Tonight
Frankenstein
Swept Away
What? Uh oh, seven guys from New York with a sense of humor, watch out! Displaying typical exboyfriend tendencies, this contemporary group won't just disappear quietly into ignominy! No, they insist on making the scene, announcing their presence with Led Zeppelin songs like "Ramble On," and, instead of embarrassing themselves, end up sounding kind of, well, really good. Then they get all sensitive ("I Still Want To See You," an original), but of course, even then, it's hardly sincere. Whether pounding their chests (literally) in an over-the-top rendition of "Frankenstein" or melting your heart with "Ice Cream," these Exboyfriends can't quite stop being adorable.
Listen to "Ramble On" in Real Audio.

---
---
To find a specific song on any recording (or to find recordings by group name or CD title),
pick the search method and type the item you are searching for here: