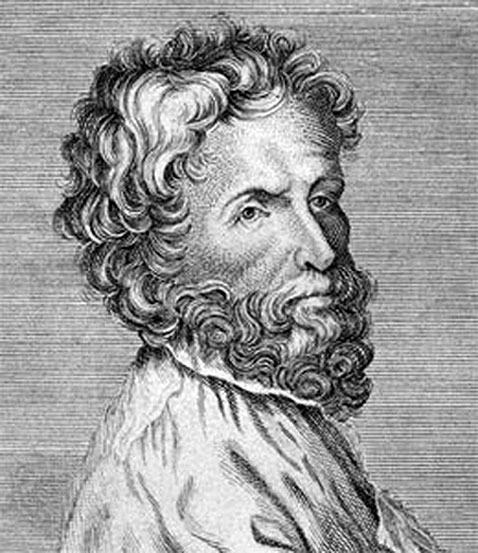 Almost all of his music is sacred, and all of it is vocal, though instruments may have been used in an accompanying role in performance. He wrote many masses, some of spectacular difficulty, most likely written for the expert papal choir; he wrote over 100 motets; and he wrote 18 settings of the Magnificat, and at least five settings of the Lamentations of Jeremiah (one of which survives from a single manuscript in Mexico). The Magnificats alone set him apart from other composers of the time, and they are the portion of his work most often performed today. Stylistically, his music has much in common with other middle Renaissance work of the Iberian peninsula, for example a preference for harmony heard as functional by the modern ear (root motions of fourths or fifths being somewhat more common than in, for example, Gombert or Palestrina), and a free use of harmonic cross-relations rather like one hears in English music of the time, for example in Thomas Tallis. Some unique characteristics of his style include the rhythmic freedom, such as his use of occasional three-against-four polyrhythms, and cross-rhythms where a voice sings in a rhythm following the text but ignoring the meter prevailing in other voices. Late in life he wrote in a sober, heavily homophonic style, but all through his life he was a careful craftsman who considered the expression and understandability of the text to be the highest artistic goal.

Composers - Early Music | Classical | 20th Century | Modern
Displaying 1-1 of 1 items.
---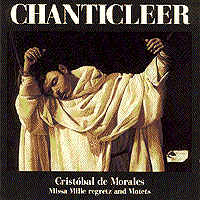 Chanticleer : Cristobal de Morales
Review: Cristobal de Morales is usually mentioned along with Francisco Guerrero and Tomas Luis de Victoria as the trio of Spanish composers who typified 16th-century Spanish church polyphony. The Missa Mille regretz is based on the famous chanson of the same name by Josquin des Prez, and proved to be a favorite work of Charles V. This recording conveys the deep spiritual feeling behind these liturgical settings - another bull's-eye for this splendid ensemble.
Songlist: Vidi aquam, Mille regretz, Mille regretz: Kyrie, Mille regretz: Gloria, O Sacrum Convivium, Mille regretz: Credo, Emendemus in melius, Mille regretz: Sanctus, Mille regretz: Agnus Dei, Lamentabatur Jacob

Displaying 1-28 of 28 items.
| Song Name | Arranger | Composer | Artist | Item Title | Format | | Trax |
| --- | --- | --- | --- | --- | --- | --- | --- |
| Agnus Dei Missa Ave Maria - Morales | | Cristobal de Morales | Lionheart | El Siglo De Oro | 1 CD | MORE DETAILS | |
| Ecce sic benedicertur | | Cristobal de Morales | Gloriae Dei Cantores | Masters of the Renaissance | 1 CD | MORE DETAILS | |
| Emendemus in melius | | Cristobal de Morales | Chanticleer | Cristobal de Morales | 1 CD | MORE DETAILS | |
| Exaltata est sancta Dei Genitrix | | Cristobal de Morales | Nordic Voices | Reges Terrae | SACD | MORE DETAILS | |
| Gloria Missa Ave Maria - Morales | | Cristobal de Morales | Lionheart | El Siglo De Oro | 1 CD | MORE DETAILS | |
| Kyrie (Mass Mille Regretz) | | Cristobal de Morales | King's Singers | The Golden Age | 1 CD | MORE DETAILS | |
| Kyrie Missa Ave Maria - Morales | | Cristobal de Morales | Lionheart | El Siglo De Oro | 1 CD | MORE DETAILS | |
| Lamentabatur Jacob | | Cristobal de Morales | Chanticleer | Cristobal de Morales | 1 CD | MORE DETAILS | |
| Magnificat (Octavi toni) | | Cristobal de Morales | Oxford Camerata | Renaissance Masterpieces | 1 CD | MORE DETAILS | |
| Manus tuae Domine Missa Beata Maria Virgine in Sabbato | | Cristobal de Morales | Gloriae Dei Cantores | Esperanza - A Gift of Spanish Song | 1 CD | MORE DETAILS | |
| Mille regretz | | Cristobal de Morales | Chanticleer | Cristobal de Morales | 1 CD | MORE DETAILS | |
| Mille regretz: Agnus Dei | | Cristobal de Morales | Chanticleer | Cristobal de Morales | 1 CD | MORE DETAILS | |
| Mille regretz: Credo | | Cristobal de Morales | Chanticleer | Cristobal de Morales | 1 CD | MORE DETAILS | |
| Mille regretz: Gloria | | Cristobal de Morales | Chanticleer | Cristobal de Morales | 1 CD | MORE DETAILS | |
| Mille regretz: Kyrie | | Cristobal de Morales | Chanticleer | Cristobal de Morales | 1 CD | MORE DETAILS | |
| Mille regretz: Sanctus | | Cristobal de Morales | Chanticleer | Cristobal de Morales | 1 CD | MORE DETAILS | |
| Missus est Gabriel - Morales | | Cristobal de Morales | Lionheart | El Siglo De Oro | 1 CD | MORE DETAILS | |
| Motetus: Ad tantae Nativitatis | | Cristobal de Morales | La Colombina | Christmas in Spain | 1 CD | MORE DETAILS | |
| My Transgressions | | Cristobal de Morales | | My Transgressions | (SATB) | MORE DETAILS | |
| O Magnum Mysterium | | Cristobal de Morales | Santa Fe Women's Ensemble | A Celebration of Song | 1 CD | MORE DETAILS | |
| O Sacrum Convivium | | Cristobal de Morales | Chanticleer | Cristobal de Morales | 1 CD | MORE DETAILS | |
| Pastores Dicite | | Cristobal de Morales | Sistine Chapel Choir | Concert at the Vatican | 1 CD | MORE DETAILS | |
| Peccantem me quotidie | | Cristobal de Morales | Lionel Dakers / John Scott (Edited by) | Ash Wednesday to Easter for Choirs | Songbook | MORE DETAILS | |
| Puer natus est | | Cristobal de Morales | | Puer natus est | Sheet Music (SAB) | MORE DETAILS | |
| Regina caeli | | Cristobal de Morales | Nordic Voices | Reges Terrae | SACD | MORE DETAILS | |
| Responsorium: Pastores, dicite, quidnam vidistis? | | Cristobal de Morales | La Colombina | Christmas in Spain | 1 CD | MORE DETAILS | |
| Sanctus Missa Ave Maria - Morales | | Cristobal de Morales | Lionheart | El Siglo De Oro | 1 CD | MORE DETAILS | |
| Vidi aquam | | Cristobal de Morales | Chanticleer | Cristobal de Morales | 1 CD | MORE DETAILS | |
---
All Rights Reserved All Content, page design, CGI Copyright © United Singers International