Nebraska Children's Chorus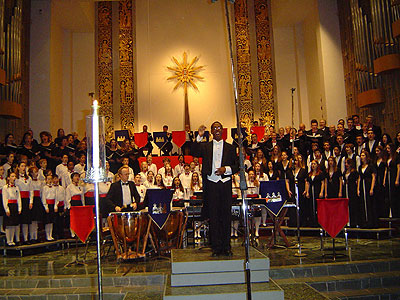 With a deep breath and a passion for musical expression, the Nebraska Choral Arts Society (NCAS) was created. What started as an idea, a hope came to fruition in 1978. Former Dundee Presbyterian Church Music Director, Dr. Thomas A. Brantigan, founded NCAS. The music began with 85 adult singers, known as the Nebraska Choral Arts Society; a non-profit organization dedicated to the performance of great choral and choral-orchestral music. In 1984, Dr. Brantigan founded the Nebraska Children's Chorus (NCC). It was an idea conceived through Dr. Brantigan's exposure to children's choruses on the coasts and brought home to pursue. He nurtured the choirs for several years and then handed the baton to Dr. Z. Randall Stroope in 1987. Under the direction of Dr. Stroope, NCAS Artistic Director, the organization has grown from two to nine choirs. Few organizations are fortunate enough to have two visionaries in the span of 25 years.



Magnificat
Magnifican (Z. Randall Stroope)
Hodie Christus Natus Est (Jozsef Karai)
Psalm 23 (Z. Randall Stroope)
Dixit Dominus (baldassare Galuppi)
Magnificat (Paul Halley)
Ave Maria (Franz Biebl)
Jubilate Deo (Michael Braz)
O Vivens Fons (Hildegard von Bingen)
In Paradisum (7th Century Chant)
'Agnus Dei' from Coronation Mass (W.A. Mozart)
There Is No Rose (Z. Randall Stroope)
Magnificat (herbert Brewer)
Agnus Dei (Einojuhani Rautavaara)
Lauda Sion (Gyorgy Orban)
Ave Verum (Gabriel Faure)
God of Fire (To Agni) (Gustav Holst)
Magnificat (Herbert Sumsion)
Alleluia (7th Century Chant)
Ave Maria (Simon Lindley)
Jaakobin Pojat (Pekka Kostiainen)
Inscription of Hope (Z. Randall Stroope)
The Lord Bless You and Keep You(Ronald Corp)
Missa Brevis (Ron Jeffers)
Kyrie
Gloria
Magnificat (chant)
'Ombra mai fu' from Serse (G.F. Handel)
'O Pastorelle Addio' from Andrea Chenier (Umberto Giordani)
'Verdi Prati' from Alcina (G.F. Handel)
'Dome Epais' from Lakme (Leo Delibes)
'Witches Chorus' from Macbeth (Giuseppe Verdi)
Under the Greenwood Tree (David Willcocks)
Weep No More (Davis Childs)
Les Nymphes des Bois (Leo Delibes)
The Paint Box (Z. Randall Stroope)
Trepute Martele (Vacolvas Augustinas)
If you've heard this choir before, you know what to expect here: lustrous ensemble sound, crisp, clear, clean articulation, irresistible rhythmic energy, keen intonation, and impressive command of some very challenging music. In this two-disc program (35 works) we're treated to five Magnificats, all different in style--from chant and early-20th-century settings to more "modern" versions by Herbert Sumsion, Swedish composer Agneta Sköld, and conductor Z. Randall Stroope--as well as a widely varied array of original and arranged works for treble voices.

---
Homeland
Magnifica In G - Brewer
Chi La Gagliarda
Dank Sagen Wir Alle Gott - Schutz
Ola! O Che Bon Eccho - DiLasso
Ave MAiria - Tegner
Gloria - Skold
Der Brautigam - Brahms
The Snow - Elgar
Hornpipe Opening And Reel - Mathieson
Homeland - Holst
Zuni Sunrise Song
On Suuri Sun Rantas Autius
Turot Eszik A Cignany - Kodaly
Kis Szvit - Szunyugh
Oi, Muststko Viela Railio - Finnish Folk Song
Adiemus - Jenkins
Reel a'Bouche - French Canadian
One of the more delightful aspects of listening to children's choir performances is discovering endlessly fascinating new repertoire--and we are not disappointed here. From Kis Svit--two folk-based pieces by Balazs Szunyugh--to Alice Tegnér's Ave Maria, Herbert Brewer's Magnificat in G, and Brent Michael Davids' Zuni Sunrise Song (with its very sincere attempt at authentic Native American music sounds), we are treated to a consummately entertaining program and a fascinating musical tour of music from many countries--including Finland, Hungary, Italy, and French Canada. One of my favorite selections was O Pastorelle, Addio, from Giordano's Andrea Chenier--but I also loved the high-B-flat ending of Donato's Chi la Gagliarda, the unusual Amazing Grace tune (with bagpipe intro), conductor Stroope's arrangement of Holst's Homeland, and the concluding French Canadian Reel a'Bouche, arranged by Dalglish.

---
The Circle of Time
Caritas Abundat - Hildegard von Bingen
Gaudette - Piae Cantiones
Magnificat In G - Herbert Brewer
Lascia Ch'io Pianga - G.F. Handel
In Paradidium
Aure Volanti
Ave Maria - Franz Biebl
There Is No Rose - Stroope
We Rise Again - Dublinsky / Adams
Kyrie - Louis Roche
Agnun Dei
Laughing Song - Lloyd Pfautsch
Sympaatti - Aulis Sallinen
Tancnota - Koldaly
Altatodal - Janos
Osszegyultek - Bardos
Cuatro Baladas Amarillas - Chilcott
In The Height Of That Mountain
The Land Was Yellow
Two Red Oxen In The Golden Field
I'm Walking Over A Sky Of Daisy
Konpira Fune Fune - Kagawasta
In Flanders Field - Tilley
Adiemus - Jenkins
Ev'ry Time I Feel The Spirit - William Dawson
This compact disc was released by Bel Canto in 2001, and features colorful classical and folk songs from across the globe. All treble music. This CD showcases the many talents of this group. Selections range from classical to folk songs to 20th century avant-garde works. Conducted by Z. Randall Stroope.
---
Z. Randall Stroope - Passages Vol 1
How Can I Keep From Singing
Homeland
Sure On This Shining Night
Hodie
The Pasture
Resonet in Laudibus
All So Still
American Rhapsody
Lux Aeterna
Flores Del Agua
Sinfonia En Gris Mayor
Octavas
The Paint Box
Let Us Go Into The House Of The Lord
Inscription Of Hope
Ode To Joy
Featuring the University of Nebraska Omaha Concert Choir, Bel Canto, Canticum Novum, Nebraska Choral Arts Society & Northwest Girl Choir.
To find a specific song on any recording (or to find recordings by group name or CD title),
pick the search method and type the item you are searching for here: