Aurin Girls Choir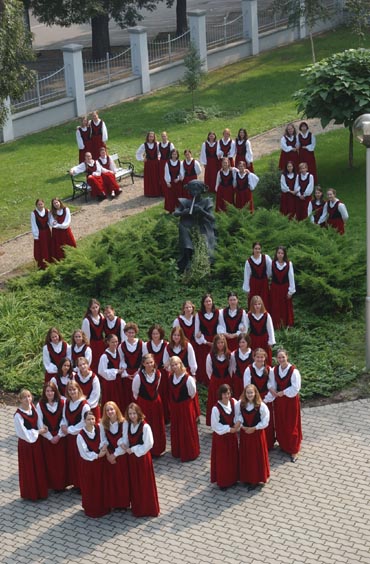 The choir founded in September 1998. from the girls over 14 years of the "Miraculum" Children's Choir of the Kodály School. The founder and director of the choir is László Durányik. The most outstanding achievement of the predecessor children's choir was the winning of the 18th Béla Bartók International Choir Competition in Debrecen, and also the first place at the 52nd International Choir Competition in Llangollen, England in 1998. The members of the present Aurin Choir took active part in both success.
The aim of the girl's choir is to organically integrate in the "blood circulation" of the Hungarian choirs, to participate successfully at concerts both in Hungary and abroad, as well as to take part in international choir competitions and to make recordings. This choir intends to represent worthily Kecskemét, the native town of Zoltán Kodály. It is also one of their aims to become active participants of the musical life of their hometown, Kecskemét. They want to play an important role in the cultural life of this town, and thus continue and complete their activity up till now. It is among their most important tasks to promote the traditions of Hungarian culture, to bring up young people who are dedicated to choir singing, thus interpret and accept both classical and modern choir literature. The choir intends to enlarge its repertory from renaissance music to 20th century choral works, emphasising especially the pieces by Kodály, Bartók, Bárdos and Kocsár.
Discography
Aurin Girl's Choir Vol 3
Ave Maria - Franz Biebl
Laudate pueri - Felix Mendelssohn-Bartholdy
Ave maria - Johannes Brahms
Regnum mundi - Jean Lheritier
Laudate - Rudi Tas
Hervadaskor - Emil Petrovics
Cantate Domino - Levente Gyongyosi
Daemon irrepit callidus - Gyorgy Orban
Chi d'amor sente - Traditional hungarian folksong
Oktobernek elsejen - Traditional hungarian folksong
Villo - Zoltan Kodaly
Sarkozi karikazo - Jozsef Karai
Bon jour mon coeur - Orlandus lassus
Vous perdez tante de me - Sermizy / Marot
Musica - Jacobus Gallus
Es ist ein Ros entsprungen - Michael Praetorius
Pastime with good company - Henry VIII
Deep River - Traditional spiritual
If our daughter was interested in becoming a fine choral musician, and money was no object, we would without hesitation send her to the Kodaly Zoltan Special Music Elementary and Grammar School, Music School and Conservatory in Kecskemet, Hungary. There, language and cultural obstacles aside, we would expect director Laszlo Duranyik to work his magic, either in his Miraculum Children's Choir, to which we just gave a rave review, or in the smaller Aurin Girls' Choir, comprised of selected girls over 14 who were previously members of Miraculum, seen here posing confidently on a stairway in the liner notes. We can tell from the first strains of Biebl's "Ave Maria" how good this choir is, and each singer individually. 18 cuts, a lot of classical sacred material such as "Mendelssohn-Bartholdy's "Laudate pueri," Brahms' "Ave Maria," Gyongyosi's "Cantate domino" and others. Traditional Hungarian folksongs "Sir a kisgalambom" and "Oktobernek elsejen,' Hungarian master Zoltan Kodaly's "Chi d'amor sente" and "Villo," Jozsef Karai's "Sarkozi karikazo," and bonus tracks "Musica" by Jacobus Gallus, Praetorius' "Es is ein Ros entsprungen" and the traditional spiritual "Deep River" are among our favorites. Every piece here is stunning, inspiring and exquisite!
Listen to "Daemon irrepit callidus" in Real Audio.
---
Miraculum Children's Choir
-Birds
-Ladilom
-Szep tavasz idjen
-Nagyszalontai koszonto
-Zold erdoben
-Bolyongas
-Szello zug
-Csilingelo
-Tel
Tunder, ha lennek…
-Ugrotanc

Miraculum finds its home at the Kodaly Zoltan Special Music Elementary and Grammar School, Music School and Conservatory in Kecskemet, Hungary. The choir was formed in 1996 from 12 to 15-year-old students. The choir is always trying to augment their repertoire, which is based on Renaissance to 20th century music, with a special focus on choral works by Kodaly, Bartok, Bardos and Kocsar. Their perfect pitch and clean, angelic sound has led the choir to 6 first place finishes in 12 competitions up to 2002. Here are 11 songs, particularly nice are Kodaly's "Nagyszalontai koszonto" and "Zold erdoben," Kocsar's (with Imre Csanadi) "Csilingelo" and "Tel," Jozsef Karai's (with Marta Ivanyi) "Tunder, ha lennek," and his (with Sando Weores) "Ugrotanc." We also enjoyed Benjamin Britten's "Birds," Bela Bartok's "Bolyongas" and Bardos' (with Miklos Markus) "Szello zug." There is a beautiful foldout photo of the Choir in the liner notes, and some light piano accompaniment on 3 tracks. Wonderful music, effortlessly and precisely sung by one of Europe's great children's choirs!
---
Miraculum Children's Choir 3
Frohliche Spiele - Ferenc Liszt
Pueri hebraeorum - Giovanni Pierluigi da Palestrina
Lengyel Laszlo - Zoltan Kodaly
Jo szanut, jo fejsze - Miklos Kocsar
Egyetem-begyetem - Zoltan Kodaly
Cat and Dog - Miklos Kocsar
Cosy Can Nap - James Kirkup
Cat - Elenaor Farjeon
Harmony - Olli Kortekangas
Confirma hoc - Jacobus Gallus
Pueri concinite - Jacobus Gallus
Cantemus - Lajos Bardos
Ave maria - Lajos Huszar
Nem ismertem az oromet - Traditional hungarian folksong
Unnepi kanon - Bardos / Lukin
Al Shlosha D'Varim - Allan E. Naplan
A Clare Benediction - John Rutter
Josu Elberdin - Alami
The Miraculum Children's Choir was formed in 1996 from the 12-15 year old children who attend the Kodaly Zoltan Special Music Elementary and Grammar School, Music School and Conservatory in Kecskemet, Hungary. This talented choir, directed by Laszlo Duranyik, has been awarded numerous first prizes in international choir competitions and festivals across Europe, We particularly like the liner notes included with "III," which show wide-screen photos of this all-girl choir in t-shirts and jeans, and then in their concert garb, white blouses and black skirts. It's hard to pick favorites here, as this choir has a wonderfully fresh, spirited sound on all cuts, but the a cappella tunes, Zoltan Kodaly's dynamic "Lengyel Laslo" and "Egyetem-begyetem," Miklos Kocsar's "Cat and Dog," Palestrina's lovely "Pueri hebraeorum," Olli Kortekangas' "Harmony," Jacobus Gallus' beautiful "Confirma Hoc" and "Pueri concinite," Lajos Huszar's "Ave Maria," the traditional Hungarian folk song "Nem ismertem az oromet" and Bardos and Lukin's "Unnepi kanon" are among the best here. There is some light piano accompaniment. But we have to say, this is an amazing sound from a childrens' choir - definitely among the best we've ever heard!
To find a specific song on any recording (or to find recordings by group name or CD title),
pick the search method and type the item you are searching for here: