Reprise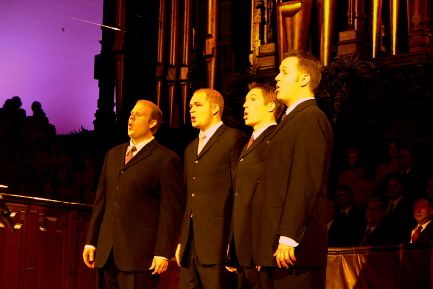 Reprise was conceived as a five-part group dedicated primarily to classical and jazz arrangments of sacred music; however, they couldn't find a low bass that could handle their arrangments. They remained a quartet through the Christmas season, singing local gigs and trying to nail down a full repertoire. Tenor Tim Workman had sung barbershop since age 4-although never in the Society-and had long been a big fan of Acoustix and Bluegrass Student Union. He and bass Tad Harris had competed in last year's collegiate contest with Trademark (4th place), and they kicked around the idea of inserting barbershop into their repertoire.

Lead Joel Gillespie was game to try, but bari Rex Kocherhans initially was not. He'd been exposed to some barbershop before, and it hadn't been performed particularly well. After getting past the initial resistance, the quartet learned an Acoustix arrangement and immediately knew they had something special. They decided to try to compete in Nashville, and upon going there and hearing a lot of great barbershop, their enthusiasm for barbershop was redoubled again. Reprise then went on to win gold medals the Collegiate Barbershop Finals.
Discography
Then Sings My Soul
Lead Kindly Light
Come Thou Fount of Every Blessing
My Shepherd Will Supply My Need
Praise To The Lord, The Almighty
My Lord What a Morning
It Is Well
The Lord's Prayer
Because I Have Been Given Much
Give Me Jesus
Children's Song Medley
Oh my Soul Hungered
I Need Thee Every Hour
Alleluia
How Great Thou Art
From the first reverberant sound of "Lead Kindly Light," there is no doubt why Reprise was named the 2001 International Collegiate Barbershop Champions- they know their stuff! With Reprise's busy schedule, including a tour with the Brigham Young University Singers to Africa, they have made quite a name for themselves. Finally we get a taste of their original intent of forming their quartet, sharing their love for sacred music with the masses. Each arrangement is beautifully crafted, many written by members of the group or by faculty of BYU, to fit their specific voices. Each song speaks to not only someone who loves sacred hymns, but also to those who appreciate the dissonant sound of gorgeous barbershop singing. Some favorites include "Come Thou Fount of Every Blessing," "Praise the Lord, the Almighty," and "The Lords Prayer."
Listen to Alleluia in Real Audio.
| | |
| --- | --- |
| 5668 CD OUT OF PRINT $14.98 | |
---
Reprise
I've Been Workin' on the Railroad
I Only Have Eyes For You
Sittin' on Top of the World
Let All Mortal Flesh Keep Silence
Tonight, Tonight
What'll I Do?
Dinah
Simon & Garfunkel medley
How Great Thou Art
And So it Goes
Blackbird
Prayer of the Children
After becoming the 2001 International Collegiate Champions in the world of Barber Shop singing, this talented quartet, formed at Brigham Young University, decided to take on the week long project of recording their first album. The fact that it was successfully recorded in three, four hour, sessions is a testament to how amazingly talented these four singers are! The CD features barbershop arrangements of popular tunes like "Blackbird," "And So It Goes," "I Only Have Eyes For You," "Tonight, Tonight," "Sittin' On The Top Of The World" and an awesome Simon and Garfunkle medley. There are also some beautiful religious pieces, including "Let All Mortal Flesh Keep Silence," "How Great Thou Art," and "Prayer of the Children," and their chilling performances of the Barber Shop classics "I've Been Workin' On The Railroad," and "Dinah," remind us all why they were crowned champions. Check out Reprise, you'll be in for a treat.
| | |
| --- | --- |
| 5669CD OUT OF PRINT $14.98 | |
---
'tis The Season
Deck the Hall
Away in a Manger
What Child is This?
Santa Claus is Coming to Town
I wonder what you're doing for Christmas
Star of Bethlehem
Christ is Born
Coventry Carol
Jingle Bells
They Followed the Star
An Old-Fashioned Christmas
Christmas Time is Here
White Christmas
Silent Night
What better way to celebrate the Christmas season than with Barber Shop Christmas carols! Reprise blesses us with yet another fine recording, this time presenting us with some of our yuletide favorites. Besides the beautiful arrangements of the standard Christmas carols, we have an added treat of hearing each of the members of Reprise showcasing their individual talents by performing solos with piano accompaniment, including an original song, "They Followed The Star," written and performed by Lead/Second Tenor, Joel Gillespie. This is yet another Reprise album not to be missed
Listen to Away in a Manger in Real Audio.
| | |
| --- | --- |
| 5664 CD OUT OF PRINT$14.98 | |
---
To find a specific song on any recording (or to find recordings by group name or CD title),
pick the search method and type the item you are searching for here:



All Rights Reserved All Content, page design, CGI Copyright © United Singers International