The Singers Unlimited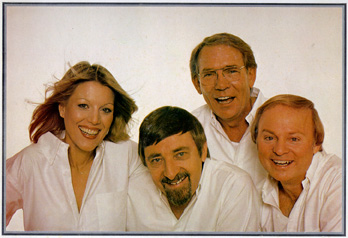 Though the Singers Unlimited have not recorded a new album since 1980's "Easy To Love," their popularity continues unabated. Their fourteen album catalog, recorded for Germany's MPS records and now available as the "Magic Voices" collection, reflects the best of what the human voice is capable. The arrangements that member Gene Puerling wrote for the group were nothing short of a revelation-and the group's use of studio multi-tracking (a burgeoning technology) developed a sound never heard before. The name "Singers Unlimited" is forever inscribed in the annals of vocal jazz, and deservedly so. Read on and find out more about the group from Gene Puerling himself! Gene Puerling
Group Members: Bonnie Herman, Len Dresslar, Don Shelton, Gene Puerling
Magic Voices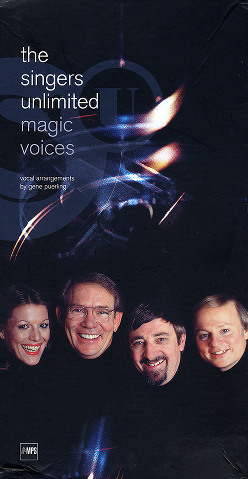 A seven CD collection containing everything the group recorded in their history save for their Christmas material, these recordings are a tour of the best that vocal jazz has to offer in terms of arrangement, composition and performance. Bonnie Herman, Len Dresslar, Don Shelton and of course the illustrious Gene Puerling, to whom we owe these magnificent arrangements, left a legacy that is unmatched to this moment. The arrangements are frequently a backdrop for Bonnie's voice, but sometimes, as on "Here's That Rainy Day," the tenor voice takes the lead for a section or line. There's no set prescription. What to take to a desert island? Grab this box set and a lawn chair and push off! Endless hours of listening pleasure await you. Tracklist and discography.

---
Christmas
This 1972 recording continues to set musical precedent almost thirty years later. The combined voices of Don Shelton, Len Dresslar, Bonnie Herman and Gene Puerling are a sound so distinctive and recognizable that they have yet to be improved. From the six Alfred Burt carols to "Deck The Halls," "Good King Wenceslas" and Oh, Come All Ye Faithful," each song is beautifully constructed, a marriage of the traditional with the inimitable personality of Gene Puerling's arrangements. The result is accessible enough for the mainstream listener, and will also satisfy those hungry for heartier fare. Bonnie Herman frequently assumes the lead vocal duties, as on "Carol For Russian Children," her warm tone a sunbeam on a wintry day - listen to the pedal note (uncharacteristically in the treble part) she holds during the coda - amazing color and control. One of our most recommended selections.
Listen to Have Yourself A Merry Little Christmas, Ah Bleak & Chill the Wintry Wind and It Came Upon A Midnight Clear in Real Audio.
---
The Complete A Cappella Sessions
Both Sides Now
London By Night
Here There And Everywhere
Lullabye
Michelle
The Fool On The Hill
Emily
Since You Asked
More I Cannot Wish You
Try To Remember
Clair
Killing Me Softly With His Song
Yesterday
My Romance
Lost In The Stars
April In Paris
Girl Talk
Nature Boy
I Don't Know Where I Stand
Autumn in New York
Like Someone In Love
Indian Summer
Anything Goes
The Way We Were
One More Time Chuck Corea
Sweet Lorraine
Jeanie With The Light Brown Hair
Someone To Light Up My Life
Love Is Here To Stay
The Entertainer
All The Things You Are
Sometimes I Feel Like A Motherless Child
I Wish You Love
It doesn't get any better than this! After years of being available only on the box set here is a 2 CD release of all 33 a cappella recordings (not including Christmas) of quite probably the best vocal jazz group ever. The arrangements of Gene Puerling are simply exquisite and his ability to transform a song to completely new heights is astounding. We carry many thousands of a cappella CDs and this release is, in our opinion, the most essential CD for the collection of any serious fan of a cappella music!
Listen to Autumn in New York and Michelle in Real Audio.
---
Feelings
Sleep Loved
We Could Be Flying
I'm Shadowing You
Where and When
Feelings
Impossible
Wave
So Many Stars
Ecstasy
She Was Too Good To Me
Look Around
Invitation
You've Got A Friend
The Trouble with Hello is Goodbye
Laura
Where Is The Love?
Eventide
We've Only Just Begun
Happiness is listing to a Gene Puerling arrangement as sung by these maestros. Sit back and soak it in. Enough said!
---
In Tune
Sesame Street
It Never Entered My Mind
Children's Game
The Gentle Rain
A Child Is Born
The Shadow of Your Smile
Catherine
Once Upon a Summertime
Here's That Rainy Day
A Classic Reissued! Legendary vocal group The Singers Unlimited, for their third album on Germany's MPS label, recorded a collaboration with the Oscar Peterson Trio. Grammy-winning arranger Gene Puerling wrote the charts and the musicians recorded this remarkable session in 1971 at the storied Villingen studios in the Black Forest. The-then latest breakthroughs in studio technology, and the masterful engineer and MPS Records owner Hans Georg Brunner-Schwer, allowed the artists to overdub vocals creating the layered vocals the Singers Unlimited are famous for. Using a sixteen-track deck Brunner-Schwer had bought for the occasion, the group layered on chords, melody lines and solos which we often sung in four or eight part pieces that were later assembled almost magically. The CD sleeve includes rare photos from the session plus both the original LP liner notes and extensive new notes, including many new quotes from Puerling, by noted jazz musicologist James Gaven. A gem of a recording!
Listen to Sesame Street in Real Audio.
---
Masterpieces
Sesame Street
The Shadow Of Your Smile
The Fool on the Hill
Soon It's Gonna Rain
It Could Happen To You
Zip-A-Dee Doo-Dah
Prelude To A Kiss
Bye Bye Blues
Gotcha
My Romance
Clair
The More I See You
Spring Is Here
Skylark
I'm Shadowng You
Feelings
Sweet Georgia Brown
All The Things You Are
This Is The End Of A Beautiful Friendship
This CD is a collection of some of the best of their recordings and features nineteen tracks including a cappella classics such as My Romance and Clare which are great examples as to why Puerling is often lauded as a genius for his work. Puerling created a unique style based on rich and bold harmony, delicate contrasts in timbre and differentiated formal arrangements. Import.
Listen to "The Fool on the Hill" in Real Audio.
---
Arrangements
Yesterday (SSATTBB)
Michelle (SSAATTBB)
Here, There, Everywhere (SATB)
Fool on the Hill (SSAATTBB)
The Sound of the Singers Unlimited (SSAATBB)
-We've Only Just Begun
Try to Remember
On a Clear Day
Emily
My Ship
Where Is Love?
A collection of mostly a cappella arrangements from quite possibly the greatest vocal jazz arranger ever.
---
Snowfall (SSATBB)
Silent Night (SSATBB)
Deck the Halls (SSATTBB)
Come Rain Or Come Shine (SATB)
A Nightingale Sang In Berkeley Square (SATB)
The Gene Puerling Sound (SSAATTBB)
Am I Blue?
April in Paris
Autumn in New York
Dancing in the Dark
Indian Summer
Includes the Grammy Award winner "A Nightingale Sang In Berkeley Square" as recorded by The Manhattan Transfer. The note-for-note arrangement matches the original recording!
---
Button Up Your Overcoat
Georgia On My Mind
Rockin' Chair
The Shadow Of Your Smile
Small Fry
SATB, accompanied with optional rhythm section
---
Magic Voices Songlists
CD 1 - In Tune (1972) with the Oscar Peterson Trio
Sesame Street
It Never Entered My Mind
Children's Games
The Gentle Rain
A Child Is Born
The Shadow Of Your Smile
Catherine
Once Upon A Summertime
Here's That Rainy Day

A Capella (1972) issued in US as Try To Remember
Both Sides Now
London By Night
Here, There And Everywhere
Lullaby
Michelle
The Fool On The Hill
Emily
Since You Asked
More I Can Not Wish For You
Try To Remember

CD 2 - Just In Time (1977) with the Roger Kellaway Cello Quintet
Just In Time
My Foolish Heart
Stone Ground Seven
Sleep Loved
Someone To Watch Over Me
Honeysuckle Rose
Zip-A-Dee Dooh-Dah
Prelude To A Kiss
It Had To Be You
Impossible

Invitation (1973) with the Art Van Damme Quintet
Spring Is Here
But Beautiful
We Could Be Flying
Violets For Your Furs
Invitation
Cherry
Ecstasy
Let There Be Love
My One And Only Love
Wave
Goodbye

CD 3 - Sentimental Journey (1974) with the Robert Farnon Orchestra
The More I See You
Sleepy Time Gal
I Get Along Without You Very Well
Angel Eyes
As Time Goes By
I'll Remember April
If I Didn't Care
Sentimental Journey
In The Still Of The Night

A Capella II (1974)
Clair
Killing Me Softly With His Song
Yesterday
My Romance
Lost In The Stars
April In Paris
Girl Talk
Nature Boy
I Don't Know Where I Stand
Autumn In New York
Like Someone In Love
Indian Summer

CD 4 - Feeling Free (1975) with The Pat Williams Orchestra
You Are The Sunshine Of My Life
A Time For Love
On Green Dolphin Street
So Many Stars
Feeling Free With Patrick B.
Ja-Da
Skylark
On A Clear Day
I'm Shadowing You
Where Is The Love

A Special Blend (1976)
Bye Bye Blues
'Round Midnight
Cry Me A River
Born To Be Blue
I Left My Heart In San Francisco
Mood Indigo
Gotcha
Why Don't You Do Right?
When I Fall In Love

CD 5 - Friends (1977) with The Pat Williams Orchestra
Sweet Georgia Brown
When April Comes Again
Just Friends
The Trouble With Hello Is Goodbye
I Got Rhythm
Don't Get Around Much Anymore
When The Sun Comes Out
Eleanor Rigby
She Was Too Good To Me
I'm Gonna Go Fishin'

Eventide (1977) with The Robert Farnon Orchestra
Deep Purple
Put Your Dreams Away (For Another Day)
I Loved You
Mona Lisa
Feelings
Gymnopedies
Yours Truly, Rosa
Marlies
How Beautiful Is Night
Eventide

CD 6 - Four Of Us (1973)
We've Only Just Begun
It Could Happen To You
Soon It's Gonna Rain
Where Is Love
My Ship
You've Got A Friend
Jennifer's Rabbit
Look Around
Snowfall
If
Air (From The Suite In D)

The Singers Unlimited with Rob McConnell and the Boss Brass (1979)
Tangerine
Laura
Lullaby Of The Leaves
You Are My Sunshine
Sophisticated Lady
(This Is The End Of) A Beautiful Friendship
It Might As Well Be Spring
Chelsea Morning
Dindi
Pieces Of Dreams

CD 7 - A Capella III (1980)
Anything Goes
The Way We Were
One More Time, Chick Corea
Sweet Lorraine
Jeanie With The Light Brown Hair
Someone To Light Up My Life
Love Is Here To Stay
The Entertainer
All The Things You Are
Sometimes I Feel Like A Motherless Child
I Wish You Love

Easy To Love (1981)
Easy To Love
Where Or When
Close Enough For Love
Mountain Greenery
Lullaby Of Birdland
Fallin' In Love With Love
Nina Never Knew
Bass-ically Speaking
Willow Weep For Me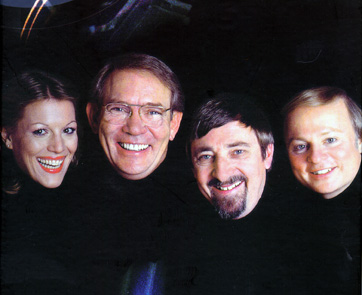 ---

VOCAL JAZZ - Home | Vocal Jazz Groups | Recordings | Arrangements | DVDs | Christmas | Vocal Jazz Instructional

VINTAGE VOCAL JAZZ - Vintage Groups | Vintage CDs | Black Vocal Groups | Black Vocal Groups CDs | Christmas | Womens Vintage
---
Vocal Jazz | Doo Wop | Contemporary | Barbershop | Christian | Collegiate | World | Choral
Patriotic | The Groups | The Directors | The Vocal Coaches | Choral Development
Arrangements | Vintage Harmony | Christmas | DVDs | Instructional for Singers

The Harmony Sweepstakes A Cappella Festival


RSS - New Releases
Site Map | A Cappella News | Regional Newsgroups | RSS a cappella feeds
To find a specific song on any recording (or to find recordings by group name or CD title),
pick the search method and type the item you are searching for here:


All Rights Reserved All Content, page design, CGI Copyright © United Singers International