Undivided Musical Group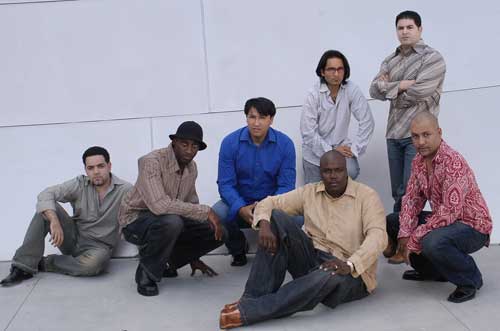 Undivided MG is a Southern California Gospel a cappella sextet. The members of Undivided MG are young adults that come from different Latin American countries: Panama, Venezuela, Mexico, Colombia, and the Dominican Republic. Undivided MG was born one year and one-half ago in the choir room of the groupÕs local church. Most of Undivided MG members had sung before in quartets, quintets, and even sextets, which has given them a thorough knowledge of harmony and performance. Undivided MG uses their voices to praise God in different styles, however, the group is well known in the area for their Latin a cappella sound. Recently, Undivided MG competed in the Los Angeles Regional Harmony Sweepstakes A cappella Festival and was awarded second place in the competition.
Discography
Amor Verdadero
Los Fariseos
Amor Verdadero
Contigo Para Siempre
La Murga De Panama
El Nazareno
Bello Amanecer
Jala Jala
Amada Mia
El Todopoderoso
Ahora Vengo Yo

All male sextet Undivided draw their musical influences from Latin, Jazz, Contemporary Christian, Gospel, Reggae, Pop, R&B and Rock, and they showed off their powerful, rhythmic live show to us twice, at the 2003 and 2005 Harmony Sweeps Finals in San Rafael, CA. "Amor" is the group's second finely-crafted recording, their first being the excellent "A Cappella From The Soul." There are 10 cuts here, the salsa-flavored "Los Fariseos," and rhythmic gem "Amor Verdadero," both of which feature Undivided's trademark faux horns, and the soulful love song "Contigo Para Siempre;" "La Murga De Panama," "El Nazareno" (a song about Jesus), "Jala, Jala," "El Todopoderoso" and "Ahora Vengo Yo" (with more of those smokin' faux horns) will get you up dancing and ordering another round of Margaritas; while "Bello Amanecer" and "Amanda Mia" are slower, bluesy salsa-jazz. All songs, and the liner notes for that matter, are in Spanish. But don't let that stop you from enjoying this spirited, high-energy collection from one of SoCal's most dynamic a cappella groups!
Listen to La Murga De Panama in RealAudio
---
Conectate
Cuando Suene la Trompeta
Dame una Sonrisa
Junto a Cristo
Dios Tu Nombre Exaltare
No Hay Dios tan Grande Como Tu
Jamapella
Quiero Cambiar
Conectate
!Oh que Amigo Nos es Cristo
Sublime Gracia
Es Jesus
What's Going On?
Released at the same time as "A capella from the Soul," "Conectate" includes many of those songs, sung in Spanish. "Dios tu Nombre Exaltare," for instance corresponds to the reggae Gospel tune "Lord I Lift Your Name On High," "Cuando Suene La Trompeta" is "When The Roll Is Called Up Yonder," "Oh, que amigo nos es Cristo" is "Oh, What a Friend We Have in Jesus," "Sublime Gracia" is "Amazing Grace," etc. "Jamappella," "Es Jesus" and "What's Going On" appear on both CDs. Two songs are new, the salsa romp "Dame una Sonrisa" and the breezy title tune. Undivided's pure vocal power and feeling is underscored on this wonderful, all-Spanish Contemporary Christian CD.

---
A Cappella From The Soul
Jamappella
Lord I lift Your Name On High
When The Roll Is Called Up Yonder
What A Friend We Have In Jesus
I Wanna Change
Nao Ha Deus Tao Grande Como Tu
Amazing Grace
Es Jesus
What's Going On?
What A Friend (with vocal percussion)
Unidivided is a Southern California a cappella male sextet first formed in the spring of 2001, whose wide range of musical influences include Latin, Gospel, Contemporary Christian, Reggae, Pop, Jazz, R&B and Rock. We first were blown away by the group's distinctive style at the 2003 National Finals, where their arrangement of "Amazing Grace" drew a huge ovation from the audience. Their recent accomplishments include 2 CARA award nominations and another win at the 2005 LA Sweeps Regional, bringing them to San Rafael for the 2005 Finals. "From The Soul" is basically a Gospel CD, but it begins with the showy, funky "Jamappella," with fake horns, classical samples and a pure, sweet whistled melody line as powerful as that in any spaghetti western. "Lord I Lift Your Name On High" is a joyous reggae gospel tune that had us boogying in the aisles. "When the Roll Is Called Up Yonder" would hardly be recognized by its composer, with vocal percussion, "trumpet" solo and funky arrangement that turn the song into a celebratory romp. "What a Friend We Have in Jesus" appears twice, first as a jazzy, bluenote harmonic feast, and at the end of the CD with added vocal percussion. "I Wanna Change," "Nao Ha Deus Tao Grande Como Tu," "Amazing Grace," "Es Jesus" and "What's Going On" complete the songlist. A surprising, upbeat debut CD from one of the most dynamic and innovative Contemporary Christian groups we've heard!

---

Religious - Home | Contemporary Christian Groups | Christian CDs | Gospel Groups | Gospel CDs
Spirituals | Shape Note | Southern Gospel | Christmas | Christian Arrangements
---
To find a specific song on any recording (or to find recordings by group name or CD title),
pick the search method and type the item you are searching for here:



All Rights Reserved All Content, page design, CGI Copyright © United Singers International