Fisk Jubilee Singers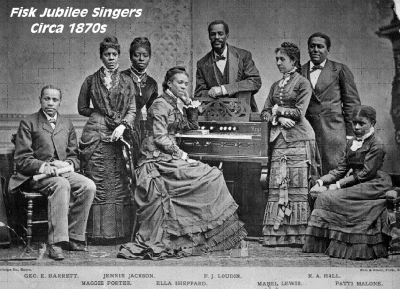 On November 16, 1871, a group of unknown singers -- all but two of them former slaves and many of them still in their teens -- arrived at Oberlin College in Ohio to perform before a national convention of influential ministers. After a few standard ballads, the chorus began to sing spirituals -- "Steal Away" and other songs" associated with slavery and the dark past, sacred to our parents," as soprano Ella Sheppard recalled. It was one of the first public performances of the secret music African Americans had sung in fields and behind closed doors.
Charged with keeping the financially troubled school afloat, treasurer George Leonard White proposed taking Fisk's most gifted singers on a fundraising tour of the North. Before they even left town, they encountered resistance: the parents were afraid to let their children go; White's fellow teachers opposed the tour; and the American Missionary Association, the northern religious organization that operated Fisk, refused to help, worried that the chorus's appeal for funds would jeopardize their own fundraising activities. But White persevered. "I'm depending on God, not you," he told the AMA, and set off with his singers and the last $40 of the school's treasury. "Not one of us had an overcoat or wrap," remembered Ella Sheppard. "Taking every cent he had, and all he could borrow, Mr. White started with his little band of singers to sing the money out of the hearts and pockets of people."
Following the path of the Underground Railway, the group made its debut in Cincinnati. Despite the warm reception, donations totaled less than $50. Night after night, it was the same: crowds loved their singing, but the collection plate yielded barely enough to cover their expenses. Yet no one turned back. "All we wanted," recalled soprano Maggie Porter, "was for Fisk to stand."
Life on the road took its toll. White and the singers endured rheumatism, bronchitis, chronic coughs. Their clothes ran to rags. But after the triumphant Oberlin performance, word started to spread. In December, the Jubilee Singers appeared at Henry Ward Beecher's weekly prayer meeting at Brooklyn's Plymouth Church. "Every church wanted the Jubilee Singers from that time on," wrote Maggie Porter. They sang for Mark Twain, President Ulysses S. Grant, congressmen, diplomats. "These singers," said one newspaper, "are doing a great work for humanity." Ella Sheppard wrote, "We sang as if inspired. We not only paid the debts at home, we carried home $20,000 with which was purchased the site of our new school. We returned to Fisk amid great rejoicing." After less than two weeks' rest, the singers were back on the road, touring the Eastern United States. Eventually they would tour Europe to universal acclaim and sing for the royal families of Holland, Germany, and Britain. "They are real Negroes," Queen Victoria wrote in her journal. "They come from America and have been slaves. They sing extremely well together."
The group raised what today would be millions of dollars, but they paid a terrible price. Worn down by the relentless schedule, an advance man suffered a nervous breakdown. George White lost his wife to typhoid fever. White himself nearly died of a pulmonary hemorrhage. Contralto Minnie Tate's voice was torn to shreds. Tenor Benjamin Holmes's nagging cough was caused by tuberculosis. They faced discrimination on the road and from the press. The "New York World" called them "trained monkeys" who sang "with a wild darky air" and the "Newark Evening Courier" listed them as if they were items from a slave dealer's catalogue. A grueling tour of Germany -- ninety-eight days, forty-one towns, sixty-eight concerts -- brought with it low morale, frayed nerves, and rivalries among the singers.
After almost seven years of touring, the Jubilee Singers returned home. They were honored by Fisk for raising the funds to complete Jubilee Hall and save their school. But their contributions extended far beyond Fisk University. They had introduced the world to the power of spirituals and challenged racial stereotypes on two continents. "In their wake, hotels, railways, steamship lines, and boards of education integrated their facilities. The Jubilees not only introduced the world to the music of black America, they championed the liberties of all Americans," says Andrew Ward, co-writer of the documentary and author of "Dark Midnight When I Rise: The Story of the Jubilee Singers." More than 125 years later, the Jubilee Singers of Fisk University continue the concert tradition begun by that courageous original chorus of former slaves.
Discography
Sacred Journey
I Thank You Jesus
Our Father
Didn't My Lord
Kekeli Tso Kekeli Me
We Shall Walk Through The Valley In Peace
Here Is On
My Souls Been Anchored in the Lord
An' I Cry
Mister Banjo
Sweet Home
Mawu Nye Lolo
Ride the Chariot

Nashville, TN's Fisk University's legendary Jubilee Singers, founded by school treasurer and music lover George White, led his group of former slaves on a tour that followed the Civil War's Underground Railroad in an effort to save the school, originally called the Fisk Free Colored School, from financial ruin. The group finally found some success in Ohio, then created a sensation with their spiritual "secret slave songs" in New York City, beginning a tour of Britain and Europe that saved the school and built beautiful new campus buildings. "Sacred Journey" is a 2-disk live CD recorded on the group's 2006-7 trip to Ghana, Africa, where they sang in the courtyard of notorious Elmina Castle, a key link in the slave trade. Robert Swope said of the concert, "This ensemble, through the sheer love of its' performance, brought the glory of His forgiveness to the walls of Elmina Castle and allowed His grace to forgive what, for hundreds of years, was a place torn by human degradation." Twelve powerful songs, recorded live and without overdub or re-record in any way: "I Thank You, Jesus," "Our Father," "Didn't My Lord," "Kekeli Tso Kekili Me," "We Shall Walk Through the Valley in Peace," "Here is On," "My Soul's Been Anchored in the Lord," "An' I Cry," "Mister Banjo," "Sweet Home," "Mawu nye lolo" and "Ride the Chariot." Don't miss this remarkable, profound concert, that brought joy and healing light to the heart of darkness!

---
In Bright Mansions
I'm Gonna Sing Till the Spirit Moves
Poor Man Lazrus
Down By the Riverside
Lord, I'm Out Here On Your Word
De Gospel Train
Were You There
Rockin' Jerusalem
Nobody Knows the Trouble I See
I Been in the Storm
Soon-Ah Will Be Done
He's Got the Whole World in His Hands
Hold On
There Is A Balm in Gilead
Daniel, Daniel, Servant of the Lord
Wade in the Water
Ride On, Jesus
I'm Got A Home In-A Dat Rock
In Bright Mansions
Fisk University, originally the Fisk Free Colored School, was founded in Nashville, TN right after the Civil War, by northern missionaries. The school treasurer, a Gettysburg veteran named George White, loved music, and was moved by the slave hymns he would sometimes overhear in the refugee camps, but it was difficult to get his young students to sing them, as they were associated with slavery and things best forgotten. George began collecting and arranging these "secret songs," with the help of his secretary, Ella Sheppard, who brought him "O Freedom" and "Swing Low, Sweet Chariot," lullabies her mother had taught her. In time, White and Sheppard collected over a hundred songs. In 1871, Fisk was on the brink of financial collapse, and George White took a group of young singers on the route of the Underground Railroad, hoping to "sing into the hearts" of the people and raise money to save the school. At first enduring racism and indifference, the group finally found some success in Ohio, and then made it to New York, where Henry Ward Beecher, in his Plymouth Church in Brooklyn, was so moved by their singing he commanded his wealthy parishioners to give generously to the Jubilee's cause. Suddenly the churches of metropolitan New York opened their doors to them, and people rushed to hear "the genuine soul music of the slave cabins, before the Lord led his people out of the house of bondage." This began a series of successful tours, to Britain, Europe and all over the United States that had exhausted the young singers, yet had raised enough to erase Fisk's debt and build beautiful new campus buildings. 18 authentic songs, some of our favorites" "Down By The Riverside," "De Gospel Train," "Were You There," "Rockin' Jerusalem," "Nobody Knows the Trouble I See," "He's Got the Whole World In His Hands," "I'm Got A Home In-A Dat Rock," and the title tune. The CD cover and liner notes are actually a small book, with great old photos and the amazing story of the Fisk Singers. Recommended.
Listen to "I'm Gonna Sing Till the Spirit Moves" and "Down By the Riverside"

---
Every Time I Feel The Spirit
You Better Get Somebody On Your Bond
Keep A Inchin' Along
Shout All Over God's Heaven
Steal Away To Jesus
Every Time I Feel The Spirit
Ezekiel Saw De Wheel
Little David
Dry Bones; The Old Ark's A' Movering
Nobody Knows The Trouble I See
Show Me The Way
There Is A Light Shining
Everybody Ought To Pray Sometime; Ev'ry Time I Feel The Spiri
Swing Low, Sweet Chariot
On My Journey Now
Blow, Gabriel, Blow
We Are Climbing Jacob's Ladder
Lord I Done Done
Oh Mary Don't You Weep
In The Morning
I Been 'Buked
Shine On Me
Sweet Turtledove
Hear The Lambs A Cryin'
Deep River
Hope I'll Join The Band
My Lord's Writing All The Time
On My Journey Now
Golden Slippers
I Wanna Die Easy
Recordings from 1924 thru 1940

---
J.B.T. Marsh: The Jubilee Singers and Their Songs
| | |
| --- | --- |
| | Fisk University was founded in 1866 to provide higher education for freed African-Americans after the Civil War. To raise money for the institution in Nashville, Tennessee, the school's chorus--known as the Jubilee Singers--began performing concerts of Negro folk songs and spirituals. Their popularity and fame spread rapidly. Before the group disbanded in 1880, it had toured the northern states, performed at Boston's World Peace Jubilee and at the White House, sung for Queen Victoria and toured Great Britain and Europe. This book recounts their remarkable story and is supplemented by 139 great spirituals, complete with text, and fully notated in both open score and in a two-stave keyboard reduction ideal for rehearsal and performance. Songs include such all-time favorites as "Down by the river," "Go down, Moses," "Way over Jordan," "This old-time religion," and many, many more. Unabridged republication of The Story of the Jubilee Singers, originally published by The Cleveland Printing and Publishing Co., Ohio, 1892. |
---
---

Religious - Home | Contemporary Christian Groups | Christian CDs | Gospel Groups | Gospel CDs
Spirituals | Shape Note | Southern Gospel | Christmas | Christian Arrangements
---
To find a specific song on any recording (or to find recordings by group name or CD title),
pick the search method and type the item you are searching for here: