Chapter 6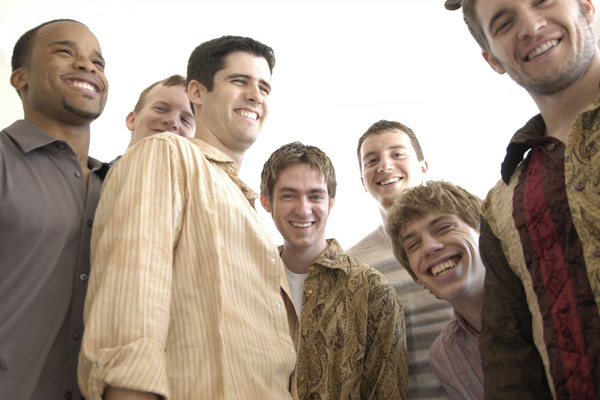 Emerging from a college course, Chapter 6 became the premiere jazz a cappella ensemble at Millikin University in Decatur, Illinois. Making their professional debut in 2001, this group from the Chicago area has received numerous awards and recognition for their technique, performance, and unique, original arrangements. Three-time Chicago Regional Harmony Sweepstakes Grand Champions— their first title in 2000 distinguishing them as the youngest group ever to qualify for the national finals— Chapter 6 went on to win the prestigious Grand Champion title at the 2004 National Harmony Sweepstakes. Other special honors have been awarded by such notable organizations as the Contemporary A Cappella Society, the National Association for Campus Activities, and the Association for the Promotion of Campus Activities. Most recently, Chapter 6 was chosen "Performing Group of the Year" at the 2005 A.P.C.A. National Convention.

Chapter 6 continues touring diverse venues, enthusiastically received by audiences across the country. Their extensive touring schedule includes numerous college campuses and high schools—performances often linked with a master class, clinic, or rehearsal led by the uniquely equipped and qualified members of the group. Equally at home in the concert hall, Chapter 6 is currently performing The Symphonic Pops Consortium's "1950's: The Golden Age Of Black And White" with symphony orchestras in a number of major cities including Indianapolis, Seattle, Naples, Detroit, Toronto, Nashville, and Washington, D.C. The group's versatility and appeal knows no bounds, capturing audiences of all ages and musical tastes.

Their comedy-infused blend of pop, jazz, gospel, and rock brings spontaneous bursts of laughter and applause throughout the show. High-energy performances feature diverse repertoire ranging from freshly arranged swing standards and pop/rock covers, to signature pieces such as "Ode To Krispy Kreme," Queen's "Bohemian Rhapsody," and Chapter 6's very own version of "The Wizard Of Oz." In addition to exceptional musicianship, audiences experience Chapter 6's contagious energy and spirit as they share great music, harmony, and the message of God's Hope and Love.

Conveying their incredible sound and irrepressible charisma as effectively in the studio as on stage, Chapter 6 has appeared on numerous regional, national, and international television and radio programs including ABC Television's Good Morning America and The Kathy & Judy Show (WGN Radio, Chicago).

Chapter 6 is Chuck Bosworth, Mark Grizzard, Jarrett Johnson, Luke Menard, John Musick, Nathan Pufall, and A.D. Stonecipher.
Listen to "Wizard of Oz Medley" from the Harmony Sweepstakes in Real Audio.
Discography
With the Windows Down
Pinball Number Count
Change the World
Eleanor Rigby
Holly Oak
There I Go
Mercy Mercy Me
I've Known You All My Life
Highway
I Wanted to Say
Peg
Hot Fun in the Summertime
Clocks
We have had a number of memorable opportunities to become major fans of Illinois-based, 7-man Chapter 6 since their founding at Decatur, IL's Millikin University in 2001. They were Harmony Sweeps Chicago Regional Champs 3 times, giving us dynamite live sets at the Finals, where signature tunes like "Ode to Krispy Crème," "Bohemian Rhapsody" and "Wizard of Oz Medley" led to standing O's and their being named National Champions in 2004. "With The Windows Down" is the sixth Chapter 6 recording in the PAC catalog, each of them featuring the group's cutting edge arrangements and flawless a cappella harmonies. The first of our favorites of these 12 tunes are a pair of mellow originals written by Mark Grizzard, master arranger, "There I Go" and "Highway," and one by Nathan Pufall, the poignant "I Wanted to Say." Then we have to choose several Grizzard-arranged covers, "Pinball Number Count," "Change the World," the best version of Lennon/McCartney's "Eleanor Rigby" we've heard, Marvin Gaye's "Mercy Mercy Me (The Ecology)," Sylvester Stewart's 5th Dimension hit, "Hot Fun in the Summertime," "Peg" and the soaring, delicious "Clocks." Rich harmonies, deep, powerful, "walking-bass" vocal percussion, perfect, spirited leads—this is a cappella heaven from a group that simply keeps getting better at what they love to do. "With The Windows Down" is a joy from the first cut to the last!
Listen to "I've Known You All My Life" in Real Audio
---
Swing Shift
It's About Time
Don't You Worry 'Bout A Thing
The Wizard of Oz
How Deep Is Your Love
God's Love
What A Wonderful World
Lost in Canada
Your Smiling Face
I'll Take Care of You
Theme and Variations on:
It Don't Mean A Thing If It Ain't Got That Swing
In addition to the gift of a thrilling and funny performance that won (against a very strong field of Regional winners) the 20th Annual Harmony Sweeps National Championship in San Rafael, CA, Chicago's talented all-male sextet Chapter 6 brought us a hot new CD! Happily, the three pieces that they performed at the finals, "Theme and Variations on 'It Don't Mean a Thing if it Ain't Got That Swing'" (which won for Best Original Arrangement), the hilarious 5-minute "Wizard of Oz," and even their encore performance (as Audience Favorite), "The 7th Wheel," which introduced us to the singing of their arranger, sometimes composer and sound engineer, Mark Grizzard. Grizzard also wrote the opening piece here, a fast-paced jazz number, "It's About Time." Rounding out the 11 songs are a nice Stevie Wonder cover, "Don't You Worry 'Bout A Thing," the BeeGee's hit "How Deep Is Your Love," the Gospel song "God's Love," an uptempo "What A Wonderful World," the very funny "Lost In Canada," James Taylor's "Your Smiling Face" and the bluesy "I'll Take Care of You." These guys are consummate entertainers, they have big fun on stage, and they can sing like angels. Like Chapter 6 at the Finals, "Swing Shift" is a hands-down winner!
Listen to "It Don't Mean A Thing If It Ain't Got That Swing" in Real Audio
---
Live
Istanbul
Overjoyed
Fat Lady
I Wrote This Song
Change In My Life
Folger's
Krispy Kreme
Come Unto Me
And They Praised God
Jump Jive 'n Wail
Bohemian Rhapsody
Pick Up The Pieces
We had another chance to be thrilled by a set from Chapter 6 at the recent 2002 Harmony Sweeps National Finals (which was amazing), and these seven good-looking young men from Illinois almost won it all! They actually won 3rd Place, but were a close second in the voting for audience favorite to Champion Perfect Gentlemen. An impressive live set: "Istanbul," "Overjoyed," the hilarious country song "Fat Lady," "I Wrote This Song," "Change In My Life," a very funny "cover" of Rockapella's "Folgers" ad, an equally funny ode to "Krispy Kreme" donuts, written while the group waited to perform at the Chicago Harmony Sweeps Regional, the beautiful "Come Unto Me" and "And They Praised God" (reminding us that we do list Chapter 6 under "Contemporary Christian"), the swing classic "Jump, Jive & Wail," "The Rootbeer Song," Queen's "Bohemian Rhapsody" (which wowed the crowd at the HS Finals), and closing with AWB's "Pick Up the Pieces." This CD captures Chapter 6's brilliant sense of humor, great stage presence, top-drawer vocal abilities and winning arrangements. Watch out for this group at next year's Finals-very possibly walking off with the whole enchilada!
Listen to "Krispy Kreme" in Real Audio.

---
A Cappella 101
Wake Me Up
It's All Right
I'll Be There
Commercial Break
Istanbul
Come Unto Me
She's All
Eleanor
Phat Lady
The Root Beer Song
Jump, Jive'n Wail
Originating from Illinois's Millikin University, this male contemporary sextet is exceptionally talented. A fresh blending of voices with individual timbres give Chapter 6 a recognizable sound. Using a colorful mixture for arrangements including Wham's 'Wake Me Up Before You Go Go' and Louis Prima's 'Jump, Jive and Wail' they represent their style and maturity. 'She's All' is an R&B ballad that hits the heart strings gently, while 'The Root Beer Song', a Chapter 6 original, dries your tears and leaves you smiling! A refreshing debut from a group of young guys with great potential.

---
Christmastime
Istanbul
Sleigh Ride
Christmas Time is Here
O Come O Come Emmanuel
Hark! The Herald Angels Sing
This Christmas
Away in a Manger
Carol of the Bells
O Little Town of Bethlehem
Rise Up Shepherd and Follow
Gabriel's Message
The First Noel
White Christmas
Chicago's excellent Contemporary Christian sextet Chapter 6, who we have enjoyed on the stage at the Harmony Sweeps Finals, have a poised, strong, jazz-flavored CD in "Christmas time." 12 songs, notably the light, scatty "Sleigh Ride," a Chanticleer-like arrangement of "O Come, O Come Emmanuel," a surprising scatty Manhattan Transferish arrangement of "Hark the Herald Angels Sing," a rap-flavored "This Christmas," a blue-note "Away in a Manger," a jazzy, driving "Carol of the Bells," surprising, hip vocal percussion arrangements of "O Little Town of Bethlehem," "Rise Up Shepherd and Follow," a moody "Gabriel's Message," a blue-note "The First Noel" and a stunningly jazzy "White Christmas." An unexpected, but impressive Christmas album for very talented Chapter 6.
Listen to "Carol of the Bells" in Real Audio
---
In Concert
It's About Time
Don't Worry 'Bout A Thing
What A Wondeful World
Pick Up The Pieces
Bohemian Rhapsody
Ode To Krispy Kreme
And They Praised God
And I Raised Cod
Theme And Variations On "It Don't Mean A Thing If You Ain't Got That Swing"
God's Love
The 7th Wheel
How Deep Is Your Love
Lost In Canada
Sweet, Sweet Spirit
Wizard Of Oz
The Rootbeer Song
We feel like we know these 7 personable young men from the Chicago area very well. 3-time winners of the Chicago Harmony Sweeps Regional beginning in 2000, they have been onstage regularly at the National Finals, finally winning the whole enchilada in 2004. The liner notes for "In Concert" are about as minimal as they can be—some nice small stills from the DVD on the front, and then a listing of the songs on the back. This seemed curious until we realized that the DVD is aimed at people who have seen Chapter 6 in concert or heard one of their 4 excellent CDs, people like us. We don't need breathless prose to convince us about how wonderful the group is, we know that—let's just get this packaging open, and—cool, there's 2 DVDs, one with 17 hits, and the other with behind the scenes footage. It's all here, Stevie's "Don't You Worry 'Bout a Thing," Freddie's "Bohemian Rhapsody," "Theme and Variations on It Don't Mean A Thing if It Ain't Got That Swing" (which won Best Arrangement in 2004), "Ode to Krispy Kreme" and the hilarious, brilliant 5-minute "Wizard of Oz" that absolutely won them the Finals and drew them another standing O at the A Cappella Summit that year. Great stuff all the way through, and we have to say, stardom couldn't happen to a nicer bunch of guys!
---
Songbook Vol 1
Don't You Worry 'Bout a Thing
How Deep is Your Love
The Wizard of Oz
Ode to Krispy Kreme
I'll Take Care of You
God's Love
It's About Time
Theme and Variations on "It Don't Mean A Thing (If it Ain't Got That Swing)"
Pick Up the Pieces
Lost in Canada
What A Wonderful World
Jump, Jive, 'n Wail
You're Smiling Face
Chapter 6 is a professional male a cappella ensemble. Comprised of six vocalists and one arranger, Chapter 6 is the only vocal ensemble to win both The International Competition of Collegiate A Cappella (2001) and the prestigious National Harmony Sweepstakes (2004). The group features a diverse repertoire of American popular music, from Gershwin to Stevie Wonder, as well as original songs ranging from the comical Lost in Canada to the personal God's Love. In addition, clever medleys including The Wizard of Oz entertain music lovers of all ages; their signature six-minute version of the classic MGM film earned a Contemporary A Cappella Recording Award (2005). The book Chapter 6, Volume 1 is published by New Harmony Music. It is the first collection of Chapter 6 music to appear in print form, and it contains all the arrangements from the album Swing Shift, plus additional bonus titles.

---
To find a specific song on any recording (or to find recordings by group name or CD title),
pick the search method and type the item you are searching for here:



All Rights Reserved All Content, page design, CGI Copyright © United Singers International