The Standards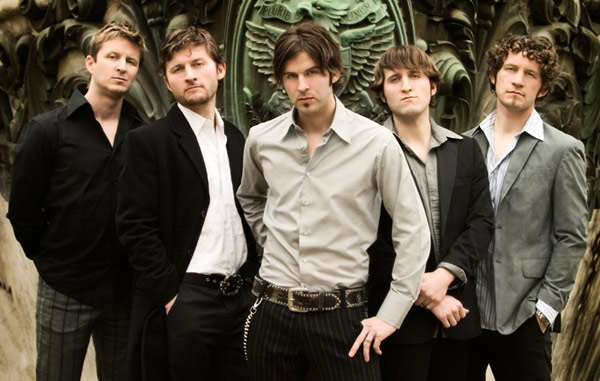 The Standards are five Williams brothers from Twin Falls, Idaho singing R&B, Doo-wop, 50's-60's jazz, and their original material. They have been singing together as a group since 1994. Jordon is known for his rich tenor voice and extraordinary range. One of his passions is motor cycles and he owns a Harley Davidson, which he built from scratch. Morgan writes most of the original music and creates the artwork for the group, including album designs and promotional material. Nicholas is The Standards' bass. He is the "comedy of the group," known for his sense of humor. He is guaranteed to touch the lighter side of the audience. Nathan adds character to the performances with his distinctive voice and original choreography. His dream is to dance professionally in a major Broadway musical. Quinn gives strength to The Standards with his dynamic vocal quality and personal enthusiasm. His interests include roller-blading, snow-boarding, and bothering Morgan if he has nothing else to do in the day. All five brothers are eagle scouts and range in age from 24 to 17.
Discography
A Night To Remember
Let Ring Out The Bells
Rudolph the Red-Nosed Reindeer
Little Saint Nick
Dance of the Sugar Plum Fairy
White Christmas
Carol of the Bells
God Rest Ye Merry Gentlemen
Luke 2
O Holy Night
Silent Night
Have Yourself a Merry Little Christmas
We have been wowed by these five brothers from Idaho, twice when they nearly won the Harmony Sweeps, by their first 3 CDs, and now, even more so, by "A Night," their Christmas CD. We join the guys singing "Let Ring Out the Bells" on the street on a snowy evening, where they see a homeless man and a boy, Julian. They sing a wonderfully Doo-Woppy "Rudolf the Red-Nosed Reindeer" and the Beach Boys' "Little Saint Nick" for them, then they take Julian on a walking odyssey to find the true meaning of Christmas. On the way they harmonize on "Dance of the Sugar Plum Fairy," "White Christmas," "Carol of the Bells," "God Rest Ye, Merry Gentlemen," "O Holy Night," "Silent Night" and the piano-accompanied "Have Yourself A Merry Little Christmas" as beautifully as we have ever heard these songs. The interactions with Julian and the guys are touching and profound, but if you'd just like to hear the tunes, a second CD with just the songs is included. A truly magical "Night!"
Listen to our favorite: "God Rest Ye Merry Gentlemen" in Real Audio.
---
Brand New Past
I Can't Break Away
Dreamer
Brown Eyed Girl
One Sweet Thing
Weakness
One Woman
Carla's Reality
Single Grain of Sand
Back of my Mind
In Absence
Angel Dust
Put A Little Love in Your Heart
The Standards, who have wowed us at the Harmony Sweeps Finals more than once, have taken a bold step with the release of "Past," looking to reach a new commercial audience, and even coming up with a new name for them, "Spencer's Own." Seven of the 12 songs are accompanied originals by the group. The other 5 are "Can't Break Away," Van Morrison's "Brown Eyed Girl," the group originals "Single Grain of Sand" and "In Absence" and the psychedelic anthem "Put A Little Love In Your Heart." We have never heard a weak tune from the four Williams brothers, we still haven't; and they show excellent and savvy songwriting and arranging skills. The great harmonies and deep feeling are still there on songs like "Dreamer," "One Sweet Thing," "Carla's Reality" and "Angel Dust," which have the kind of infectious hooks that get play on top-40 radio. The accompaniment is not overpowering the emphasis remains on the voices, melodies and lyrics. Dynamic performers, brilliant writers and arrangers produce CDs like "Past"--these guys should be stars!
Listen to our favorite: "Put A Little Love in Your Heart" in Real Audio.
---
No Silent Corners
California Dreaming
Shake up, Shake up
Because She
Sweet Emotion
My Girl
Nothing But Love
Be Somebody
More Than Words
Just My Imagination
Running To That Place
The Lion Sleeps Tonight
Bathrooms are great places to sing and the Standards can surely attest to the fine acoustics of the white porcelain as this is where they began one mid 90's summer. No Silent Corners is jam packed with tight harmonies and smooth dynamics. "California Dreamin'," "My Girl," "More Than Words" "Just My Imagination" and "Sweet Emotion" are great covers, but it's the Standards originals that deserve hootin' hollerin' ovations. "Shake It Up" is real groovy and will keep the body in motion. "Because She" is a beautiful ballad dedicated to the woman in any man's dreams. "Be Somebody" is a sample of The Standards "best come shining through." You will love "Running To That Place" and "Life Is Good."

---
In Perfect Harmony
Lean On Me
Just For You
Prayer Of The Children
Dance Of The Mamba
My Song
Sixteen Candles
Crazy Love
Free To Feel
Coming Home To You
I Believe
The Standards are five brothers from Idaho, who have united in a winsome combination of talent and personality. Though performing about half self-penned originals in the pop/contemporary vernacular, the group also covers R & B songs such as "Lean On Me" and doo-wop standards such as "Sixteen Candles." They are between 17-24 in age, but they have been singing together and refining their raw talent since 1994. They obviously have been influenced by modern a cappella vocal bands, as well as the soul singers of previous eras. Their choreography and blend wowed the Sweepstakes audience!

---
---
To find a specific song on any recording (or to find recordings by group name or CD title),
pick the search method and type the item you are searching for here: