The EDLOS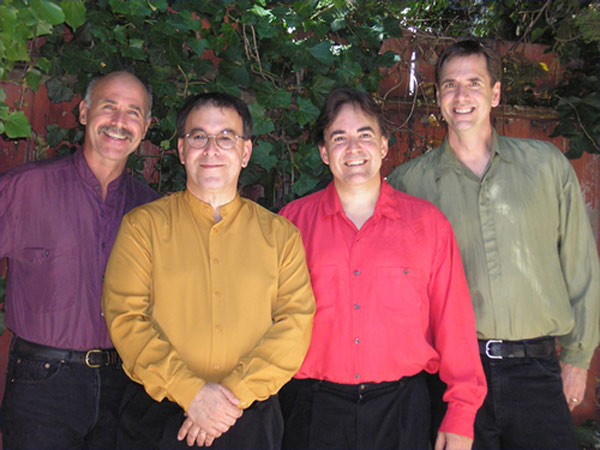 The EDLOS, you might ask? Four guys who sing without instrumental accompaniment... A Cappella. What's with the name? The story they tell is that the name is an acronym for Excessive Decibel Levels from Outer Space and that they're refugees from the planet "A" which circles the star Capella in the constellation Auriga. The story goes on, but let's cut to reality here for a minute. These four classically trained guys; Eric, Larry, Ed, and Craig were destined to take their schooling, talent, and juicy voices into the 21st century, always breaking new ground in their never ending pursuit of A Cappella diversity and originality. Speaking of diversity, the EDLOS have three shows to offer. Their critically acclaimed Popourri Show, which consistently draws standing ovations, is made up of eclectic originals and familiar favorites.
But that's only where the fun begins. The Bad Boys of A Capella have a Country Western Show that's both contemporary and traditional, featuring hard-core country croonin' and world class yodeling. It's a guaranteed smiler! Come the holiday season the EDLOS deck the halls with a wide variety of harmoniously spirited songs, traditional and original, with their very special Holiday Show. Now when the EDLOS put on a show, it's not just standing on a stage and singing the tunes...oh no...there are lights, smoke, costumery, tomfoolery, wigs, and assorted mathem, that all combine to make an unforgetable performance. One last point. Humor. These guys have a strong sense of comedy. No. Let's rephrase that. They're a crackup. They can't help it. Of course they do get serious occasionally. Check 'em out!
Group members: Eric Morris, Larry Venza, Craig Knudsen, Ed Cohn
Discography
Broadway
76 Trombones - Music Man
Willkommen - Cabaret
Gee, Officer Krupke - West Side Story
Bring Him Home - Les Miserables
I Am I, Don Quixote - Man of La Mancha
If I Were A Rich Man - Fiddler on the Roof
There Is Nothing Like a Dame - South Pacific
Oklahoma! - Oklahoma!
Fugue For Tinhorns - Guys and Dolls
Try To Remember - The Fantastiks
With A Little Bit of Luck - Oliver
You'll Never Walk Alone - Carousel
First formed in 1989, The Bad Boys of A Cappella," known of r their lights, smoke, wigs, costumes and general silliness, have added another winner to their collection of live shows, which up to this point have included the Variety Show, Country Western Show, Holiday Show and Groovy 60s Show. "A Cappella Broadway" premiered in April 2007 as a triple groundbreaker: their first show entirely of songs not featured in any of their previous shows, the first time they've staged an extended run of a show at a single venue, and it's the first revue of Broadway tunes performed entirely without musical instruments! 12 songs, from Music Man's "76 Trombones," Cabaret's "Wilkommen" and West Side Story's "Gee, Officer Krupke" to The Fantasticks' "Try to Remember," My Fair Lady's "With a Little Bit O' Luck" and Carousel's "You'll Never Walk Alone." Some tunes, like Les Miserables' "Bring Him Home," will touch you and break your heart, Fiddler on the Roof's "If I Were a Rich Man," South Pacific's "There is Nothin' Like a Dame," Oklahoma's oompa-bandish "Oklahoma" and Guys and Dolls' "Fugue for Tinhorns" will crack you up. Enough said—this is another generous helping of great, funny stuff from the Edlos!
Listen to "There Is Nothing Like a Dame" in Real Audio.

---
Retropella
Tequila
Wimoweh
A Beautiful Mornin'
Scarborough Fair / Canticle
(You're My) Soul and Inspiration
Unchained Melody
Something
Come Together
Aqualung
White Rabbit
Hurdy Gurdy Man
Stairway to Heaven
One of our favorite groups since they started singing together in 1989, Bay Area Contemporary all-male quartet the Edlos' website lists 4 different live shows they offer, the Variety Show, Country Western Show, Holiday Show, and, recently added, the groovy 60s Show. Born of this show, "Retropella" is a roots thing for these very funny, talented guys, and the liner notes fold out to a poster of the boys in their 60s garb, from school mugshots to freak-flag-flying hippie band shots. 12 songs (with one bonus song about peace at the end), most of them hippie anthems. There's marvelous faux instrumentation and faked psychedelic "wah-wah" effects and inventive vocal percussion throughout. This is one of the most ambitious CDs we've heard this year; the guys pull it off bigtime, and have big fun doing it - the live show has to be a hit!
Listen to "Wimoweh" in Real Audio.

---
Just Us
Acappellypso
You
What a Surprise
Freedomsong
Our Home
Ascending Star of Bethlehem
For Daddy
Paper
Garbage Man
The IRS Blues
Down at theMall
Kitty's Quake
Late Nightmare
The Dream
The Edlos first all-original album. This California foursome have been on the cutting edge of the new contemporary a cappella movement since their debut, and have sustained a loyal following, courtesy of their highly entertaining live performances. The group continues to parody anything and everybody, as on "Paper," "IRS Blues" and "Garbage Man" (the latter previously released on their "Sampler" CD), but in fact, their musical depth extends far beyond the comic, and embraces a variety of stylistic influences. "The Dream," as a case in point, traverses into classical territory and even has a quasi-operatic finale. "Down At The Mall" spills over into doo-wop, with it's nonsense syllables and high falsetto overlay. The Edlos' musical credentials bring a sophistication to their sound that is their own inimitable brand.
Listen to "Acappellypso" in Real Audio.
---
A Cappella Country
For Ever And Ever, Amen
Tupelo Honey
Goodbye To White Deer
Born To Yodel
Your Cheatin' Heart
High Hill
Big Bad John
Faded Love
The Cattle Call
Truck Drivin' Man
I Think It's Gonna Rain Today
Castin' My Lasso
A Cappella Country
Christmas
The Edlos were visiting Nashville where they were tapped to play the Grand Old Opry. The wildly enthusiastic response they found was the root inspiration for a collection of country tunes. There is a sweet lilting poignancy found in heartstring tuggers like "For Ever and Ever, Amen," "Goodbye To White Deer" and "High Hill." Traditional tunes are present in "Your Cheatin' Heart" and "Faded Love." "Castin' My Lasso" is a vehicle for great yodeling, cowboys old and new, mine disasters, wired truck drivers... If its country its here.

---
Wintersongs
Ascending Star of Bethlem
Little Drummer Boy
Gimme Some Presents
Big Santa (The Visit)
Le Sommeil De L'Enfant Jesus (The Sleep of the Infant Jesus)
Talk about Sufferin' Here Below
The Coventry Carol
Sim Shalom
All Through The Night
O Holy Night
Ukrainian Carol (Carol of the Bells)
The Edlos are first-rate technical singers who amuse themselves and their zealous followers with zany antics and offbeat lyrics. This mix of the high and lowbrow has resulted in an eclectic sound that is umistakeably Edlos. For this special Christmas collection enjoy the Appalachian traditional, "Talkin' About Sufferin' Here Below," a Ukrainian carol, "Carol Of The Bells," "Big Santa (The Visit)," and "Sim Shalom," among others. This male quartet makes everything they do sound easy and casual, but listen intently: the whole is fashioned with the utmost of precision, and scholarship that takes years to acquire.
Listen to "All Through The Night" in RealAudio.
---
EDLOS Sampler
Garbage Man
For Ever And Ever, Amen
Tupelo Honey
The Lion Sleeps Tonight
The Dream
Sim Shalom
Mrs. Claus
Ascending Star Of Bethlehem
The Edlos are one the best-known groups in contemporary a cappella. Drawing on material from their previous three CD's, this "Sampler" is your basic Edlos 101, with a couple of new songs for extra credit: "Garbage Man" and "Mrs. Claus." This California group is known for their humor, and there is plenty of that, but there is plenty of substance as well: their solid education in the fundamentals of a cappella singing and the styles of barbershop and doo wop have endeared them to fans for many years past, and for many years to come!

---
Watch a video

The Edlos:
A Cappella Broadway

A veritable tour-de-force from the bad boys of a cappella. (7.51)
---
To find a specific song on any recording (or to find recordings by group name or CD title),
pick the search method and type the item you are searching for here: