Kantorei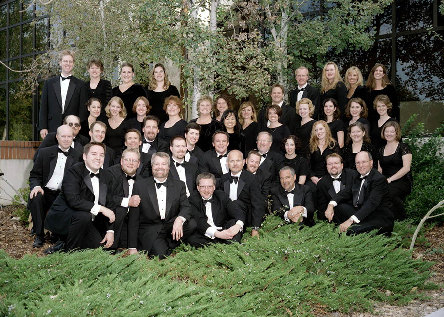 Kantorei formed in 1997 under the leadership of 6 friends who decided to form a choir capable of singing a broad range of a cappella choral music. With the addition of Richard Larson as artistic director and a handful of additional singers, the group quickly found a footing in the cultural fabric of Denver, Colorado.
Now in its 10th full season of performing, the group has expanded into an auditioned ensemble of 52 volunteer singers who meet weekly to rehearse. Many of the singers come from schools with strong choral music programs, such as Augustana, Brigham Young, Concordia, Luther, St. Olaf, Wartburg, and the University of Northern Colorado.

Kantorei established itself as one of the nation's premier choral ensembles after performing as an auditioned choir for the 2003 National American Choral Directors Association Conference at Carnegie Hall in New York City. Kantorei is the only community choir from Colorado ever to attend a national ACDA conference, a proud accomplishment considering the brevity of the group's existence.

In June 2007, Kantorei embarked on its first-ever international tour to France and Italy. The tour culminated with the distinct honor of singing for Mass at St. Peter's Basilica on invitation from the Vatican, solidifying the group's place among the finer choral arts ensembles nationally and internationally. Director Richard Larson
Discography
Small Blue Marble
Betelehemu - Whalum
Cuncti Simus
Sugismaastikud - Tormis
On Hilissuvi
Ule Taeva Jooksevad Pilvad
Kanarbik
Keine Feuer Keine Kohle Kann Brennen So Heiss - Sametz
The Fields Of Corn Are Gone - Sexton
Past Life Melodies - Hopkins
Ngam Sang Duan - Sametz
iu Diu Deng - Yi
LA Villanella - Sametz
Himne - Temmingh
Horizons - Van Dijk
Vamuvamba - Mganga
Loch Lomond - Quick
Barbara Allen - Kunz
El Guayboso - Lopez-Gavilan
Sim Shalom (Prayer For Peace) - Steinberg
Zum Gali - Goldman
This Little Light Of Mine - Hogan
Richard Larsen and his choir Kantorei have been garnering great acclaim in recent years and their latest release shows why. The lovely name of the recording "Small Blue Marble" refers to the world as it showcases choral music from around the globe including songs from Thailand, South Africa, Nigeria, Spain, Scotland, Cuba, Israel and many others. Larsen has selected some intriguing compositions that celebrates the unity and diversity of cultures thru choral music and the choir singing is top-notch even when challenged to imitate a variety of Latin American percussions instruments while navigating dense choral structures.
Listen to Barbara Allen in Real Audio
---
The Road Home
Let Me Fly
Dere's No Hidin' Place
Oh, Shenandoah
Ezekiel Saw de Wheel
Black is the Color
If I Got My Ticket
My Lord, What A Morning'
The Battle of Jericho
You Better Mi' How You Talk
I Can Tell the World
Sometimes I Feel Like A Motherless Child
City Called Heaven
I Got Shoes
I Believe This Is Jesus
Danny Boy
Wearing of the Green
Swing Low, Sweet Chariot
Amazing Grace
God Is Seen
Wase in the Water
My Soul's Been Anchored
Denver-based 36 mixed-voice semiprofessional choir Kantorei has grown from a group of 6 friends singing carols in 1997 to a respected group that has appeared at Carnegie Hall for the National ACDA Conference, and been conducted by Rene Clausen in a premiere performance of his work. Esteemed director Richard Larson has been a major factor in the group's rise. "Home" is the group's 5th very good CD, and is a collection of 21 folk songs and spirituals. Picking favorites is not easy, there are excellent solos on "Let Me Fly ," "Dere's No Hidin' Place," "Ezekiel Saw de Wheel " and "City Called Heaven." Folk tunes "Black is the Color," "Danny Boy," and "Wearing of the Green " are wonderful. And we can't forget the four tunes arranged by the late Moses Hogan, "The Battle of Jericho" "You Better Min' How You Talk ," "I Can Tell the World" and "My Soul's Been Anchored." Another winner for Kantorei! Recommended.

---
Pillars Of Light
Les Chansons des Roses: (Lauridsen)
- En Une Seule Dleur
- Contri Qui, Rose
- Do To Reve Trop Plein
- La Rose Complete
- Dirait-on
Three Whitman Settings (from "Leaves of Grass"): (Clausen)
- A Noiseless Patient Spider
- Quicksand Years
- The Last Invocation
Lux Aeterna: III. O Nata Lux (Lauridsen)
Veni (Clausen)
Ave Maria (Lauridsen)
O Vos Omnes (Clausen)
In Pace (Clausen)
I Thank you God for most this amazing day (Whitacre)
Pillars of Light is a collection of pieces by Rene Clausen, Morten Lauridsen and Eric Whitacre. Lauridsen's "Ave Maria" is absolutely gorgeous with its indulgent harmonies. "Veni" was written by Clausen for Kantorei and is premiered here. Whitacre's "i thank you god for most this amazing day" is a very tranquil setting of the e.e. cummings poem. All of these pieces are great examples of the beauty that can come from modern choral compositions. The warm rich often dissonant sounds envelop the listener.

---
In Dreams
Tonight Eternity Alone (Rene Clausen)
Sicut cervus: (G.P. da Palestrina)
- Sicut cervus
- Secunda pars. Sitivit anima mea
Le Guerre "The Battle" (Clement Janquin)
Ave Maria (Giuseppe Verdi)
Lamentations of Jeremiah: (Alberto Ginastera)
- O Vos Omnes Qui Transitis Per Viam
- Ego Vir Videns Paupertatem Meam
- Ricordare Domine Quid Acciderit Nobis
Three Nocturnes: (Hildor Lundvik)
- Flowering ALmond Tree
- Quiet Rain
- Early Spring
Cloudburst (Eric Whitaker)
Water Night (Eric Whitaker)
Motet for Unaccompanied Chorus Op. 38: Beati Quorum Via (Charles Villiers
Stanford)
The Blue Bird (Charles Villiers Stanford)
O Crux (Knut Nystedt)
Agnus Dei (krzysztoz Penderecki)
In Dreams is a collection of recordings from Kantorei concerts. It is a mixture of early and modern compositions. Alberto Ginastera's "Lamentations of Jerehiah" are intense pieces. The emotions of the texts, which describe the destruction of Jerusalem by the Babylonians, are captured in this music which expresses shock, sorrow and despair in the three movements. This newest pieces on this recording are those of Eric Whitacre. "Cloudburst" which is a setting of the Octavio Paz poem, "El cantaro roto" celebrates nature and ends with a thunderstorm of percussion and voices. "Water Night," where water is used as a metaphor for nighttime dreams, has lush dissonant harmonies which create a very soothing sound. All of the pieces on this CD will spark the imagination.

---
Little Tree
The Exaltation of Christ - Forsberg
The Rune of Hospitality - Houkom
Calm on the Listening Ear of Night - Jennings
Gaudete - Moore
What Sweeter Music? - M. Fink
Sweeter Still - Barnum
Little Tree - Heitzeg
Somerset Wassail - Rutter
A Stable Lamp is Lighted - Clausen
Mary's Lullaby - Rutter
The Hills are Bare at Bethelehem - Carnahan
Little Tree - Whitacre
Little Lamb - Cherwien
Ding Dong! Merrily on High - Paulus
The Three Kings - Willan
I Saw Three Ships - Wilberg
Away In A Manger - Sjolund
Silent Night
The perfect way to enjoy the holiday season, little tree features Kantorei's favorite live recordings from their last several Christmas concerts. Featured on recording are two wonderful settings of e.e. cummings' holiday text, 'little tree.' The first, by composer Steven Heitzeg, features the choir accompanied by harp in a soft, contemplative setting. Heitzeg's composition is contrasted by that of world-renowned composer Eric Whitacre, who sets the text for choir with piano accompaniment in a warm, joyous setting. Also included on the CD are several heart-warming arrangements of familiar holiday carols including 'I Saw Three Ships,' 'Away in a Manger,' and audience favorite, 'Silent Night.' Sure to become a holiday classic, little tree will no doubt usher in the warmth and joy of the Christmas season.
---
Christmas Night
Star in the East (arr. Malcolm Dalglish)
Long, Long Ago (Herbert Howells_
Jesus, Jesus Rest Your Head (arr. Salli terri)
Ave Maria Stella (Trong Kverno)
The Rose (John Paynter)
Sing We Know of Christmas (Arr. Fred Prentice)
Some Children See Him (arr. Randy Crenshaw & Bill Lyons Jr)
O Little Town of Bethlhem (Kenneth Jennings)
Ding Song! Merrily On High (arr. Howard Helvey)
Jesu Parvule (Andrej Koszewski)
O Magnum Mysterium (Morten Lauridsen)
There Is a Flower (John Rutter)
The Carol of the Birds (arr. Shaw-Parker)
There Is No Rose of Such Virtue (Robert H. Young)
Kantorei began in 1997 as a group of 6 friends who got together to sing Christmas carols. The group has grown to a 32-voice mixed ensemble, attracting some of the best vocal talents. From medieval texts to 20th century tonalities, the Christmas journey begins with ³Star in the East,² a suite of 3 dramatic Appalachian carols including ³Rise Up Shepherd,² which was originally published as a slave song in 1867. Herbert Howells' ³Long, Long Ago,² John Paynter's ³The Rose,² a lilting, joyous ³Sing We Now of Christmas,² a lovely soprano solo on ³Some Children See Him,² a fine ³Ding Dong! Merrily On High,² Lauridsen's ³O Magnum Mysterium,² Rutter's sweet ³There Is A Flower,² a moody ³Carol Of The Birds² and Robt. Young's ³There Is No Rose of Such Virtue²­this collection welcomes the diverse spectrum of Christmas sentiment across miles and centuries. Beautiful and recommended.

---
To find a specific song on any recording (or to find recordings by group name or CD title),
pick the search method and type the item you are searching for here: