Nightlife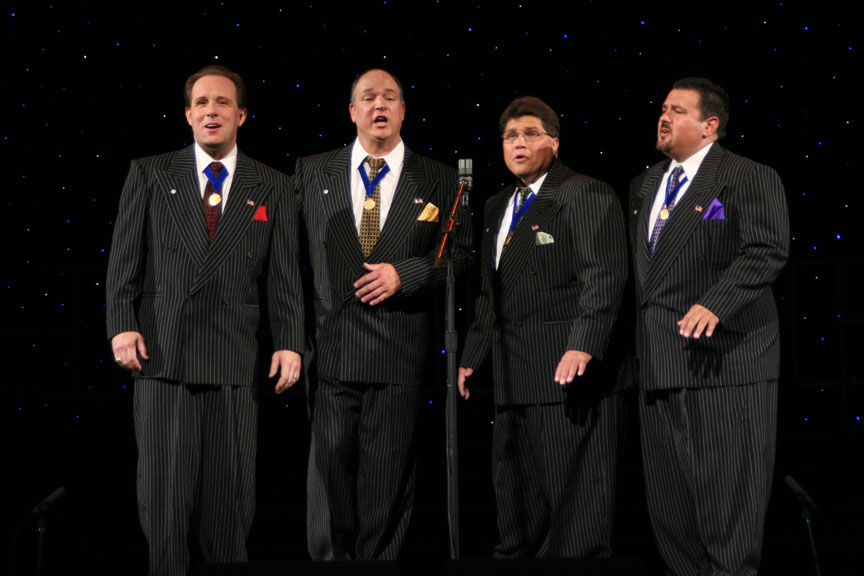 Nightlife, from Southern California, is only the second quartet in barbershop singing history to win gold medals as both international quartet champions and as members of the winning barbershop chorus on the same day! Nightlife first got together in November 1990, and in the International competitions that followed, the quartet quickly achieved success, winning two bronze medals and a silver. But, in July 1996, Nightlife reached the pinnacle of success by being declared the new International Quartet Champion! Nightlife is: Tenor, Rob Menaker; Lead, John Sasine; Baritone, Jeff Baker, and Bass, Brett Littlefield Nightlife has performed around the throughout the country, and has sung for such celebrities as Dick Van Dyke, Bill Hanna of Hanna-Barbera, Ted Turner, and Jane Fonda. The quartet has appeared on all three major networks. Their recordings, "Basin Street Blues," which was a nominee for the 1997 Contemporary A Cappella Society's Album of the Year award, and "Songs at Twilight" are available on both compact disc and cassette.
Group members: Tenor, Rob Menaker; Lead, John Sasine; Baritone, Jeff Baker, and Bass, Brett Littlefield
Discography
Blues in the Night
How High The Moon
Mobile
Satin Doll
My FunnyValentine
Slap That Bass
Steal Away
When I Lift Up My Head
Blues In The Night
Ride The Chariot
London By Night
Baby, It's Cold Outside
Today
Watch What Happens
Who Will Buy?
One Moment in Time
Though not generally identified with blues, in fact barbershop does have something in common with jazz and blues alike - they are all distinctly American musical forms. As David Wright says in his liner notes describing the quartet (he also arranged four songs), "the richness of their blend evoked the texture of blues and gospelÉ" These 1996 gold medalists (and members of the heralded Masters of Harmony Chorus), are indeed staking out their own forty acres of barbershop territory. Sublime adaptations of the title track, "How High The Moon," "Satin Doll," "Steal Away" and "Baby It's Cold Outside" are just some of the wonderful surprises in store. While staying true to the core structure of barbershop, these arrangements are festooned with borrowed inflections from other styles, and gently evoke the romance of days gone by!
Listen to Satin Doll in Real Audio
---
Basin Street Blues
Cross the Mason-Dixon Line
Creole Cutie
Stars Fell on Alabama
Route 66
Beautiful Dreamer
It Must Be That Look in Her Eyes/Them There Eyes Medley
It Never Occurred to Me
Rhythm Medley
You're As Welcome As the Flowers in May
This Is My Lucky Day/Luck Be A Lady Tonight Medley
Basin Street Blues
I Love You For Sentimental Reasons
Sailin' Away on the Henry Clay
Let All Mortal Flesh Keep Silence
Smile
Let us have Dr. Greg Lyne tell you about the voices of Nightlife. "Brett (Littlefield) possesses one of the most resonant, rich bass voices you're ever going to hear, which contributes to the depth so characteristic of the Nightlife sound. Jeff's (Baker) voice brings the glue and dignity to the composite sound that all outstanding quartets seek. John's (Sasine) voice is unusually free and agile, which is also the key to the quartet's individually of expression. Finally, it is the color and presence found in Rob's tenor voice that contributes the sheen to this foursome's distinctive sound." True, true. Now listen to "Creole Cutie," "Route 66," "Beautiful Dreamer" (beautiful!), "Smile" and another eleven songs. Celebrate their Championship with them!
Listen to Beautiful Dreamer in Real Audio
---
Songs at Twilight
Just Because/Shine Medley
If There's Anybody Here From Out Of Town
I'll Always be Mother's Boy
Those Roarin' Soarin' 20's
Young and Foolish
Emaline
I'd Like to do it Again
Love's Old Sweet Song
Hello Broadway
Old Folks
Nat King Cole Medley
Southern California celebrated when Nightlife won the International Quartet Championship in 1996. Not only did they win the gold medal as a quartet but they also won a gold medal as members of the winning barbershop chorus on the same day (Masters Of Harmony), only the second foursome in barbershopping history to do so. Songs at Twilight presents an award winning style on familiar barbershop songs such as "If There's Anybody Here From Out Of Town" and "Love's Old Sweet Song," along with tunes less often sung in contests. The grand finale of the recording is an eleven minute "Nat King Cole Medley" which includes excerpts of "Mona Lisa," Nature Boy," "A Blossom Fell," "Unforgettable," "Too Young" and "Answer Me, My Love." It's fabulous!
---
To find a specific song on any recording (or to find recordings by group name or CD title),
pick the search method and type the item you are searching for here:



All Rights Reserved All Content, page design, CGI Copyright © United Singers International