The Buffalo Bills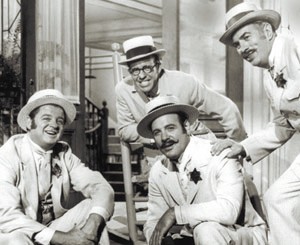 In 1945 a quartet called the Barber Shop Four had a radio program that aired every Sunday at 12:45 in Buffalo, NY. Al Shea sang lead; the other quartet members were Bill Delfield, tenor; Ross Davis, bari; and Ralph Bone, bass. The group made many appearances at USO shows and war bond drives in the area. Two years later, Shea and baritone Hershel Smith were ready to start a new quartet. They invited tenor Vern Reed and bass Bill Spangenberg to Smith's house to do some singing... Reed and Spangenberg were not Society members at the time. As an unnamed foursome they began singing for community groups. During an appearance at the Buffalo Quarterback Club they were introduced as the Buffalo Bills and the name stuck.
The quartet had an inauspicious beginning in international competition, placing 16th at Oklahoma City in 1948. However, they became district champions that fall and moved up to sixth place the following year. At that point Smith left the quartet and was replaced by Dick Grapes. In Omaha in 1950 the gold medals were hung around their necks and a new era of barbershop harmony began. There was something different about the Buffalo Bills; their big sound, combined with the work of Phil Embry and other talented arrangers, kept them busy singing on barbershop shows and gave them a popularity no other Society quartet had achieved. The Society's Armed Forces Collaboration Program brought requests for them to sing before military audiences. Soon they were touring military posts in Germany, France, Austria, Japan, Korea, and other far-flung places. In 1957 a famous conductor and radio personality, Meredith Willson, wrote a stage musical about his home town of Mason City, Iowa. His plot included a quartet. Willson had heard the Bills' records and suggested they come to New York and audition for the role of the Iowa quartet. They were immediately accepted but joining the musical meant leaving their jobs and moving to New York City.
Dick Grapes decided to stay behind and Wayne "Scotty" Ward, former tenor of the international finalist Great Scots quartet of Steubenville, Ohio joined them for the adventure. The move to New York brought them television and radio appearances, including the Arthur Godfrey show, where they met Walter Latzko, a CBS staff music arranger. Latzko, who later became well-known throughout the Society, provided much of the quartet's show material during the next ten years. The Music Man was a great success and ran for many years on Broadway. A motion picture was made, featurng the Bills in the same roles. In 1962, after filming was completed, illness forced Bill Spangenberg to leave the quartet. He died the following year. Spangenberg was replaced by another Ohioan, Jim Jones, bass of the Sta-Laters, Johnny Appleseed District champs.
The quartet made personal appearances for another five years and were featured on almost every kind of stage. They continued to sing on the Arthur Godfrey radio program. When the final curtain rang down on the Buffalo Bills, they left behind a record that may never be topped in the world of barbershopping - 1,510 performances on Broadway, 728 concerts, 675 radio shows, 672 night club and hotel appearances, 626 conventions, 216 television shows, 137 state fair performances, and a major motion picture. The Buffalo Bills sang their last show at the Waldorf-Astoria Hotel in New York on May 24, 1967.
Discography
Masterworks Series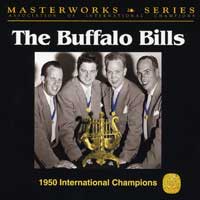 The Bills bubbled to the top of the public consciousness during their star turn in the "Music Man," as the members of the River City School Board who sing "Lida Rose" (a moment in barbershop history that would introduce many of us novices to the style). In fact, though, they continued to live long and prosper way beyond that. As Columbia recording artists, they produced many albums (some with accompaniment), the highlights of which are compiled on these two CDŐs produced by Brian Beck. Digitally re-mastered to bring the quality to modern standards (though several tracks from their very earliest recording efforts couldnŐt be repaired 100%, but heck, itŐs part of the charm), the BillsŐ sound is startlingly robust for a group that won 50 years ago! Significant credit for this must be given to the arrangements of Walter Latzko, who began an eight-album association with the quartet in 1951; his impact on barbershop singing in general can hardly be overstated. The Bills brought those arrangements to life, embodying yearning and romance ("IŐd Love To Live In Loveland," "Your Eyes Have Told Me So," "If You Were The Only Girl"), as well as broad tomfoolery and brisk cheer, during romps such as "Toot Toot Tootsie," "Dardanella" and "With Plenty Of Money And You." The longevity of their success may also be due in part to the smooth musicality of their approach and the warmth of their tone; though not breaking any sound barriers technically by todayŐs standards, they donŐt need to. Released as part of the AIC Masterworks series to coincide with the 50th Annual Society Convention in Kansas City, this CD set is a great value.

Hard Hearted Hannah, Birth Of The Blues, Alexander's Ragtime Band, Dardanella, Toot Toot Tootsie, My Honey's Lovin' Arms, Your Eyes Have Told Me So, If You Were The Only Girl, Rose of The Rio Grande, My Baby Just Cares For Me, A Cup of Coffee, A Sandwhich and You, I'd Love to Live in Loveland, Emaline, The Girl That I Marry, If I Could Be With You, With Plenty of Money and You, Goofus, They Didn't Believe Me, As Time Goes By, Walkin' With My Honey, Fit As A Fiddle, Bye Bye Blackbird, Why Do I Love You, Happy Days Are Here Again, Shut The Doo,r I'm A Ding Dong Daddy From Dumas, Sam, You Made The Pants Too Long, Josephine, Please Don't Lean On The Bell, I Love A Piano, The Preacher and The Bear, Wait Till The Sunshines Nellie, Ramona, I Wonder What's Become of Sally Sweetheart of Sigma Chi, Beautiful Dreamer, I Want A Girl, My Blue Heaven, Tea For Two, Home, Blue Room, Miss You When We're Alone (Penthouse Serenade)
Listen to "Hard-Hearted Hannah" or "I Want A Girl"

---
Barbershop Harmony Time (With The Chordettes)
Time They Say It's Wonderful - Chordettes
If I Could Be With You One Hour Tonight - Buffalo Bills
Angry - Chordettes
Down By The Old Mill Stream - Chordettes
Why Do I Love You - Buffalo Bills
Down Among The Sheltering Palms - Chordettes
As Time Goes By - Buffalo Bills
Fit As A Fiddle - Buffalo Bills
I Believe - Chordettes
Your Eyes Have Told Me So - Buffalo Bills
Here's history for you. The Buffalo Bills were International Champions in 1951 and are well remembered today for their appearance as a barbershop quartet in the 1962 movie 'The Music Man.' That appearance along with their winning harmonies leave an inspired heritage for today. The Chordettes were a Wisconsin group who shifted their focus from folk music to close harmony in the late '40s. After winning Arthur Godfrey's Talent Scout Show they became regulars on the show, which is why you'll hear them singing "Down By The Old Mill Stream" with Arthur on this recording. From 1954-1961 The Chordettes had thirteen songs on the top hundred charts including the 1954 hit "Mr. Sandman." This is a must-have for anyone interested in the history of great barbershop groups!
---
The Music Man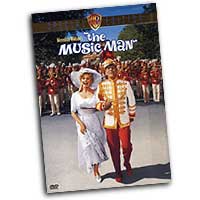 It doesn't get any better than this slice of Midwestern Americana. Charming con man Harold Hill (Robert Preston) wants to steal River City, Iowans' money with a "boys' band" scam but finds it hard to skip town when lovely librarian Marian Paroo (Shirley Jones) steals his heart. Composer Meredith Willson's valentine to his hometown (Mason City) packs great songs and wonderful performances from, among others, Buddy Hackett and a young Ron Howard. One of the best-loved musicals, Meredith Willson's "The Music Man," opened on Broadway on December 19, 1957. The stage production and this subsequent 1962 film featured one of the Barbershop Harmony Society's most memorable quartets, the Buffalo Bills, and thrust barbershop harmony into a broad spectrum of public light.
The original founding members in 1947 were Vern Reed, Bill Spangenberg, Hershel Smith (who was replaced by Dick Grapes in 1950) and Al Shea. The quartet won the Barbershop Harmony Society Gold Medal in 1950 with what was then the largest point accumulation in Society history. The Buffalo Bills were the face of barbershop for years, starring in 728 concerts, 216 television shows, 1,510 Broadway appearances, 626 conventions, 675 radio shows, 672 night club and hotel appearances, 137 state fair performances, 15 record albums and a major motion picture. They were regulars on the Arthur Godfrey radio show and traveled to military bases around the world.
---
To find a specific song on any recording (or to find recordings by group name or CD title),
pick the search method and type the item you are searching for here:



All Rights Reserved All Content, page design, CGI Copyright © United Singers International