All | 2-Part | 3-Part | SAB | Unison
Series Collections
---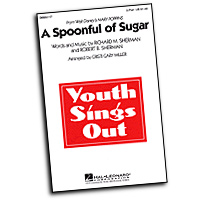 Cristi Cary Miller: Mary Poppins
Review: Surely one of the greatest Disney musicals ever! Cristi Cary Miller does a wonderful job with clever and accessible arrangements of these classic songs that your kids (and their parents!) will love. The happy-go-lucky melody of "Let's Go Fly a Kite" is a sprightly salute to spring! The fun never stops with the light-hearted "I Love to Laugh". It's a smile-a-minute! Show off your best diction with this delightful arrangement of the favorite "Supercalifragilisticexpialidocious" that's just right for younger singers.
Songlist: Feed the Birds, A Spoonful of Sugar, Chim Chim Cher-ee, Supercalifragilisticexpialidocious, I Love to Laugh, Let's Go Fly a Kite, Step in Time

---
Individual Folios
Displaying 1-50 of 50 items.

Vocal Harmony Arrangements - Home
Christian | Gospel | Standards | Musicals | Specialty | World | Barbershop | Contemporary | Vocal Jazz | Choral | Christmas
Mixed Voices | Female | Male | 8 Parts | 6 Parts | 5 Parts | 3 Parts | 2 Parts | Medleys | Solo | Folio Series | New Releases
---
Specialty Arrangements
---