Displaying 1-2 of 2 items.
---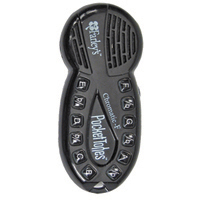 Pocket Tones : Pitch Pipe Chromatic C
Review: The new PT-15 is the most sought after and versatile Pocket Tones pitchpipe yet. It can be used for virtually any instrument, and has specialized uses as well. A cappella and choral singers find the chromatic C indispensable, it is a must, especially when there is no piano or other reference instrument near by. It is non-disruptive when tuning during performances because the volume control dials down to a 'whisper', and a 40-voice choir can hear it at max volume. The individual note select gets you an immediate tone and the PT-15 fits right in the palm of your hand. Pocket Tones are sanitary, accurate, and a fantastic way to develop perfect pitch
Songlist:

---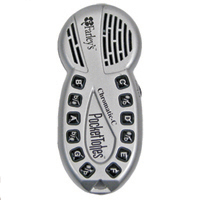 Pocket Tones : Pitch Pipe Chromatic F
Review: The Pocket Tones are a handy, durable and compact device, which may be carried in your pocket or purse as a key fob; or they can fit conveniently in an instrument case for accurate tones whenever you need them. Use Pocket Tones to develop excellent pitch recognition - it is the perfect answer for an immediate tone, and it is always at hand.
Songlist:

Vocal Instructional - Home | Vocalises | Warm ups for choirs | Warm Ups for solo voices
Ear Training | Sight Singing | Vocal Arranging | Harmony Singing | Vocal Technique
Reference Material | Vocal Improvisation | Beginning Singing | Instructional DVDs
Career in Singing | Diction | Performance Tips | Vocal Percussion | Vocal Health
Speaking Voice | Teaching Kids to Sing | Vocal Pedogogy | Vocal Coach Methods
Blues Singers | Pop / Rock Singers | Choral Singers | Barbershop Singers | Jazz Singers