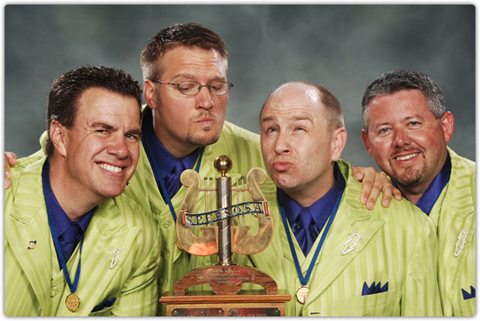 .
It has been an unbelievable journey for the 2010 International 1st Place Quartet Champions. The 2002 Rocky Mountain District champs made nine trips to the International contest stage, including Top 10 finishes each of the past six years. But on July 3, 2010, after a week of competition against the best Barbershop quartets in the world, Storm Front was awarded the elusive Gold medal!
For these four guys, the love of barbershop and great entertainment has blended to create show-stopping performances. They have been blessed to see tremendous success in their efforts. They are thankful to all the chapters and individuals who have supported them, and are most especially thankful to their families and friends for the love and encouragement they provide.
Discography
Displaying 1-6 of 6 items.
Female Barbershop Groups | Female Barbershop CDs | Male Barbershop Groups | Male Chorus CDs | Male Quartet CDs | Live Events
Mixed Voice Groups | Barbershop DVDs | Christmas | Barbershop Instructional | Barbershop Parts CDs | Barbershop Arrangements | New