Our Price:$2.25 (minimum order 4 copies) |

| Order 20 Copies or more for 31% discount |

---
The above folio is also available in this package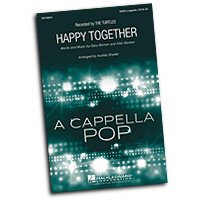 Various Arrangers : Feelin' Good - A Cappella
Get both your group and the audience relaxed and in the groove with these classic laid-back and feeling good songs. "Groovin'" is the #1 hit from 1967 by the Young Rascals in a smooth vocals-only setting perfectly captures the relaxed slow groove of the song with an easy vocal accompaniment and a irresistible solo. An a cappella setting of "Drift Away" that echoes its roots, this song shot to the top of the charts in 1973 with strong lyrics and great hook, Give me the beat, boys, and free my soul. Happy Together" - An accessible unaccompanied setting of the 1967 #1 hit by the Turtles brings a cappella to mixed ensembles in middle and high school. Fun vocal effects will motivate your group! "Shambala" - From 1973, the pop hit by Three Dog Nightwas also a hit for a cappella group Rockapella. This arrangement is full of tasty harmonies and a warm gospel groove that will infuse your concert with hopefulness and joy. This vocals only edition will be especially effective for choirs of all types!
Songlist: Groovin', Drift Away, Happy Together, Shambala

---
Related Items
Displaying 1-1 of 1 items.
---
---