Vocamotion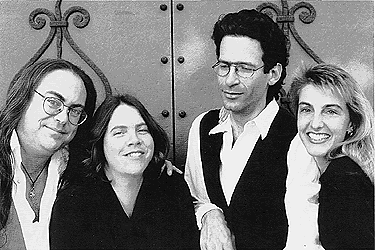 VocaMotion is a contemporary, upbeat a cappella quartet from Santa Cruz, CA comprised of Gail Clark, Michael Levy, Kath Robinson and Jonathan Arthur.
They had the honor of performing with Joan Baez in a benefit concert, in Palo Alto, CA and have worked with the Santa Cruz chapter of the a cappella organization, CASA, performing at their talent showcase in November at the Pacific Cultural Center , and at the 1st Annual Santa Cruz Acappellafest where they opened for The Edlos. They also individually offer workshops: Kath in the sacred aspect of music; Michael facilitating a Voicestra type singing circle; and Jonathan teaching the techniques of producing instrument sounds vocally. The group has made live appearances on Santa Cruz Community Television and KUSP radio.
Discography
Vocamotion
Tomorrow Robins Will Sing
Why Walk When You Can Fly
Baku Mani
Amazon Blues
Since I Fell
Socks
Dancing In An Alleyway
Harriet Tubman
Across the Great Divide
Shy Guy
Dance Home (Improv)
Season Of Love
A mixed four-piece from Santa Cruz, California (and past Harmony Sweepstakes participants) Vocamotion have a relaxed contemporary sound that translates well on record. Mary Chapin Carpenter's "Why Walk When You Can Fly" complements the group's voices ideally, and the arrangement is terrific - the group briefly turns it into a round for the finale. "Since I Fell" is a gem; it features a vocal horn solo that nails the instrument's inflection and tonality, which is second only to the dazzling lead vocal by Gail Clark. Several songs are original, and use humor as a tool to convey a point of view; "Amazon Blues" describes one man's appreciation for strong women, "Shy Guy" for the less-than-flashy dude, while "Sock" needs no other description. However, "Dancing In An Alleyway" is a nicely realized pop song, with a fresh melody and creative harmonization. Congratulations to Vocamotion for this skillfully produced debut.

---
---
To find a specific song on any recording (or to find recordings by group name or CD title),
pick the search method and type the item you are searching for here: