---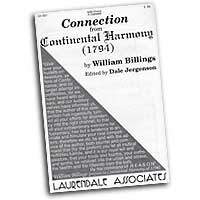 William Billings : Continental Harmony
Review: The dominating characteristics in the works of William Billings are: (1) a hard, driving, heavily accented beat; (2) a remarkable sensitivity to the text; and (3) an indifference to the so-called "rules of composition" in vogue during his time. This edition preserves the music as written by Billings except for the use off modern notation and a line of text for each voice; however, the piano reduction reverses the positions of the tenor and soprano parts, and should the conductor elect, the pieces may be performed in this manner.
Songlist: Cobham, Connection, Cross-Street, Hopkinton, Morning Hymn, St. Enoch, Thomas-Town, West Sudbury

---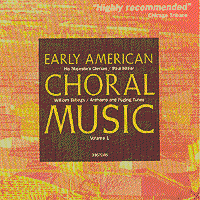 His Majestie's Clerkes : Billings - Early American Choral Music Vol 1
Review: William Billings (1746-1800), a Boston tanner and self-taught composer & singing master, was the foremost of a group of New England Psalmodists who flourished in the early years of American political independence. By the time his first tunebook, "The New England Psalm Singer," appeared in print in 1770, Billings had mastered both small and large-scale forms. The fine British a cappella choral group His Majestie's Clerkes does full justice to this wonderfully melodic, rich-harmonied Christian church music. Included are 16 songs: "O Praise the Lord of Heaven," "Is any afficted," "Emmaus," "Africa" (a personal favorite), funeral anthem: "Samuel the Priest," the joyful " Shiloh" (another favorite), "Jordan," the wonderful "I am the Rose of Sharon," "Euroclydon," "Hear my Pray'r," "Rutland," "David's lamentation," the sweet fugue "As the Hart panteth," "Creation," the powerful, dramatic "Brookfield," and the Easter Anthem: "The Lord is ris'n indeed" (the strongest song on the CD). This is incredible stuff, and looking for comparisons, what comes to mind are the choruses from Handel's "Messiah"--but we're hearing these songs for the first time, and we're being treated to the work of a little-known American genius. Highly recommended!
Songlist: O Praise the Lord of Heaven, Is any afflicted, Emmaus, Africa, Funeral Anthem: Samuel the Priest, Shiloh, Jordan, I am the Rose of Sharon, Euroclydon, Hear my Prayer, Rutland, David's lamentation, As the Hart panteth, Creation Brookfield, Easter Anthem: The Lord is ris'n indeed

| Song Name | Arranger | Composer | Artist | Item Title | Format | | Trax |
| --- | --- | --- | --- | --- | --- | --- | --- |
| A Virgin Unspotted | | William Billings | Chanticleer | Sing We Christmas | 1 CD | MORE DETAILS | |
| A Virgin Upspotted | | William Billings | San Francisco Choral Artists | So Gracious Is The Time - An American Christmas | 1 CD | MORE DETAILS | |
| Africa | | William Billings | His Majestie's Clerkes | Billings - Early American Choral Music Vol 1 | 1 CD | MORE DETAILS | |
| An Anthem For Thanksgiving | | William Billings | VocalEssence with Garrison Keillor | Over The River & Through the Woods | 2 CDs | MORE DETAILS | |
| Anthem: Lamentation Over Boston | | William Billings | Cantus | That Eternal Day | 1 CD | MORE DETAILS | |
| As the Hart panteth | | William Billings | His Majestie's Clerkes | Billings - Early American Choral Music Vol 1 | 1 CD | MORE DETAILS | |
| Bethlehem | | William Billings | Western Wind | Angel Voices | 1 CD | MORE DETAILS | |
| Bethlehem C.M | | William Billings | Tudor Choir | An American Christmas - Shapenote Carols from New England and Appalachia | 1 CD | MORE DETAILS | |
| Boston | | William Billings | Western Wind | Angel Voices | 1 CD | MORE DETAILS | |
| Boston for Christmas | | William Billings | Tudor Choir | An American Christmas - Shapenote Carols from New England and Appalachia | 1 CD | MORE DETAILS | |
| Chester | | William Billings | His Majestie's Clerkes | Early American Choral Music Vol 2 | 1 CD | MORE DETAILS | |
| Chesterfield | | William Billings | His Majestie's Clerkes | Early American Choral Music Vol 2 | 1 CD | MORE DETAILS | |
| Classical and Romantic Music - No. 18 A Virgin Unspotted, from The Singing Master's Assistant | | William Billings | David P. DeVenney | Conducting Choirs Vol 2 - Music For Classroom Use | Book & 1 CD | MORE DETAILS | |
| Cobham | | William Billings | William Billings | Continental Harmony | Sheet Music | MORE DETAILS | |
| Connection | | William Billings | William Billings | Continental Harmony | Sheet Music | MORE DETAILS | |
| Creation Brookfield | | William Billings | His Majestie's Clerkes | Billings - Early American Choral Music Vol 1 | 1 CD | MORE DETAILS | |
| Cross-Street | | William Billings | William Billings | Continental Harmony | Sheet Music | MORE DETAILS | |
| David's Lamentation | | William Billings | Chanticleer | Our American Journey | 1 CD | MORE DETAILS | |
| David's lamentation | | William Billings | His Majestie's Clerkes | Billings - Early American Choral Music Vol 1 | 1 CD | MORE DETAILS | |
| Easter Anthem | | William Billings | St. Olaf Choir | A Choral Tapestry | 1 CD | MORE DETAILS | |
| Easter Anthem | | William Billings | Rockefeller Chapel Choir | Lamentations & Exultation | 1 CD | MORE DETAILS | |
| Easter Anthem: The Lord is ris'n indeed | | William Billings | His Majestie's Clerkes | Billings - Early American Choral Music Vol 1 | 1 CD | MORE DETAILS | |
| Emanuel for Christmas | | William Billings | Tudor Choir | An American Christmas - Shapenote Carols from New England and Appalachia | 1 CD | MORE DETAILS | |
| Emmaus | | William Billings | His Majestie's Clerkes | Billings - Early American Choral Music Vol 1 | 1 CD | MORE DETAILS | |
| Euroclydon | | William Billings | His Majestie's Clerkes | Billings - Early American Choral Music Vol 1 | 1 CD | MORE DETAILS | |
| Funeral Anthem: Samuel the Priest | | William Billings | His Majestie's Clerkes | Billings - Early American Choral Music Vol 1 | 1 CD | MORE DETAILS | |
| Hear my Prayer | | William Billings | His Majestie's Clerkes | Billings - Early American Choral Music Vol 1 | 1 CD | MORE DETAILS | |
| Hopkinton | | William Billings | William Billings | Continental Harmony | Sheet Music | MORE DETAILS | |
| I am the Rose of Sharon | | William Billings | His Majestie's Clerkes | Billings - Early American Choral Music Vol 1 | 1 CD | MORE DETAILS | |
| I am the Rose of Sharon | | William Billings | Tudor Choir | Simple Gifts | 1 CD | MORE DETAILS | |
| Is any afflicted | | William Billings | His Majestie's Clerkes | Billings - Early American Choral Music Vol 1 | 1 CD | MORE DETAILS | |
| Is Any Afflicted? | | William Billings | Faith Builders Chorale | The Lord is King | 1 CD | MORE DETAILS | |
| Jargon | | William Billings | Various Arrangers | Encores For Choirs 2 | Songbook | MORE DETAILS | |
| Jordan | | William Billings | His Majestie's Clerkes | Billings - Early American Choral Music Vol 1 | 1 CD | MORE DETAILS | |
| Jordan | | William Billings | Oasis Chorale | Treasures in Heaven | 1 CD | MORE DETAILS | |
| Judea | | William Billings | Tudor Choir | An American Christmas - Shapenote Carols from New England and Appalachia | 1 CD | MORE DETAILS | |
| Kittery | | William Billings | Various Composers | Five Centuries of Choral Music Vol 2 | Songbook | MORE DETAILS | |
| Morning Hymn | | William Billings | William Billings | Continental Harmony | Sheet Music | MORE DETAILS | |
| O Praise the Lord of Heaven | | William Billings | His Majestie's Clerkes | Billings - Early American Choral Music Vol 1 | 1 CD | MORE DETAILS | |
| O Praise the Lord of Heaven | | William Billings | VocalEssence | A Bluegrass Mass | 1 CD | MORE DETAILS | |
| Rutland | | William Billings | His Majestie's Clerkes | Billings - Early American Choral Music Vol 1 | 1 CD | MORE DETAILS | |
| Shepard's Carol | | William Billings | Robert Shaw Chorale | A Festival of Carols | 1 CD | MORE DETAILS | |
| Shiloh | | William Billings | His Majestie's Clerkes | Billings - Early American Choral Music Vol 1 | 1 CD | MORE DETAILS | |
| Shiloh | | William Billings | Tudor Choir | An American Christmas - Shapenote Carols from New England and Appalachia | 1 CD | MORE DETAILS | |
| Sing Gloria! | Russell Robinson | William Billings | Various Arrangers | Rennaissance Chorals | Sheet Music | MORE DETAILS | |
| St. Enoch | | William Billings | William Billings | Continental Harmony | Sheet Music | MORE DETAILS | |
| The Rose of Sharon | | William Billings | Bemidji Choir | Almost A Cappella | 1 CD | MORE DETAILS | |
| Thomas-Town | | William Billings | His Majestie's Clerkes | Early American Choral Music Vol 2 | 1 CD | MORE DETAILS | |
| Thomas-Town | | William Billings | William Billings | Continental Harmony | Sheet Music | MORE DETAILS | |
| West Sudbury | | William Billings | William Billings | Continental Harmony | Sheet Music | MORE DETAILS | |