Choral Arts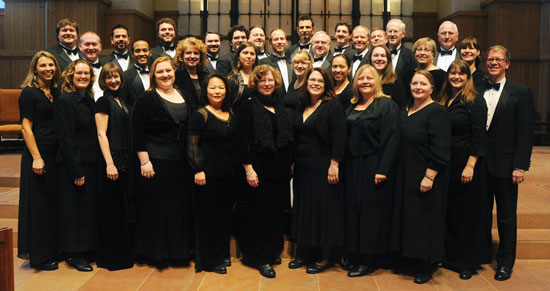 Artistic Director Robert Bode is regarded as one of his generation's most exciting choral conductors. His depth of knowledge, artistic imagination and passionate music making has brought him critical praise from around the country. He has been a featured performer at regional and national conventions of the American Choral Directors Association and has been invited to conduct concerts in Russia, China, Mongolia, England, Czech Republic, Germany, Rumania, Poland and Bulgaria. In December of 2006, Bode conducted a performance of Handel's Messiah at the Thomaskirche in Leipzig, Germany. Upcoming engagements include concerts with the Valdosta (GA) Symphony Orchestra and a performance of Beethoven's Ninth Symphony at the Atheneum in Bucharest, Romania. Bode has been a member of the music faculty at Whitman College since 1986.

Since its inception in January of 1993, Choral Arts has received both local and international acclaim for their mastery of style, language, and genre. The ensemble performs up to four concert series each season in Seattle and Tacoma. Guest appearances have included: Mark Morris Dance Company, International Music Festival of Seattle, Northwest Sinfonietta's 5th Anniversary Gala Concert, Arts West Music Series, Puget Sound Music Society, and Seattle Symphony's Christmas Singalong Concert at Benaroya Hall. The choir participated in the International Chamber Choir Competition in Marktoberdorf Germany, where they placed fourth overall out of 300 international choirs and received a special recognition award.
Discography
Mornings Like This
My Lord What A Mornin'
Sunrise
The Waking
Fern Hill
Dawn
A Child's Prayer
In Dreams
The Dream Keeper
Dream Variations
As I Grew Older
Song
Will there really be a morning
Beautiful River

The "Pure Sound" of Choral Arts under their new director, Robert Bode presents several world premiere recordings, including The Dream Keeper, a piece in four movements, each featuring a different text from Langston Hughes. Other pieces feature the poetry of Dylan Thomas, Walt Whitman and the conductor. In the recording they explore "Mornings," not just the actual beginning of the day, but also more metaphorical associations, such as renewal, childhood, and beginnngs. There are some very familiar things on this CD, including the spiritual "My Lord, What a Mornin'" and the American hymn "Shall We Gather at the River?" The CD also features 5 previously unrecorded pieces, including "The Dream Keeper" by William Averitt and the first recording of the version for chorus and piano of John Corigliano's "Fern Hill."
---
The Best of Rooms (Robert Herrick)
Two Herbert Settings (George Herbert):
- Antiphon
- Bitter-sweet
The Last Invocation (Walt Whitman)
Odes of Horace:
- Montium custos (book 3, 22)
- Vitas hinnuleo (book 1, 23)
- O fons Bandusiae (book 3, 13)
- Felices ter (final verse of book 1, 13)
Alleluia
- The Light of the Stars (Henry Wadsworth Longfellow)
- The Passenger (Mark Anthony DeWolfse Howe)
- Two Worlds (Edmund Waller)
- Siciliano (Philip H. Rhinelander)
- The Happy Shore (Edmund Spenser)

30-strong, mixed-voice, Seattle-based Choral Arts (formerly Choral Arts Northwest), founded by artistic director Richard Sparks, is one of the outstanding chamber choirs in the United States. Focusing primarily on romantic and contemporary music, the choir's repertoire has ranged from Renaissance music to contemporary Swedish works. Randall Thompson achieved iconic status for choral works like "Frostiana" and the hugely popular anthem "Alleluia" in the middle part of the 20th century. Included here are 14 pieces, some favorites: the world premiere recordings of "Antiphon" and "Five Love Songs," "The Last Invocation" (based on words by Walt Whitman), the previously mentioned "Alleluia," "Vitas hinnuleo," and the title tune (based on words by Longfellow). Some light accompaniment. Beautiful, romantic music performed by one of America's finest choirs!
---
Cathedral Anthems
Ye Choirs of New Jerusalem
Show Us Your Mercy, O Lord
Dominus Regnavit
There Is a Stream
The Song of Moses
Exsultate Deo
Phoenix
Gloria in Excelsis Deo
Qui Tollis
Quoniam
Commit Your Way to the Lord
Behold, the Eye of the Lord
Whom Should We Love Like Thee
This recording represents forty years of Peter Hallock's work. While organist and choirmaster of St. Mark's Cathedral in Seattle, he composed an impressive array of original choral works in the Anglican tradition, including both large and small-scale works for choir, with and without instruments. Often dissonant and difficult, many of these works are recorded here for the first time. The CD opens with the triumphant anthem "Ye Choirs of New Jerusalem" for choir, organ, brass and percussion. Led by Richard Sparks, Choral Arts Northwest gives glorious performances of Hallock's stunning music.
---
A Scandinavian Christmas
Jeg er sa glad (arr. P.J. Christiansen)
Organ chorale: Af Hoiheden oprunden (Niels Gade)
Den yndigste rose (Henrik Odegaard)
Deilig er den himmel blaa (arr. P.J. Christiansen)
Organ chorale: Nun komm der Heiden Heiland (David Dahl)
Ave Maris Stella (Bror Samuelson)
O makalosa stjarna (Harold Sventelius; arr. Ola Ericksson
Ave Maris Stella (Edvard Hagerup Grieg)
O Jul med din glede (arr. Carolyn Jennings)
Gloria in excelsis Deo (Jan Sandstrom)
Jul, jul, Stralande jul! (Gustaf Nordqvist)
Organ toccata: Fra himlen hoyt jeg kommer her
Ave Maria (Gottfrid Berg)Swedish
Christmas Medley (arr. Berith Ballard)
There is bliss to be found in hearing a pitch-perfect chord held by a chorus. 24-strong Choral Arts Northwest achieves chord after chord like this, a sound that is remarkable for its warmth, richness and full-throated power. Precision and accuracy of intonation are its hallmarks, as well as a phenomenal range of dynamics and a limitless range of shading. There are 19 generally organ-accompanied songs here, some in Swedish or Norwegian, some in English all sacred Christmas church music. Extensive liner notes tell us the meaning of each of these exceptional songs, but the story here is the singers, who carry each finely-crafted chord as if it were a gift to a very special baby long ago. Touching, soothing sacred music from Scandinavia.
Listen to " Jeg er sa glad " in RealAudio.
---
To find a specific song on any recording (or to find recordings by group name or CD title),
pick the search method and type the item you are searching for here:



All Rights Reserved All Content, page design, CGI Copyright © United Singers International