Bruce Rogers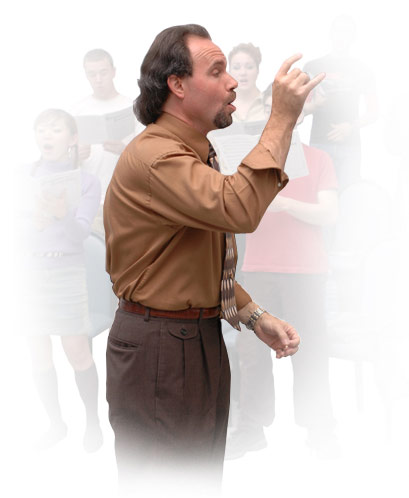 Professor Bruce Rogers has been the director of choral activities at Mt. San Antonio College since 1994. In this role, he oversees the department's various vocal and choral programs, which span the entire spectrum of music – from classical to jazz. He personally directs Mt. SAC's elite, award-winning Chamber Singers and the vocal jazz ensemble, Singcopation.
Choirs under Mr. Rogers' direction have won numerous awards and first-place honors throughout the United States and Europe. His choirs have had the honor of performing at five California state conventions, seven American Choral Directors Association (ACDA) regional and national conventions as well as three International Association of Jazz Educators (IAJE) national conventions. They have achieved top ranking in national and international competitions throughout the world, including performances in concert halls throughout the United States, Canada, Scotland, Wales, England, France, Italy, Germany, Austria, Switzerland, Poland, Bulgaria and the Czech Republic.
Mt. San Antonio College - Singopation: Stompin' At The Savoy
Stompin' At The Savoy
Alone Together
So Dance Samba
I Remember You
Down For Double
Lover Man
Up Jumped The Boogie
Bittersweet
That's All
Grazin' In The Grass
Wild Women Don't Worry
If You Love Somebody
The 13 auditioned Mt. San Antonio students who form Singcopation, which was formed in 1997 by their director Bruce Rogers, specialize in vocal jazz music. They have carried off numerous trophies from vocal jazz competitions, and are regularly described as "#1 college vocal jazz choir in the country by Downbeat Magazine. On most songs the group is accompanied by a jazz band with Piano, Bass, Drums and Latin Percussion, but have a pair of very fine a cappella covers, "I Remember You" and the 5th Dimension's "Grazin' In The Grass," both of which have some sweet vocal percussion and solo work. Other favorites are the title tune, a wonderfully rhythmic "So Danco Samba," a manic, scatty "Down for Double," a kick-butt "Up Jumped the Boogie," a very smooth, driving "Bittersweet," a swinging, sexy "Wild Women Don't Worry" and a sassy, jazzy cover of Sting's "If You Love Somebody." "Specialize in vocal jazz music" aside, these young men and women can sing their butts off, and "Stompin'" is Big Fun, as lively, juicy and enjoyable as any jazz recording we've heard in a long time. You're gonna love this one!
---
Mt. San Antonio College: Hosanna
Exsultate Deo - Scarlatti
Super Flumina Babylonis - Palestrina
Hosanna - Pierce
Ave Maris Stella - Kverno
Non Nobis Domine - Powell
God Be In My Head - Berkey
Neckerien - Braahms
Io Piango - Lauridsen
Amor, Io Sento L'alma - Lauridsen
Sleep - Whitacre
Io Son La Primavera - Hawley
Son De Camaguey - Hatfield
Of Crows And Clusters - Dello-Joio
Precious Lord

For an auditioned group of 32 mixed-voice student singers founded only 12 years ago by Music Director Bruce Roberts, the Mt. Sac Chamber singers has been very busy. In addition to appearances at ACDA conventions, the group won first place honors at International Competitions in Wales, and the "Grand Prix" prize for best choir in Varna, Bulgaria. "Hosanna" has 16 impressive selections, Alessandro Scarlatti's "Exsultate Deo," Palestrina's "Super flumina Babylonis," the title tune by Brent Pierce, Lauridsen's "Amor, io sento L'alma," "God Be In My Head," Brahms' lovely "Neckerien," Eric Whitacre's "Sleep," Stephen Hatfield's rhythmic, joyous "Son de Camaguey" and Moses Hogan's wonderful "Didn't My Lord Deliver Daniel." This is not an easy repertoire to perform, and even harder to perform as beautifully and effortlessly as the Mt. Sac Chamber Singers do here. Great choral music by one of America's best vocal ensembles!
---
Mt. San Antonio College: Everything Must Change
But Not For Me - Gershwin
In Walked Bud - Monk/Hendricks
Dandaya - Jasperse
I Don't Know Enough About You - Peggy Lee
Everything Must Change - Ighner
The Song Is You - Hemmerstein
Get Out Of Town - Cole Porter
I Can't Give You Anything But Love - McHugh
I Get Along Without You Very Well - Carmichael
In Your Eyes - Gabriel
Don't Worry 'Bout A Thing - Wonder
Mt. Sac's Singcopation, founded in 1997, consists of twelve auditioned singers who specialize in vocal jazz music. They have been invited to perform at many jazz conventions including the International Assn. of Jazz Educators, LA Vocal Jazz Workshop, and they have won the 2001, -2, -4, -5 & -6 Downbeat Magazine award for being the #1 college vocal jazz choir in the country. They are directed by Mt. Sac's award-winning Director of Choral Activities, Bruce Rogers, who is also co-founder of the LA Vocal Jazz Workshop. There are 11 songs, some accompanied by a rhythm section of drums, piano and bass. Our first favorite would have to be Monk/Hendricks' scatty "In Walked Bud" with wonderful vocal percussion and bass; Peggy Lee's "I Don't Know Enough About You," the moody title tune by Bernard Ighner, Cole Porter's "Get Out of Town," a sweet harmonied, a cappella cover of Hoagy Carmichael's "I Get Along Without You Very Well," a bluenote arrangement of Peter Gabriel's "In Your Eyes" and an a cappella cover of Stevie Wonder's "Don't You Worry 'Bout a Thing," also with great vocal percussion. Hot, entertaining stuff from one of our best collegiate jazz ensembles!
---
Horizons
Annua Gaudia
Laudibus In Sanctus - Byrd
Parce Domine - Nowowiejski
Zigeunerlied - Hauptmann
Horizons - Van Dijjk
In Paradisisum - Fissinger
The Conversion Of Saul - Stroope
Ohisahi Buri - Hatfield
Bruremarsj - Hatfield
Nocturne - Hailstork
Kalejs Kala Debesis - Mence
Waldesnacht, Du Wunderkuhle - Brahms
Isli Tri Panenky - Laburda
At Terezin - Convery
Despues De Pasar - Cavallaro
Wei Wahla Wuya - Robinovich
During the past 12 years since its founding by Music Director Bruce Rogers, the 52-strong, mixed-voice Mt. Sac Chamber Singers has been extremely active, winning a variety of awards, accepting invitations to appear at numbers ACDA conventions, a special guest appearance at Carnegie Hall, and winning numerous first place honors throughout Europe at International choral competitions. "Horizons" features 16 songs, with some drum and piano accompaniment. Favorites are the powerful, rhythmic "Annua gaudia," Wm. Byrd's lovely a cappella "Laudibus in sanctis," Maurice Hauptmann's lively "Zigeunerlied," Peter Louis Van Dijk's dramatic, rhythmic, surprising title tune, Z. Randall Stroope's manic, driving "The Conversion of Saul," Jan Magne Forde's delicate "Bruremarsj," Brahms' soaring "Waldesnacht, du Wunderkuhle," and Jiri Laburda's ringing "Isli tri panenky." These are eclectic, often difficult tunes to perform, usually only selected if your ensemble has the vocal chops to actually handle them. The Mt. Sac Chamber Singers is one of those rare groups, which is why they are beloved by audiences and judges alike!
---
To find a specific song on any recording (or to find recordings by group name or CD title),
pick the search method and type the item you are searching for here: