Anonymous 4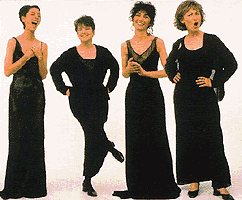 Originally formed in 1986 to experiment with the sound of medieval chant and polyphony as sung by higher voices, Anonymous 4 has become renowned for its astonishing vocal blend and technical virtuosity. The four women of Anonymous 4 combine musical, literary, and historical scholarship with 20th-century performing intuition as they create innovative programs interweaving music with poetry and narrative. Anonymous 4 has performed to critical acclaim on music series throughout North America, in such cities as Boston, Chicago, Cleveland, Denver, Houston, Los Angeles, Philadelphia, Pittsburgh, San Francisco, Seattle, Vancouver and Washington, DC.
The group has appeared on a wide range of radio and television programs, including NPR's "Performance Today, " "Weekend Edition, " and NPR stations around the country. Anonymous 4 has been featured on "CBS Sunday Morning" with Charles Osgood, Garrison Keillor's "A Prairie Home Companion, " MPR's "St. Paul Sunday, " and WNYC's "Around New York. " The ensemble appeared on Australian Broadcasting Company's program "Access All Areas, " ZDF's "Ersteklassich! " and were also featured on Classic FM and BBC World Service.
Anonymous 4 appears regularly in concerts and festivals throughout Europe, including the Tage Alter Musik Festival (Regensburg), Eros & Ecclesia Festival (Berlin), Rheinisches Musikfest (Essen), Flanders Festival (Bruges), Oude Muziek Festival (Utrecht), Festival de Musica Antiga (Barcelona), Festival du Thoronet (France), Fondation Royaumont (Paris), Wigmore Hall and St. John Smith Square (London), Glasgow International Early Music Festival (Scotland), Birmingham and Cambridge Early Music Festivals, and the Turku Festival (Finland). The group recently made its Austrian debut with concerts in Salzburg and Graz. In the Far East, the Anonymous 4 was featured at Australia's Brisbane Biennial Festival, as well appearing in concerts in New Zealand and throughout Japan.
Discography
American Angels
Holy Manna (Brethren we have met to worship)
Abbeville (Come, Holy Spirit, come)
Wondrous Love (What wondrous love is this!)
Sweet Hour of Prayer
Jewett (Amazing grace, how sweet the sound)
Dunlap's Creek (My God, my portion and my love)
New Britain (Amazing grace, how sweet the sound)
The Morning Trumpet (O when shall I see Jesus)
Resignation (My shepherd will supply my need)
Poland (God of my life, look gently down)
Wayfaring Stranger (I am a poor, wayfaring stranger)
Sweet By and By (There's a land that is fairer than day)
Blooming Vale (O, were I like a feathered dove)
Idumea (I) (And am I born to die)
Idumea (II) (My God, my life, my love)
Sweet Prospect (On Jordan's stormy banks I stand)
Shall We Gather at the River
Amanda (Death, like an overflowing stream)
Invitation (Hark! I hear the harps eternal)
Parting Hand (My Christian friends, in bonds of love)
Angel Band (My latest sun is sinking fast)
Anonymous 4 turns from the medieval repertoire to explore the roots of American sacred music. Developed in Toni Morrison║s Atelier program at Princeton in spring 2003, American Angels includes songs of redemption and glory from the time of the American Revolution to the present day: 18th-century psalm settings from rural New England, 19th-century shape-note and camp revival songs from the rural South, and some of the nation║s best-loved gospel songs. Drawing from collections including "The Southern Harmony," and "The Sacred Harp," - the album explores the beauty and power of early American sacred music and the relatively obscure form of a cappella choral singing known as Sacred Harp.
Listen to "The Morning Trumpet" or "Jewett" in RealAudio.

Legends of St Nicholas

1999 recording, celebrating the legend of St. Nicholas ("Jolly St Nick," or "Santa Claus"); as with most folk heroes, the actual biography of Nicholas, born in Turkey somewhere around 300 A.D., is much removed from present day interpretation. The New-York based classical women's quartet Anonymous 4, whose focus is medieval chant and polyphony, enliven these motets, hymns and conductus (medieval setting of Latin text) with an attention to historical realism that brings them very much to life. As the function of these chants was in the context of Catholic liturgy, they are by definition, an embodiment of all that is divine; neither rhythmically or harmonically complex, their appeal is their quiet beauty and distinctive texture. Songlist
A Lamas Ladymass
Anonymous 4 are known for their scrupulous recordings of 13th and 14th century English chant and polyphony. Lammas refers to the Celtic festival of harvest, celebrating the Assumption of the Virgin Mary. Much of the music of the time-at least that still existing today-was written to accompany the Catholic Mass. Therefore each part of the service, which was and is very specifically structured, assumed a certain form, depending on the context: motet, Antiphon, Conductus, introit, hymn, etc. The four women of Anonymous 4 take these relics and give them new life, gently and sweetly entreating them into the present day. Songlist
An English Ladymass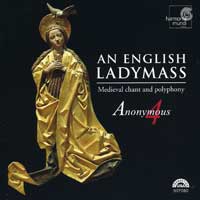 Here is a record to dispel the old myth that chant and early polyphony are really uniquely the province of male voices, men and boys. It is often forgotten that communities of nuns, within the walls of their enclosure, sang exactly the same liturgical repertoire as the monks, their male counterparts. Individual names of female singers do, in fact, emerge from time to time: the noble Blesilla in the fourth century, for example, commended by St Jerome for her excellent singing of the Alleluia, or Abbess Hildegard in the twelfth century, who composed ravishingly beautiful hymns and sequences. In our own century we have some good recordings of nuns' choirs, Argentan in Normandy is one, and St Cecilia's, on the Isle of Wight, another. But this disc represents something quite new: here is a professional all-female vocal quartet uniquely devoted to the performance of chant and early polyphony. Anonymous 4, whose very title recalls the authorship of a famous medieval music treatise, have brought to the early-music scene a new approach and a refreshingly new sound. They sing with clean, unpretentious voices a programme of music that follows the basic structure of the Lady Mass, once so popular in England. They fill it out with a well-chosen selection of thirteenth- and fourteenth-century pieces in honour of the Blessed Virgin Mary: chants and polyphonic items, mainly in Latin, but including two items in the vernacular, namely the charming early strophic song Edi beo thu and the gentle sequence Jesu Christes milde moder. There is a captivating simplicity and directness about their performance, which naturally avoids many of the pitfalls of an overstretched attempt at reconstruction. Songlist

On Yoolis Night

The four female members of Anonymous 4 are dedicated to the preservation of Gregorian chant from medieval times, and this holiday selection of English plainchant, songs, motets and carols are all derived from this period. As one might expect, the texts are often sacred in nature, to be performed during religious rites and devotions, such as Advent (hymn, "Vox Clara, Ecce, intonat"). Carols often use the multiple verse and refrain format, that was a typical form ("Ther Is No Rose Of Swych Vertu," and others). Much more could be said about the historical and musical context of these works - and is, in the extensive liner notes - but this background, though fascinating, is not necessary to simply appreciate the supple grace and open sound of these gentle voices, which is more than enough. Songlist

A Star In The East
A selection of liturgical and paraliturgical Christmas pieces, taken from medieval Hungarian sources. Most are monophonic, but there is a modest sprinkling of simple polyphonic pieces for two, three and four voices. The charm of the performance lies in its unpretentious, almost childlike simplicity ă suggested, maybe, by the delightful extracts from the Christmas story as quoted in the notes. These extracts come from the "Peasants║ Bible" ă Paraszbiblia: Magyar Nepi Biblikus Tortenetek ă which contains Bible stories retold in simple language, with homely, imaginative details and an atmosphere of fairy-tale. The classic liturgical pieces, which include the Introit Dum medium silentium, the splendid Gradual Speciosa forma, and others, are heard in a version which tends to use the pentatonic scale, thus avoiding both B natural and B flat. The sung readings are impressive with their polyphonic settings. I enjoyed the rich Genealogy (Liber generationis) with its beautifully constructed and compelling melody. Some of the vernacular pieces, as well as the Latin song for New Year║s Day, have a regular ternary rhythm. The Hungarian Te Deum (which appeared in an earlier recording by the Schola Hungarica on Quintana) offers an interesting alternative for the concluding verses: it simply transposes the original theme up a fourth. The 110-page booklet, lavishly produced with both colour and black-and-white illustrations, is a marvellous little tool and a joy to handle. Songlist

The Lily and the Lamb (1995)

This offering from Anonymous 4 is a selection of pieces dedicated to the Virgin Mary from medieval England. These span some 200 years from the thirteenth century to the early fifteenth. During this period, celebration of the Virgin increased with a gathering impetus until the Marian cult dominated devotional worship, and this is reflected in an outpouring of verse, in Latin and the vernacular, much of which was set to music. Many of the verses are glosses on established liturgical texts such as the Stabat mater or Salve regina, and it is the image of the grieving mother at the foot of the Cross which prevails here, hence the symbolism of the title: the virginal lily and the sacrificial lamb. Much of the poetry ă and the music ă is very fine, and fans of Anonymous 4's previous discs will not be disappointed. Their distinctive, all-female sound is as pure and clear as ever and exerts a powerful attraction, especially if one is plunged into it by hearing a track or two in isolation: very refreshing. Songlist

Miracles of Sant'iago (1995)

Susan Hellauer║s lucid introduction to the contents of Jacobus, the Liber Sancti Iacobi (the Codex Calixtinus) makes fascinating reading. Following Christopher Hohler, she points out that this extraordinary collection of liturgical items, non-liturgical pilgrim songs, sermons, chants and lessons in honour of St James, was originally destined for the use of French schoolboys, presumably with voix blanches. That being so, this recording by a group of high female voices may be easily vindicated: Anonymous 4 bring to their performance that smooth, unsophisticated vocal blend we have come to expect from them. It is a lovely sound, and their intelligent and imaginative approach sticks resolutely to middle ground, avoiding excesses of orientation and extremes of interpretative theory. Songlist

Portrait

A compilation of the group's recordings with selections from Miracles of Sant'iago, The Lily and The Lamb, A Star in the East, Love's Illusion, An English Ladymass, On Yoolis Night, and a 11,000 Virgins. Songlist

11,000 Virgins Hildegard von Bingen
Auctori vite psalmis
Venite exsultemus domino
O dulcissime amator
Jesu corona virginum
Spiritui sancto
Specie tua
Favus distillans
Benedicamus domino
Studium divinitatis
Dominus regnavit/Studium divinitatis
O Ecclesia
Benedictamus domino
Domine deus meus
Mirabilis deus
Cum vox sanguinis
Magnificat anima mea/O rubor sanguinis
Te lucis ante terminum
Benedicamus domino
A Mass For The End Of Time
Judicii Signum
Quem Creditis Super Astra/Viri Galilei
Celestis Terrestrisque
Prudentia Prudentium
Dominus in Sina
Ascendens Cristus
Salavator Mundi/Rex Omnipotens Die Hodierna
Elevatus Est Rex Fortis/Viri Galilei
Ante Secula
Omnipotens Eterne
Corpus Quod Nunc/Psallite Domino
Apocalypse 21:1-5
Regnantum Sempiterna
Cives Celestis Patrie
This must be how the angels sound! That is the often evoked response of listeners to this exemplary quartet who explore, research, and bring to life medieval polyphony and chant. The blend of voices and virtuosity of creation is unparalleled by any other singers on earth. Once again, by research, the 4 have created a mass, this time "A Mass For The End Of Time." The end of time refers to the Last Judgement which is most strongly expressed in the liturgies of the Advent season, the Requiem mass, and the feast of Jesus's Ascension celebrated forty days after Easter. This work is based on the Ordinary and Proper chants of the Ascension mass with added tropes (newly written text and music) to enhance the feel of the music. Historically, the approach to the first millennium saw the collapse of Charlemagne's empire and alliances which yielded a tremendously unsettled period in European history. The church under the charismatic leadership of Pope Sylvester II created a spiritual anchor. Great cathedrals were begun and Christianity was seen as a primary civilizing influence. Musically, the traditional Roman plainchant was being renewed and greatly enlarged while developments in music such as staff line notation allowed these new creations to be rapidly learned and disseminated. Though the church provided a dynamic anchor, it also tended to foster a millennial belief in the end of time and that the Last Judgement was at hand. From this milieu, Anonymous 4 has recreated another incredibly beautiful liturgical testament.

The Second Circle
Echo La Primavera
Angelica Bilta
Che Chos'e Quest' amor
Nella Partita
Non Do La Colp' a te
Quanto Piu Caro Faj
Se Pronto Non Sara
Lasso! Per Mie Fortuna
Ochi Dolenti Mie
Muort' Oramai
Per Allegreca
Nella Mi Vita
Abbonda Di Virtur
Non Ara Ma' Pieta
La Bionda Trecca
Cara Mie Donna
Gran Piant' Agli Ochi
Echo La Primavera
"Second Circle" is the latest release from the acclaimed and prolific Anonymous 4, who are Johanna Maria Rose, Marsha Genensky, Jacqueline Horner and Susan Hellauer. These are 14th century Italian love songs by Francesco Landini, an early "renaissance man," left blind by smallpox, who became a master musician, composer and poet, becoming the chief musician at the church of San Lorenzo in Florence. Anon4 gives us 18 of his beautiful songs, and to deepen our appreciation of them, there is one of the most lovely and extensive liner notes we have seen, actually a 46-page full-color booklet with a number of incredible paintings from the period. Much more than a group of lovely, obscure songs, we are treated to a short course in music appreciation and art history of the composer and his fascinating times!
Christmas Music from Medieval Hungary
Ave Spes Nostra
Mi Atyank Atya Isten
Veni Dommine
O Mundi Domina
Fuit Virgo
Vox Clara, Ecce, Intonat
Omnes Unanimiter
Dum Medium Silentium
Primo Tempore Alleviata
Speciosus Forma
Novum Decus Oritur
Letentur Celi
Salvator Noster
Az Idvozitot Regenten
Novus Annus Adiit
Exulta Filia Syon
Liber Generationis
Exordium Quadruplate
Lsten, Teged
Ruth Cunningham, Marsha Genensky, Susan Hellauer and Johanna Maria Rose are the acclaimed, prolific a cappella group, Anonymous 4, and the beautiful polyphonic music in this CD almost didn║t make it to us because of the invasion of Hungary by the Turks in 1541. The iconoclastic Turks destroyed artworks in all forms, including liturgical manuscripts. Fortunately some of the manuscripts were copied or carried away by fleeing monks, nuns and clerics. These plainchants are remarkably consistent, part of a major effort towards liturgical and musical uniformity. Ethereal, hauntingly beautiful, one can close one║s eyes and be in the cathedral where the choir sent this perfect, sacred music heavenwardăas prayerful, meditative and joyful for the singers as for the worshippers. 20 sublime pieces.
La Bele Marie
O maria o felix puerpera
Pia mater gratie
De la mere au sauveor
O maria virginei
Verbuym bonum et suave
Ave salus hominum
Mainte chancon ai fait
Ave maria gracia plena
Beata viscera
Mundum renovavit
Je te pri de cuer par amors
Salve sancta parens
Serena virginum
De la tres douce Marie
Ave virgo virginum
Mater patris et filia
Ave nobilis venerabilis
The four beautiful, talented women who call themselves Anonymous 4 stun usonce again with a soaring collection of a cappella choral music from the early Christian church. One of the most respected and prolific choral groups(we like to think of them as an institution) performing today, Anon 4 discovers the timeless choral works that otherwise might never be heard, or heard by only a few, and brings them to us in perfect, bell-like tones and harmonies--an unexpected gift from centuries past. There are 17 songs here, all in Latin, and an amazing, comprehensive set of illustrated liner notes that tell us everything we want to know about the music. Put this CD on a really good music system, sit back and let the music of the angels wash over you.

Wolcum Yule
Awake and join the cheerful choir
Good people all
The seven rejoices of Mary
The Lamb (John Tavener)
A Scots Lilt
Balulalow
Balulalow (Richard Rodney Bennett)
The holly and the ivy
The Reel of Tullochgorum
I saw three ships
A Calendar of Kings (Peter Maxwell Davies)
Air: La fuar geimhreadh
An teicheadh go hEigipt
A God, and yet a man? (Geoffrey Burgon)
Grene growith the holy (Henry VIII)
Wel, dyma'r borau gorau
The Cherry Tree Carol
Can wassel
A New Year Carol (Benjamin Britten)
Andrew Lawrence-King║s virtuoso harp joins the voices of Anonymous 4 in a wealth of Yuletide music, favourite and rare, from the British Isles. Juxtaposing pagan and Christian traditions, the programme interweaves English, Irish, Scottish and Welsh ballads and carols with well-loved pieces by John Tavener (The Lamb), Benjamin Britten, and a newly commissioned work by Peter Maxwell Davies. Andrew Lawrence-King adds special colour playing a variety of instruments: psaltery, Baroque harp, and a remarkable Irish "Queen Mary" harp which sounds as if it contains its own peal of heavenly bells.

To find a specific song on any recording (or to find recordings by group name or CD title),
pick the search method and type the item you are searching for here: