Zap mama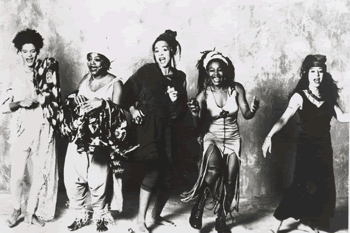 The essence of Zap Mama goes back to Marie Daulne's birth. It was a very difficult time in Zaire, a time of revolution. The Simba rebels sought to kill interracial couples. Her mother was a Bantu. Her father was Belgian. Threatened, her mother took her into the jungle to stay with the Pygmies for eight months. They were safe because the rebels were scared of the strong magic of the forest peoples. Eventually they were taken to Belgium where Marie grew up. It is this dual cultural heritage which lies at the root of the music and mission of Zap Mama.
By l989 she had spent several years singing in jazz cafes and bars in Brussels when she decided to create a group to musically merge the cultures of her life, both which she cherishes. Marie remembered Sylvie Nawasando from singing on the train to school and later at the university. Their brothers had played music together. Sabine is a mixture of peoples like Marie, Zairean and Belgian. With three, Marie held an audition and discovered Marie Alfonso. Finally they found Sally Nyolo and performed their first concert in 1989.All the women contributed in different ways, spiritual, emotional, information, stories. Marie does most of the researching for the songs.
In the first release, the group focused on the European and Zairean connections, striving to combine the vocalizations of the Pygmies with vocal styles from the European choral traditions. It was, in a sense, autobiographical, with Marie researching where she came from and the songs of her mother's people. The first recording on Crammed Disc,was an unbelievable international hit, not on the commercial charts certainly, but by the eager response of those who listen to world music. The ability to tour and learn of other cultures increased Marie's desire to widen her horizons and incorporate even more of the world into her music. Sabsylma was the result of her growing understanding of other cultures. It's full of Indian, Moroccan and Australian influences. Not only are musical influences expanded but the purpose of healing is enhanced such as uncovering the problem of child abuse in the song "India." It was an effort to bring to light a universal problem for that is how the healing begins.
In 1996 Marie once again heard the siren song to create, so she took another African trip. She departed for Mali where she lived with the Touaregs and learned more of her outward world as well as inward. From a man in Mali, she learned that human beings have seven senses, rather than just the five of western description. The sixth sense is emotions and the seventh sense, which not everybody has, is the power to heal others. It is the power to heal with music, calm with color, to soothe the sick with harmony. She returned home to Brussels fired with the knowledge of her capacity to heal with music. Upon her return from Mali, Marie got a call from a good friend, Michael Franti of the hip-hop soul group Spearhead. Michael believes that America needs the connection to the African spirit which Marie embodies.
The result is Seven, Zap Mama's third album. The title refers to the seven senses of a human being. Marie says, "I made music on on Seven the same way as on the other albums. I only used acoustic instruments... I'm looking for instruments that have vocal sounds, forgotten instruments like the guimbri... The first and second albums were about the voice, what came before. This album is about introducing those sounds into modern, Western life. As her horizons continue to expand no one can suspect what the creative outpouring of this remarkable musician will be. We do know it will be extraordinary!
Discography
A ma zone
Rofiki
W'happy Mama
Coll Waiting
Gissie
Songe
Kemoke
Comment co vo
Yo Solo
My Own Zero
M'toto
Gbo Moto
Ollo Ollo
Though completely accompanied, we couldn't pass up the latest outing by Marie Daulne and Zap Mama. An international conglomeration of sound, with African rhythms, lyrics in several languages and a thoroughly contemporary vibe, "Amazone" is intense and compelling. Daulnežs original compositions are all about groove, and can slither, snakelike, through moods hypnotic, such as "Gissie," with its repetitive arrangement and vocal clicks, or invigorate and invite, with the gently sensuous "Songe." The instrumental accompaniment is bass and percussion driven, a backdrop for the cyclical harmonic structure and relaxed vocal stylings which encourage improvisation. Imaginative, modern production really fleshes out the recording.
---
Adventures in Afropea
Mupepe
Bottom
Brrrlak!
Abadou
Take Me Coco
Plekete
Mizike
Babanzele
Din Din
I Ne Suhe
Guzophela
Nabombeli Yo
Marie-Josee
Ndje Mukanie
son Cubano
Marie Daulne's mixed cultural roots, Walloon and Bantu (Belgian and Pygmee) were the stimulus for her musical creation. After studying with the Bantu and in Europe she organized Zap Mama as the instrument of her composing a synthesis of these previously separate traditions. She instantly stood the vocal world on it's head by mixing multiple musical traditions and performing them with a group of women who created such rhythmic wonder that everyone sat up and took notice. Found on this first release are many tunes with Pygmee yodel and chants, a 16th century Spanish song , a Cuban son, elements of Syrian songs, in short a true example of world music. The exotic beauty of this release make it a must for any a cappella lover.
Listen to "Mupepe" in Real Audio.

---
Sabsylma
Furahi
Sabsylma (What's Your Name?)
Mais Qu'est-Ce? (But What Shall We?)
De La Vie A La Mort (From Life To Death)
Citoyen 120 (Citizen 120)
Locklat Africa
Mr. Brown
Awakening In Australia (Reveil En Australie)
Fi Dunia
Mamadit
For No One
The Mamas Of The Mamas (Les Mamas Des Mamas)
Adjosio Omonie
Can one of the most original and exciting recordings in world music be followed by a repeat performance. Yes! It seem impossible but the second release had fans wondering secretly if it wasn't even better than the first. As in the first, Zap Mama uses African rhythms, yodels and chants, always accompanied by an interplay of vocal percussive elements which become so complex that they demand total attention to begin to appreciate. Using vocal techniques never before heard as they are an original synthesis we are transported not only to Africa and Europe, but these five women take us on to India and Australia in a continuing fabulous world tour. We can't possibly give any recording a more enthusiastic endorsement!
---
Seven
Belgo Zairoise
Nostaigie Amoureuse
African Sunset
Poetry Man
Telephone
New World
Baba Hooker
Illioi
Jogging A Tombouctou
Timidity
Eie Buma
Warmth
Damn Your Eyes
Marie Daulne is Zap Mama. She's gone on an exploratory odyssey on Seven. The rhythms are just as compelling and the vocals are just as inventive, but generally not quite as complex as those to which we are accustomed, for this recording features a variety of band arrangements to complement the vocals. For example, the driving rhythm and guitar work of the very first tune could be from King Sunny Ade, at least up until the last when the tune segues to a bit of the reggae "No Man No Cry." The next song starts with a bass and vocal section entirely reminiscent of the a cappella Zap Mama. Then the sultry saxophone comes in and you realize that there will be no predicting what's to come except that it will be one fascinating album which truly deserves the 'world' categorization. Though there are no a cappella tracks there is no mistaking the unique vocal arrangements of Zap Mama.
---
Push It To The Max
Nostalgie Amoureuse
Bottom
Mr Brown
Ca Varie Varie
Poetry Man
Mr Brown
Nostalgie Amoureuse
This is not a recording we would usually carry as it is not at all a cappella but it is the latest from the group that was once creating some very interesting a cappella music. Although they are now exploring different musical directions the vocal talents of founder Marie Daulne are still amazing and we thought we would include this new EP (but over 36 mins) for those would might like to hear their latest music.
---
To find a specific song on any recording (or to find recordings by group name or CD title),
pick the search method and type the item you are searching for here: